In 1998, the al-'Ofoq Teachers Housing Association began constructing a housing complex on 80 dunams of land [1 dunam = 1,000 sq. meters] belonging to the villages of Zawata, Ijinsinya and a-Naqurah, northwest of Nablus. The al-'Ofok complex includes 174 single-family two-story residencies designed for teachers at government schools. A teacher who purchases an apartment receives a foundation and must complete the construction independently. The complex consists of two compounds, each with its own gate: the western one has 47 homes and the eastern, 127. All the houses in the complex were sold but only eight are currently occupied – four in each compound.
In 2000, when the second intifada broke out, the Israeli military declared that the Zawata-Ijinsinya road, which extends east from Route 60 to the village of Zawata, would serve military purposes only and barred access to it by installing a gate. The closure forced trucks carrying construction materials to the housing complex to use alternative routes that pass through the neighboring villages of Sabastiya, a-Naqurah and Ijinsinya. This extended the trip by about 20 minutes in every direction, raising construction costs for the project.
The military reopened the road to Palestinian movement in 2012, without repairing the heavy damage inflicted by tanks and military vehicles. The road was later renovated by the Palestinian Authority.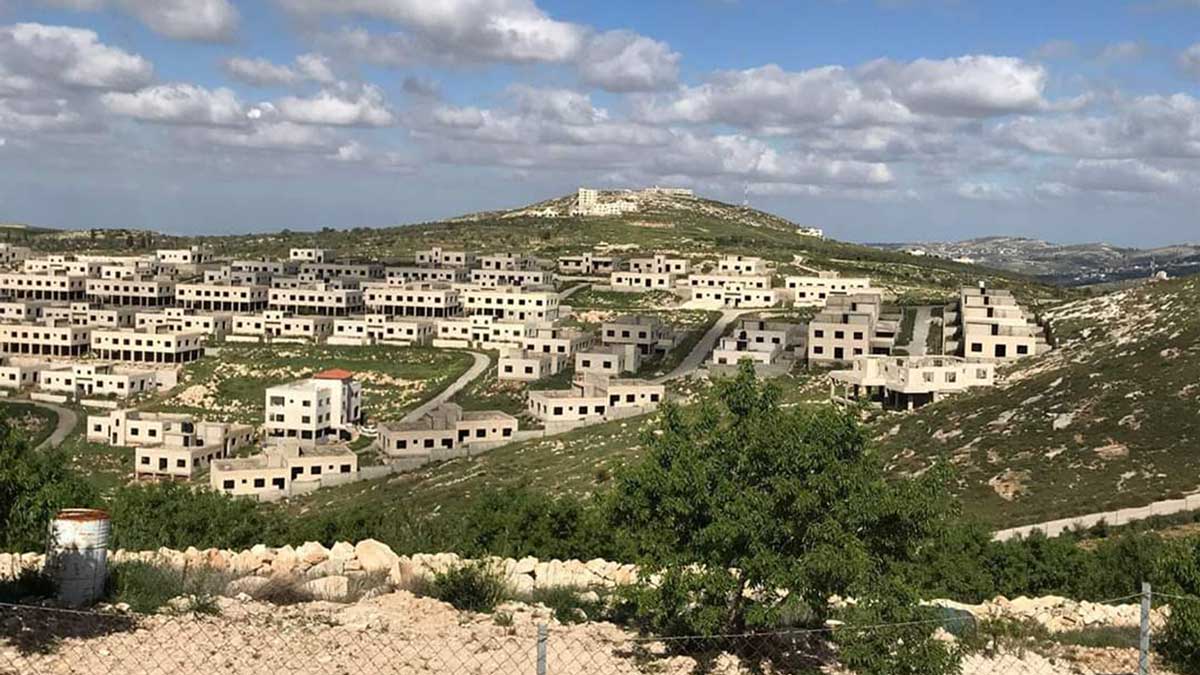 At the same time, the military began training soldiers in the complex. At first, the exercises were held every two to three months and lasted a day or two. About two years ago, the military stepped up the frequency, and exercises are now held once a month, for three or four days at a time. During the training, the soldiers create a commotion, move around among the homes and enter vacant ones. They shoot stun grenades and flare bombs and sleep in empty homes. When the training is over, they leave behind a trail of ammunition, unexploded ordnances and filth.
B'Tselem field researcher Salma a-Deb'i investigated two training exercises held at the complex, one in September 2019 and the other in April 2020. She also investigated a violent raid of homes held in April 2020 on the pretext of searching for suspects.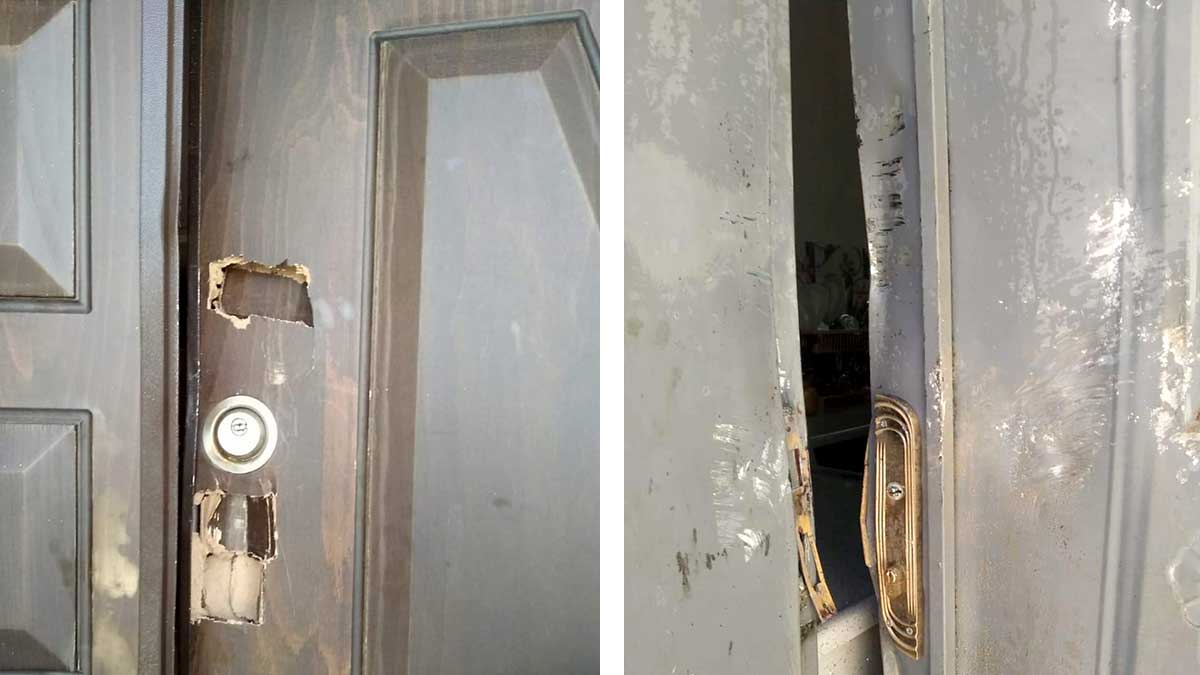 On Sunday evening, 1 September 2019, around 6:30 P.M., soldiers arrived at the complex in about eight buses and six jeeps. They trained in the area for four days, including entering uninhabited houses. Soldiers stationed at the main gate of the western compound frisked the handful of residents who live there, searched their cars, detained them and confiscated their ID cards. They barred some from entering the compound by car.
On Sunday, 5 April 2020, some 150 soldiers raided the complex and trained in the eastern compound for three days in a row. Among other things, they used live fire, hurled stun grenades and flare bombs, and ran among the houses shouting and utterly disrupting the residents' lives.
On Thursday, 16 April 2020, around 3:30 A.M., soldiers raided four inhabited homes in the western compound for the first time. They broke down the front doors of two homes whose occupants were away. The soldiers forced the inhabitants who were present to wait out in the street as they violently searched their homes, which included the use of dogs. They left the homes in disarray. This occurred despite the strict social distancing measures in place against the coronavirus, which include not letting strangers into one's home.
For years, the military has treated the al-'Ofoq housing complex as a training ground, as though it were its own property to be used at will. Soldiers are permitted to enter the complex, fire live ammunition and stun grenades among homes and even sleep in them whenever the military sees fit – in complete disregard for the fact that this is private property in which people invested their hard-earned money. Moreover, the military treats the few residents who do live in the complex as pawns in a war game who can be detained, searched, assaulted by dogs, and whose children can be woken up in the middle of the night – all as part of a "training routine".
There is no more room for doubt. This is exactly what occupation looks like: supremacy, arbitrary actions, belligerence and wanton disregard for the occupying power's responsibility towards the human beings living under its rule. Instead of caring for their welfare and wellbeing, the occupier tramples on them and on their dignity.
B'Tselem field researcher Salma a-Debi' took the following testimonies from residents.
Military training, 1 September 2019 and 5 April 2020:
Fakhri Abu Maghli (35), a married father of two, an electrical engineer and mechanic from Nablus, described the anxiety the soldiers' presence causes in a testimony he gave on 15 September 2019:
On Sunday, 1 September 2019, around 4:30 P.M., I was in my new house in the al-'Ofoq complex with my wife Hiba (26) and our children Luqman (3) and Sanad (1). Suddenly, we heard a commotion of cars and buses outside. This is a really quiet area and there usually isn't a lot of traffic.

We haven't moved in yet and the house still needs work. I'm doing it all myself. That day, I was installing an ornament in the entrance. We looked out the window and saw a lot of buses filled with soldiers, as well as other military vehicles. My wife immediately suggested we leave and go back to Nablus. I tried to calm her down and convince her to stay, because I wanted to keep working, but we left an hour later.

While the training lasted, I went there alone every day to check what was going on. I was surprised to find that the soldiers had closed the main gate to the complex and were searching people entering it. They made me to get out of the car and lift up my shirt. They even ordered me to take my shoes off, just to humiliate me. They checked my ID card and only let me in after about 20 minutes. They kept the card until I left. On Tuesday, the soldiers initially refused to let me in with the car. After an argument, they allowed me in on condition that I park in the parking lot. Two soldiers drove ahead of me in a jeep.

Also, on Tuesday, 3 September 2019, we were supposed to have aluminum windows installed. I warned the contractor that the military was in the area. He told me it didn't matter to him. But when he arrived and they demanded that he unload everything from the truck and carry it in on foot, he said he couldn't carry it all for 100 meters and left. He came back and finished the work only after the soldiers had gone.

I didn't feel safe in the house, so I stayed for an hour or so and went back home.
In a testimony he gave on 13 May 2020, Abu Maghli described another training incident shortly after his family moved in:
In early April, we moved in. A few days later, on Sunday, 5 April 2020, a large group of soldiers suddenly appeared at the complex and announced they were there to train. At first they remained far from our house, but pretty quickly they spread out through the complex and started training.

My wife was worried because it was the first time we were in the house during training. At night, we closed the windows and drew the blinds because we felt we had no privacy while the military was there.

Around 11:30 P.M., we heard noises and I went outside check. I was scared my little girls would wake up. I spoke with an officer who was there and he promised to take care of it. After about half an hour, the soldiers moved away. Still, their very presence in our area is bothersome and uncomfortable.

They stayed in the complex for three days. The whole time, we heard the sound of stun grenades and live fire. My wife and I are constantly anxious. We're especially worried that the soldiers will break into our home and raid it.
'A.Sh , a married mother of four, gave a testimony on 5 May 2020 describing what her family endured during military training at the complex in early April:
On 5 April 2020, I was at home with my family. We were in self-isolation, according to the instructions given by the Palestinian Authority. I heard a commotion outside and looked out the window. I saw several buses and military vehicles entering the complex and got nervous. It's frightening to see armed soldiers raid your neighborhood. I knew we were in for a period of military presence, with soldiers shouting, running around, and shooting stun grenades and flare bombs. The buses and jeeps drove in and parked on the eastern side. I asked my family to stay inside and ran to bring in the laundry and water the plants, so I wouldn't have to go out again. When the soldiers are in the complex, we're afraid to even go out to the garden. Then I went inside and shut the door and windows tight. I also drew the curtains so the soldiers couldn't see us.

About an hour later, we started hearing gunfire and stun grenades. Every time they hurl a grenade, the whole house shakes. At night, the sounds echo and are especially disturbing. We have to sleep with the all windows and blinds closed to block out the noise, and so that the soldiers don't point their lasers inside. It's really hard to sleep like that. Every time, we're afraid the soldiers will break into our home.

We moved in about a year and a half ago. So far, they haven't raided our house, but the fear is always on my mind. We didn't leave home for three days, not even to go out to the garden, until the soldiers left. In the evening, after they left, the kids begged to go outside to ride their bikes but my husband refused. He was afraid the soldiers had left unexploded duds behind.

The next day, Palestinian Civil Defense personnel came and checked the structures to make sure there were no duds that could explode. My children have often found shell casings and empty stun grenade cartridges. Every time the military leaves, I breathe a sigh of relief. Their presence is like a weight on your heart that evaporates once they're gone.

No one understands why we're willing to live in these conditions. Everyone keeps asking us how we can stand it.

But this is my home. I invested a lot in adapting it to our needs. Everything I own is invested in it. It's our home for life. I will never leave it, no matter what happens. I won't go anywhere else. Actually, I have nowhere else to go.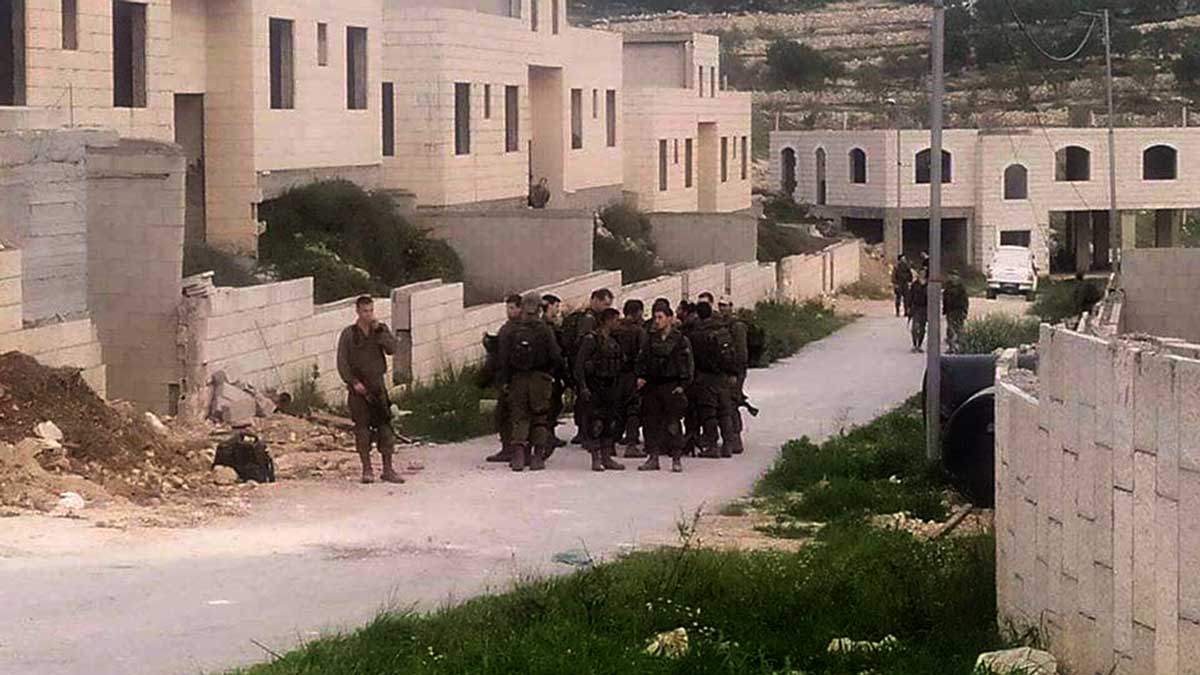 Raid and violent search of inhabited homes, 16 April 2020:
Murad Khalifah (58), a married father of four and a construction worker, recounted in a testimony he gave on 22 April 2020 how soldiers broke into his home in the middle of the night:
At around 3:30 A.M., I had just gone to sleep when I heard noises outside. Suddenly, I heard a very loud noise and the whole house shook. I didn't understand what was happening. I ran to the living room and saw that about 15 soldiers had broken into our home. I asked: "What is this? Why are you doing this?". One of them motioned me to be quiet and ordered me to give him my ID card. He asked me about the guard of the complex, and I said he was at the entrance.

One of the soldiers said they wanted to search the house. I asked them to wait until I woke my family, including my granddaughter, who's only two years old. The soldiers ordered us to gather in the living room and one of them ordered my son Nassim (24) and my wife, Naelah, to get their ID cards. Then they ordered us to go outside so they could search the house.

We went and stood outside the house. The soldiers brought three dogs inside. It was cold and I was worried about my small granddaughter. I asked one of the soldiers to let us sit in our car and he agreed. My wife, daughters and granddaughter got into my car, and my son Nassim and I sat in his car.

Around 5:30 A.M., the soldiers left and we went back inside. I asked my family not to touch anything for fear of the coronavirus. We sanitized all the doors, cabinets, kitchen appliances and surfaces and washed the floor. We all worked hard and cleaned everything, including the bedding. We washed everything we could, and put the rest outside to be disinfected in the sun.

Despite all our efforts to maintain social distancing and the fact that I had to stop going to work to protect my family from the coronavirus, the soldiers came into our house and touched everything. Some of them wore gloves and masks but still, the fact they entered our home at this time frightened us very much and made us anxious, in addition to the fear of the raid itself.

This isn't the first time that soldiers have raided the complex or broken into our home. They train here all the time, about once a month. They break into apartments that aren't inhabited yet. They entered ours a few times before we moved in. But we've lived here for six years and this is the first time they've entered our home since we moved in.

I still haven't been able to fix the damage they caused when they broke in. I have to change the lock but because of the coronavirus, no one will come here now and all the stores are closed.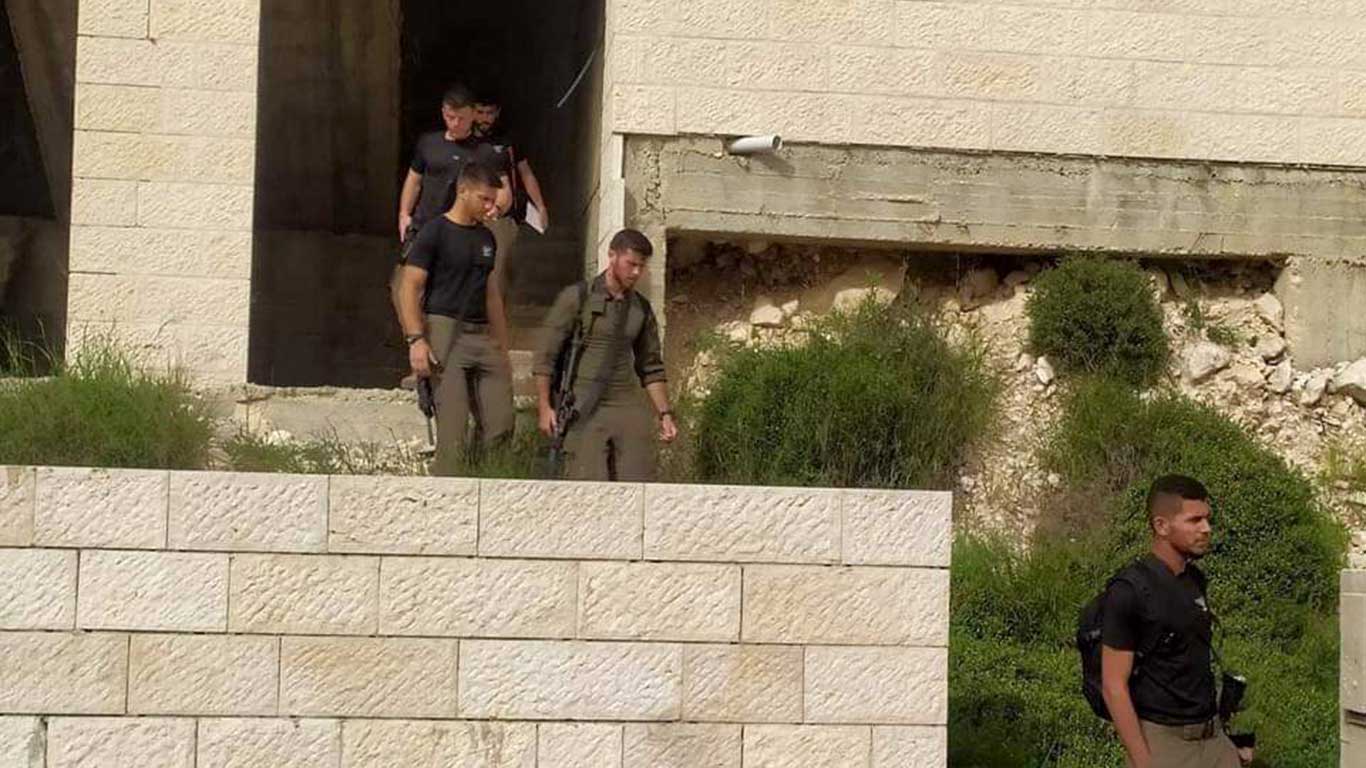 Najat Jaber (41), a married mother of three, described a raid on her home while she and her family were away in a testimony she gave on 3 May 2020:
The damage to Najat Jaber's door. Photo courtesy of the family

On Thursday morning, 16 April 2020, around 5:30 A.M., my husband got a call from the neighbors telling him that soldiers had raided our home and broken the front door. That night, we were sleeping at our house in Nablus.

Around 7:00 A.M., my husband and I got home and saw that the two doors at the entrance were broken.

Inside the house, the wardrobes were open and the drawers and bedding had been tossed to the ground. All the cupboard doors in the bathroom and kitchen were open and there were soldiers' footprints on the floor. My husband asked me not to touch anything until we scoured the house.

Soon after, the neighbors came over with spray and disinfectants. We disinfected the whole house and then I started cleaning. I cleaned the entire house, roof to garden, from 7:30 A.M. to 6:00 P.M.

I was very tired. I cleaned everything, even the kitchen utensils, because I was afraid the soldiers might have touched them. Because of the coronavirus, you can't take any chances. When I finished, all I wanted to do was rest and sleep.

Now, we're afraid to leave the house because the doors are broken and no one will come to fix them in the current situation. Also, the repair will cost a lot, around 4,000 shekels (~1,140 USD). My husband is worried that if we fix the doors, the soldiers will just break them down again. With our neighbors' help, we locked the doors from the inside, but now we can't use them and can only use the back door. It's not safe, but there's nothing we can do about it. We don't have the money for repairs. Due to the coronavirus, there's no work now, either.

The first thing my girls did when we came home was check on their toys. They saw that the soldiers had messed them up. I don't understand how they can mess with children's toy, what could be in there? When my daughters saw that, they became sad.

The soldiers keep coming here, again and again. They claim to be training, but now they've begun breaking into inhabited homes. They didn't used to do that. Everyone knows they're not really looking for anyone. Their goal is to scare us and make us leave.

We chose to live here because it's a quiet area with a spectacular view, far from the noise of the city. I hope they leave us alone and never come back.