Al-Jalazun Refugee Camp,north of Ramallah, is home to some 15,000 Palestinians, 5,000 of them children and teens. The settlement of Beit El was established nearby in 1977, on private land belonging to residents of the town of al-Bireh and the villages of Yabrud and Dura al-Qare'. The close proximity to the camp has led to regular military presence in the area. Soldiers are often involved in clashes with residents, usually near the schools at the entrance to the camp. The forces use crowd control measures in these confrontations, and in some cases also live fire. Over the past five years, soldiers entered the camp once a week, on average. 
In July and August, B'Tselem field researcher Iyad Hadad documented two military incursions into the camp. In these night raids, soldiers carried out arrests, fired live ammunition at residents, violently raided nine homes while damaging property, and confiscated documents from a cultural center that provides services for some 150 children and teens. During the raids, soldiers arrested seven residents, six of whom were released several hours later. Two other residents complied with the demand to turn themselves in. Of the three residents in custody, one was indicted for possession of arms and opening fire at a person near Beit El. B'Tselem does not know whether the other two have been indicted.
Military raids on Palestinian homes in the dead of night, with soldiers waking entire families and ransacking their property, have become a staple of the occupation regime in the West Bank. The forces are not required to present a search warrant and are sent in at any time and place their commanders see fit, in keeping with the military's adoption of sweeping arbitrary powers. These actions, which are clearly designed to intimidate the population, are unjustified. This is yet another example of daily life under the occupation.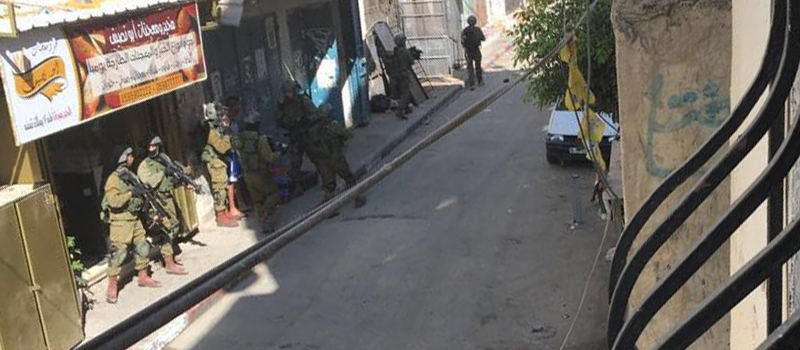 Raid on al-Jalazun Refugee Camp, 15 July 2018:
On Sunday, 15 July 2018, at around 1:00 A.M., two civilian vehicles with Palestinian Special Forces' license plates drove into the camp. At around 8:00 A.M., they were joined by an Israeli military force of more than 200 soldiers, about 20 vehicles and a bulldozer. The troops spread out in the camp and started searching homes and carrying out arrests. Snipers took up positions on roofs and fired at young men from the camp who were throwing stones at the soldiers, injuring six residents – three of them minors. Although the stone-throwing did not pose a risk to soldiers' lives, the snipers used 0.22-caliber bullets ("two-twos") that are tantamount to live fire, which is supposed to be permitted only in cases of mortal danger. The six injured residents were taken to hospital in Ramallah.
The soldiers used instruments to break into the homes, entering six of unannounced while the families were asleep, assaulting some of the inhabitants and arresting two in order to pressure others to turn themselves in. The homes were ransacked. In one instance, soldiers stated that if the residents wanted for questioning did not turn themselves in, the camp would be raided again.
Most of the troops left within two hours, but military vehicles continued to block both entrances to the camp, to the south and to the north, and search passing vehicles until midday. 
Snipers shot legs of two camp residents who posed no danger, one of them a 14-year-old
Sharif Hamidat, 32, a married father of one, lives in the camp and works at a bakery in Ramallah. At around 8:45 A.M., he passed by the local grocery store on his way to work and saw some 20 soldiers standing there. They were holding a member of the Sharakah family, who lives about 50-80 meters from the store. Hamidat crossed the street into a nearby alley, where he met another resident, M.F.
In a testimony he gave B'Tselem the following day, Hamidat described what happened next:
Sharif Hamidat in the hospital

My first thought was that I must tell my family to close the windows, in case the soldiers fired tear-gas. When I went into the alley I saw M.F., a 19-year-old guy from the camp who seemed as surprised as I was to see the military.

I called my wife to warn her. A soldier who was lying in a sniping position and apparently got suspicious of the phone call aimed his rifle at me. He was lying several meters away from the group of soldiers. As soon as I got off the phone, he fired and hit me in the left knee with a "two-two" bullet. I recognized the sound, which is different from regular live bullets. I shouted: "Ow, I've been shot in the leg". At first, the pain wasn't too bad and I managed to walk about twenty meters towards my parents' house. I didn't want to go home because I was afraid the soldiers would arrest me or do something to me. The soldiers didn't follow me. When I got to my parents' house, I called my wife again and told her I'd been hit.

I had a 0.5-cm bullet entry hole in the front part of my knee, with no exit wound. I bandaged the knee to stop the bleeding and wiped it off with a tissue.
About 15 minutes later, a soldier lying in a sniping position shot camp resident Riyad Alian, 14, in the leg. Alian had been hiding in a corner of the same alley. 
In a testimony he gave B'Tselem the next day, Alian related:
Riyad Alian at his home

When I peeked south out of the alley, I saw a lot of soldiers in front of the Sharakahs' house. They were standing about fifty to eighty meters away from me. I guessed they were there to arrest one of the boys in the family. Every now and then I poked my head out of the alley and went back to hiding. At some point, I peeped out again and was shot in the right leg. I didn't hear the gunshot, it was like it was fired with a silencer. I didn't see who shot me, either. I just suddenly felt something explode in my leg. I started yelling "I've been hit, I've been hit" and limping as fast as I could back to my house, thirty-forty meters away.
In a testimony he gave B'Tselem the following day, camp resident Q.S., 13, described what he saw of the incident:
I was woken at around nine o'clock in the morning by explosions. It sounded like the Israeli army had hurled two stun grenades or tear-gas canisters.

I went outside to see what was happening. I saw about seven kids hiding in the neighboring alley. They were looking towards the Sharakahs' house. I realized it was a raid. I joined the other kids and they warned me: "Hide from the army, watch out". I kept peeking out to watch the soldiers at the end of the road. I saw more than thirty of them spread out near the Sharakahs' house. Some were on rooftops and others were on street corners, about eighty to ninety meters away from us. I saw a few snipers. One of them was lying on the ground closer to us, next to a house about sixty to seventy meters away. 

I didn't see anyone throwing stones in our neighborhood. Maybe they did in other areas. A few minutes after I got there, the sniper shot my neighbor, Riyad Alian, after he poked his whole body out of the alley. Riyad was hit in the right leg and ran off home, limping.
Raids on homes: 
Several camp residents described the raids on their homes in testimonies they gave B'Tselem field researcher Iyad Hadad:
The Sharakah home, 8:00 A.M.:
Soldiers broke through the door of Siham (52) and Jamal (50) Sharakah's home, where they live with four of their children, in the Shahid 'Ali Safi neighborhood. Jamal and one of the sons, Ahmad (27) had already left for work, while Siham and daughters Sundus (23) and Sarah (19) were still asleep. Nasser (22), returned home and was assaulted by soldiers who beat him severely, while others searched the house, damaging the family's property. After about an hour, the soldiers arrested Nasser and left the house with him.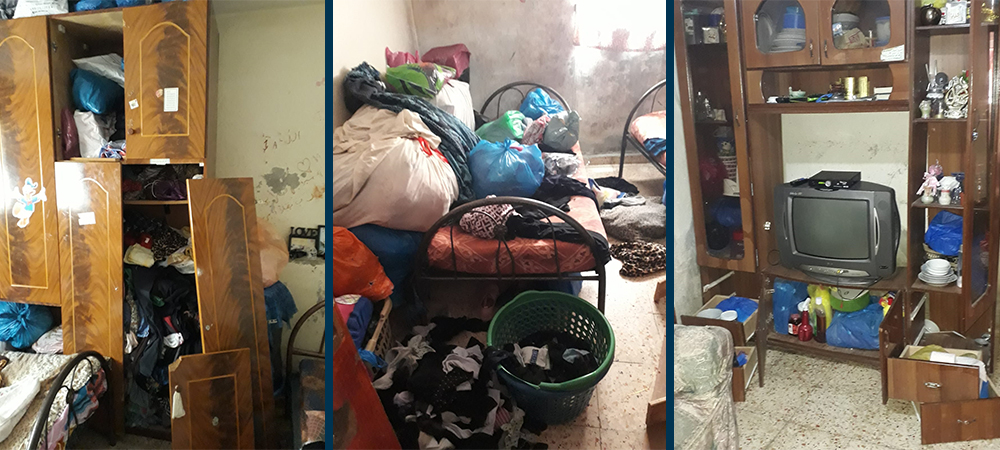 Siham Sharakah described the incident in a testimony she gave B'Tselem on 18 July 2018:
On 15 July 2018, at eight o'clock in the morning, a military force broke through the door to our house. My husband, Jamal, and my son Ahmad had already left for work. My son Nasser had just come home and both my daughters were still asleep. The soldiers, who were armed and masked, jumped Nasser and the girls woke up with a fright. I was scared, too.

I saw the soldiers grab Nasser in a chokehold and start dragging him out of the house. I begged them to let him go but they yelled "Be quiet, be quiet". They ordered me to go sit with the girls in their room and took Nasser outside, beating him with their rifle butts and kicking him. Every time I tried to say something, one of the soldiers silenced me and another threatened to spray gas in my face.

Meanwhile, other soldiers searched the house. They turned it upside down and made us sit there without saying a word. After about twenty or thirty minutes, they led Nasser into the bathroom and kept on hitting him there. He was calling out for help and I begged them to stop. I told them he was sick, that he had the flu. I asked them to have mercy, but it didn't help.

After another ten minutes or so, they moved us into the bedroom and searched the kids' room. About fifteen minutes later, they handcuffed and blindfolded Nasser and left, taking him with them. 

They left a total mess behind. They disrupted our lives for no reason. They could have arrested my son or sent him a summons without causing all this injustice.
The Abu Sharefa home, 8:45 A.M.:
Soldiers broke through the door of 'Abir (43) and Saleh (45) Abu Sharefah's home. The couple have nine children between the ages of 8 and 28. About seven soldiers came into the apartment, which is located on the third floor of the extended family's home in the market neighborhood. They handcuffed Yusef (14), who was sleeping in the living room, and refused his father's requests for an explanation. Saleh Abu Sharefah told the soldiers that his wife was in the bathroom and, when he tried to prevent them from going in there, they attacked him. The soldiers arrested Abu Sharefah's brother and 16-year-old son and questioned both about the whereabouts of his eldest son, 'Alaa. Both were released several hours later, at around 1:00 P.M., after 'Alaa turned himself in.
In a testimony he gave B'Tselem on 17 July 2018, Saleh Abu Sharefah described the raid on his home:
Saleh Abu Sharefah. photo by: Iyad Hadad, B'Tselem, 17 July 2018

I have six sons and three daughters. Our eldest, 'Alaa (28), was in prison (in Israel) twice, for seven and a half years altogether. Seven months ago, he got out after serving four and a half years.

Two days ago, on 15 July 2018, at a quarter to nine in the morning, I was having coffee and getting ready to leave for work in Ramallah. Suddenly, armed soldiers burst through the door. They must have used instruments to open it. I didn't hear any knocking before they came in. All the kids were asleep apart from 'Alaa, who hadn't slept at home. When the soldiers came in, I ran to block the door to the bathroom because my wife had just woken up and was in there.

Some of the soldiers went straight to the living room and handcuffed my son Yusef (14), who was sleeping there. The others went into the hallway. I went over to them and asked: "Where are you going? What do you want?" I explained that my wife was in the bathroom, but they just shouted "Shut up, shut up" in Arabic.

I stood in front of the bathroom door and wouldn't budge, to protect my wife. The soldiers asked: "What's in there?" I said my wife was inside. They told me to get out of the way so they could break through the door and started pushing me violently.

My wife heard the soldiers shouting and came out of the bathroom wrapped in a sheet. She screamed and hurried into her room. Meanwhile, the soldiers beat me up, including one who looked like he was the commander.

At some point, they called for reinforcements and more soldiers came, making about fifteen of them altogether. They surrounded me and hit me from every direction with the butts of their rifles.

My son Sameh (22) tried to intervene and get the soldiers off me, but one of them kicked him very hard in the behind and dragged him into the bedroom, where the soldiers were holding the little ones and my son 'Abd a-Rahman (16). Then they handcuffed Sameh and 'Abd a-Rahman. They tried to tie my hands, too, but I resisted. They went on hitting me for some time, while other soldiers searched the house with a metal detector. Before they left, they let Sameh go, because we told them he has a heart condition. They took 'Abd a-Rahman and my brother 'Abd al-Hafez (28). The soldiers let them go later that day, but only after 'Alaa went to Ofer Prison and turned himself in.

I stayed home. My whole body hurt terribly, and I had trouble breathing. When I couldn't take it any longer, we called a Red Crescent ambulance that took me to the Mujama Falastin medical center in Ramallah. They examined me and took x-rays. I had severe bruising in the neck, back and chest. I was given an IV and released at around midday.

The soldiers caused a lot of damage to the house. They ruined the cylinders of the front door and of the door leading to the roof, as well as the building's intercom. They bored a 30X30 centimeter hole in a wall in one of the rooms and broke an aluminum window frame. They also broke a window frame in the living room.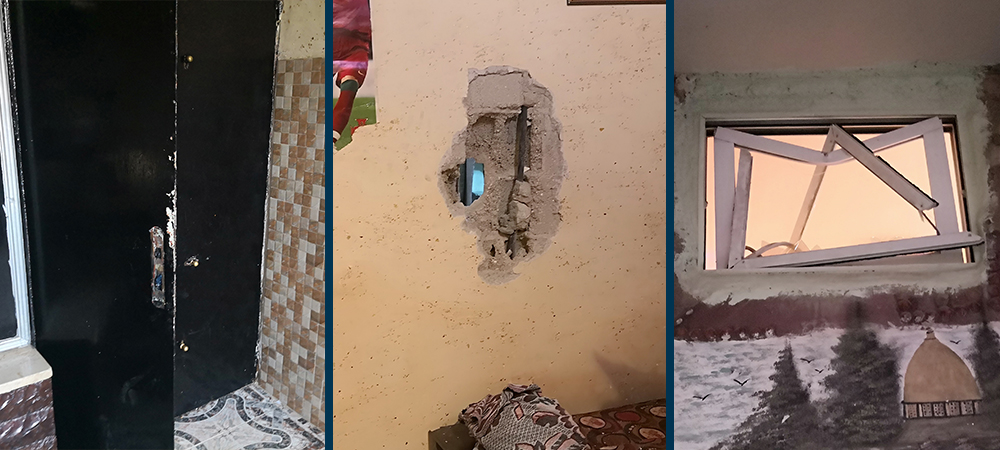 Raid on al-Jalazun Refugee Camp, 6 August 2018:
On the night of Monday, 6 August 2018, at around 3:00 A.M., dozens of soldiers and Border Police officers raided al-Jalazun Refugee Camp. The forces hurled stun grenades and intimidated the residents. They broke through the doors of three homes, waking up the occupants and treating some in a degrading fashion, including forcing one to undress. The soldiers searched the homes and took over a rooftop. The troops also broke through the door of the al-Manajel cultural center, damaging furniture and equipment there and confiscating documents. 
The Khatab home, 3:00 A.M.:
Dozens of Border Police officers raided the home of Salwa (44) and 'Adnan (45) Khatab, where they live with their six children between the ages of six and 24. The officers gathered the family in a hallway and spread out in the house and yard, as well as on the roof. They searched the family's belongings, causing damage in the process. The officers also forced Zidan (20) to undress, strip searched him and threatened to come back and arrest him. 
In a testimony he gave the next day, 'Adnan Khatab described the raid on his home:
'Adnan Khatab

Yesterday, 6 August 2018, at around 3:00 A.M., I was woken by noises coming from our driveway. I also heard knocking on the back door to the kitchen and on the front door. I went to the back door. A group of Border Police officers ordered me to open it and barged in without asking permission or giving a reason. They had two commanders with them. I asked them: "Where are you going? What do you want?" One of them shouted at me: "Quiet, army". He pushed me and went inside. They ordered me to wake my adult sons and detained me, my wife and our son 'Awab in the hallway. Then they spread out through the house, on the roof and around the house. My son Rayan woke up while they were searching the house. He was scared and I held him. We woke our little daughter, Hala, so she wouldn't suddenly wake up and get a fright. The kids stayed by our side. 

One of the commanders took my son Zidan (20) out into the stairwell. I later learned that they made him strip naked and searched him. Then they took him out of the building and questioned him about his friends and whether he had thrown stones. They told him they didn't have enough time or an arrest warrant for him this time, but that next time they would take him.

My son Islam (24) wanted to use the bathroom, but the officers wouldn't let him. After about an hour, they moved us from the hallway to the living room, and left two officers to stand guard over us, pointing their rifles in our direction.

The officers took photos of me and of Islam, Awab and Zidan. They also filmed all the rooms in the house on video. At about 4:15, when they were done damaging the house and roof, they left without telling us why they had come in the first place. They turned all the bedrooms upside down and damaged one of the closets. On the roof they removed the tops from the water tanks and threw them on the floor.

I think the whole point of the raid was to scare Zidan, even though he works from morning to evening for the electricity company and has never been involved in political activity. After the forces left, we all stayed home to tidy up. My sons couldn't go to work. They turned our lives upside down for no reason and left us worried over the threat to Zidan. 
In a testimony he gave B'Tselem the next day, Zidan Khatab related:
Zidan Khatab

I was woken by knocking on the front door. My parents were already awake, and my father opened the door. About ten to fifteen Border Police officers came in, with black paint on their faces. The moment I stepped out of my room, a commander said to me: "Stop, stop, are you Zidan? What's in your pockets?" He asked me to empty my pockets. I took out a watch, my identity card and cigarettes. He told me to put them on the table and then led me into the living room and sat me down there with my parents and two brothers, Islam and Awab. While they were holding us there, the commander called for me and asked: "Where's your room?" He made me show him the room and then I went back to the living room. Meanwhile, the Border Police officers searched my room, which is actually in the stairwell because our house is small. Then he called me over again and asked: "What do you do for a living?" He left me alone for a while and then came back and asked me more questions.

After about an hour, he called for me again and ordered me to get dressed. While I was putting a shirt on in my room, one of the Border Police officers yelled at me: "Stop. Stop. What did you put in your pocket?", even though I hadn't put anything in my pocket. He aimed his gun at my head and said: "Strip, strip!" I took all my clothes off and stayed in my boxers, but he ordered me to take them off, as well. I did as he told me. Then he ordered me to spread my legs. I felt so humiliated. Then the Border Police officer told me to get dressed and took me outside, where the commander questioned me about the neighbors, their houses and their cars. He asked me about my car and I answered that I don't have one, but he insisted that I do. 

The Border Police officer who was with me poked me with the barrel of his rifle and asked me irrelevant questions for about fifteen minutes. He shone a torch on a pile of stones opposite the house and asked how I was connected to it. I told him I wasn't. He said: "We have photos of you and can prove that you take part in throwing stones." I told him I have nothing to do with stone-throwing. He said: "Okay, we're short on time and don't have an order to arrest you this time round, but you can expect us to be back to arrest you." He told me to stay outside until they left, which they did at around 4:30.

The army is only doing these things to provoke us and disrupt our lives. They act violently, condescendingly, and hurl accusations at people who aren't strong enough to defend themselves.
The Nakhleh family, 3:00 A.M.:
Soldiers carrying work tools and ladders entered the home of Mariam (45) and 'Abed (48) Nakhleh, where the couple live with their four children between the ages of thirteen and twenty, in the al-Mal'ab neighborhood. The soldiers went straight to the inner stairs leading to the roof and climbed them. They shut the door to the roof and used the spot to surveil the nearby al-Manajel center as soldiers raided it. 
In a testimony she gave B'Tselem on 8 August 2018, Lara Nakhleh (19) described the anxiety that the raid caused her:
Lara Nakhleh

When they came, I was asleep in the bedroom with my sisters. I was woken by loud knocking on the door and wasn't sure whether I was dreaming. I heard shouts: "Ya 'Abed! Open up, ya 'Abed." I thought it was an acquaintance of my dad's. I woke him up and he looked out the window and saw the soldiers. He asked them to wait for him to wake the family up so no one would get a fright, and they waited a few minutes. 

Then my father opened the door and they came in carrying tools and ladders. They didn't ask permission and didn't show us any warrant, just marched straight over to the inner stairs that lead to the roof, as though they were familiar with our house. The soldiers told me to turn off the lights outside and shut the door. Then they holed up on the roof. We could hear them walking around but didn't know what they were up to.

Later we learned that another group of soldiers had raided the cultural center next to our house. I was kind of in shock. My legs were shaking. I couldn't move. I was terrified that the soldiers would come back down into our house and harass us. 

The soldiers left at around 4:30 A.M., but even after they were gone I couldn't calm down and go back to sleep. Every time someone comes in or out, I get scared and think the army is back. I'm in the middle of a hair design course but I couldn't go to class. I'm still feeling shaken.
Raid on the al-Manajel cultural center, 3:00 A.M.:
Soldiers broke through the doors of the center and searched the premises. One of them called the director, Muhammad Safi (41), and ordered him to come there. When he arrived, Safi saw dozens of soldiers, some pointing their rifles at him. They did not respond to his questions as to the reason for the raid and left a short while later, leaving heavy damage in their wake.
In a testimony he gave B'Tselem on 8 August 2018, Muhammad Safi related the events of that night:
Our center was established in 2008 to provide educational and social services for children and youth. We have a general assembly of forty social activists from the camp and we serve more than 150 kids a year, offering them courses, summer camps and volunteering opportunities. A day before the raid we wrapped up a summer camp with 110 kids from al-Jalazun.

On Monday, 6 August 2018, at 3:00 A.M., an Israeli officer called me. He didn't state his name and told me to come to the center. About ten-fifteen minutes later, as I was getting ready to leave, he called again and threatened that they'd demolish the center and my home if I didn't show up. 

I got to the center at around 4:00 A.M. There were dozens of soldiers there. About ten surrounded me and pointed their weapons at me. It was dark, and they shone torchlights on me as if I was a criminal or terrorist. I asked them: "What's wrong? What do you want? I'm Muhammad Safi, the director. You asked me to come here, so I did!" No one replied. I guess the raid was over by then. They let me go and left without explaining why they'd come. I asked who was in charge, but no one answered. They left at about 4:15.

After they'd gone, I checked the center and discovered a lot of damage. They destroyed the front door, which is made of iron, as well as two wooden doors, three Scouts' drums, two study desks and three chairs. They tore the shelves out of the bookcase and took all kinds of documents and money. The repairs will cost 5,000-10,000 shekels (USD 1,380-2,750). With the damaged equipment we will have trouble carrying out all our usual activities. The whole think shook us up.