The Palestinian village of al-Mazra'ah al-Qibliyah, which lies north of Ramallah, is home to some 5,180 people. On the night of Thursday, 5 July 2018, at around 1:30 A.M., the military raided the village with about ten utility vehicles, some fifty soldiers, a bulldozer and an armored personnel carrier (APC). The troops spread out in the village and raided seven homes. In two of them, the soldiers forced the doors open. In the other five, the occupants opened the door, having heard the soldiers outside and fearing they would force their way in. Once inside, the soldiers awoke the occupants and turned their homes upside down.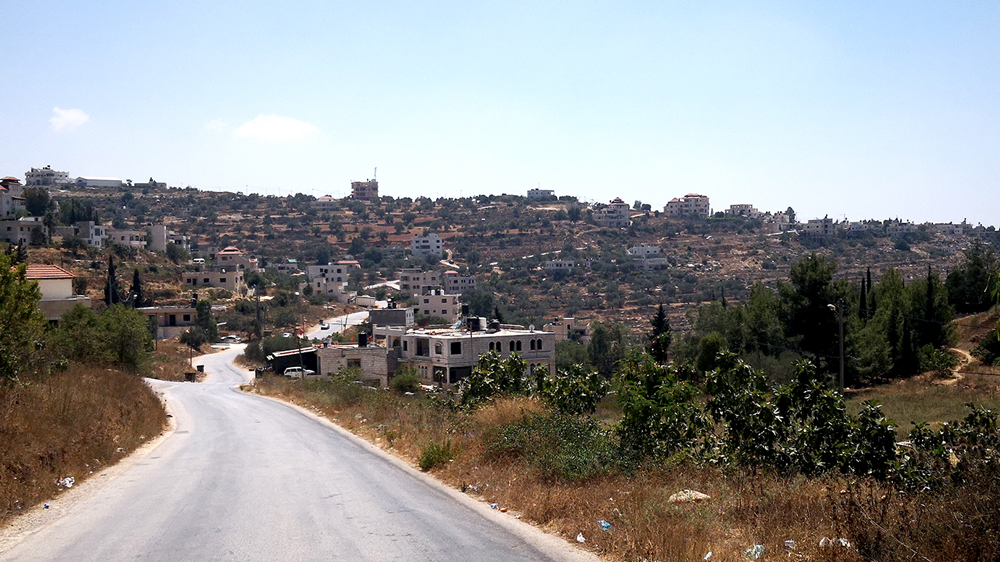 The soldiers also arrested two brothers, Nadim (38) and Yazan (37) Abu Rabi', and took them to Ofer Prison, where they were held until four in the afternoon and then released without getting their ID cards back. In four of the seven homes, soldiers asked the occupants about their ties with Yasin Rabi', a village resident who was released from Israeli prison and expelled to Gaza as part of the Shalit deal in 2011. In one of these homes, the soldiers phoned Rabi' and threatened him in the presence of the occupants. Soldiers also handcuffed two residents, Shaehd Shreiteh (27) and Jihad Abu Qara', blindfolded them and took them in a military jeep to an officer who interrogated them on their connections with Yasin Rabi'. Shreiteh was severely beaten by the soldiers before the interrogation, both in his home and in the jeep. He was hospitalized at al-Istishari Hospital in Ramallah after the incident.
At around 7:30 in the morning, when the troops were heading out of the village, clashes erupted. Local youths threw stones at the soldiers, who responded by firing rubber-coated metal bullets and teargas. Three youths sustained light injuries from the bullets. One received medical attention on the spot, and two were taken to al-Istishari Hospital in Ramallah and released later that day.
Scenes of the military raiding a Palestinian village in the dead of night, rousing entire families from their sleep and wreaking havoc in their homes, have long since become part of the routine shaped by the occupation regime in the West Bank. Soldiers are not required to obtain search warrants to carry out these raids, which take place whenever and wherever the military chooses, in keeping with the sweeping arbitrary powers it has adopted. The raids, which are clearly designed to intimidate the residents, have no justification. This is yet another example, among many, of daily life under the occupation.
In testimonies they gave to B'Tselem field researcher Iyad Hadad, residents whose homes were raided described that night:
The raid on 'Ali and Khaldiyah Shreiteh's home
At 1:30 A.M., some twenty soldiers raided the home of 'Ali (66) and Khaldiyah (59) Shreiteh, who live with their son Shahed (27) and daughter Ayam (23). The soldiers forced the door open, woke the family and led them to the balcony without letting them get dressed. Khaldiyah and Ayam were not allowed to put on their head covers, and Shahed was taken to the balcony in his underwear. The family was held on the balcony while soldiers turned their home inside out, tearing the upholstery on couches, and damaging doors and plants. After about two hours, at 3:30 A.M., the soldiers took Shahed to his room and ordered him to get dressed.
In a testimony he gave on 10 July 2018, Shahed Shreiteh, who works as an electrician, described what happened next: 
Shahed Shreiteh. Photo by Iyad Hadad, B'Tselem, 10 July 2018e

After they searched our house, at around 3:30, the soldiers told me to go to my room and get dressed. After I got dressed, they jumped me and knocked me to the ground in the hallway. They tied my hands, beat me and kicked me in the back and legs with their boots. One of them pressed down on my neck with his boot, choking me. I cried out in pain. Then they dragged me into the kitchen and one of the soldiers gave me first aid.

At around 4:15, one of the soldiers said: "Okay, say goodbye to your family, you're coming with us." He dragged me to the front door, put a bit of cloth over my face and led me to one of the jeeps that were parked out front. They threw me onto the floor of the jeep. There were some soldiers inside. I lay on my back and they started kicking and beating me. One of them kicked my face with his boot. One soldier – I didn't see which one because my eyes were covered – smacked me so hard in the chest that I felt I couldn't breathe. I think he did it with the butt of his rifle. I screamed in pain. 

The jeep drove for a few minutes and then they took me out. They made me raise my hands. A soldier came over, stripped me down to my underwear and frisked me. He touched me all over my body. Then they put me back in the jeep and we drove for another 500 meters or so. Then they took me out of the jeep and took my blindfold off, so I could speak to an officer who was standing near one of the neighbors' houses. I got angry and shouted at him about how they trashed our whole house and beat me. I told him I would complain. He threatened me with administrative detention and said there was no one I could complain to. At 5:30 A.M., they let me go and I had to walk home. I barely made it, even though it was only about 40 meters away. Later, I was taken to hospital. The doctors gave me X-rays and checked me. They found bruises but no fractures. They gave me pain killers and held me for observation until 4:00 P.M. the next day.
The raid on the Rabi' family's home
At around 2:30 A.M., soldiers raided the home of 'Aqel (55) and Asmaa (53) Rabi', who live with three of their children between the ages of 19 and 26. 'Aqel opened the door after he heard soldiers nearby, and ten soldiers came in. They separated the men from the women, turned the house upside down and confiscated the men's ID cards. An officer told 'Aqel that the raid was intended to pressure his brother, Yasin Rabi', who was expelled to Gaza as part of the Shalit deal. The officer said that soldiers had raided other relatives' homes, too. He also phoned Yasin and threatened him in front of his brother.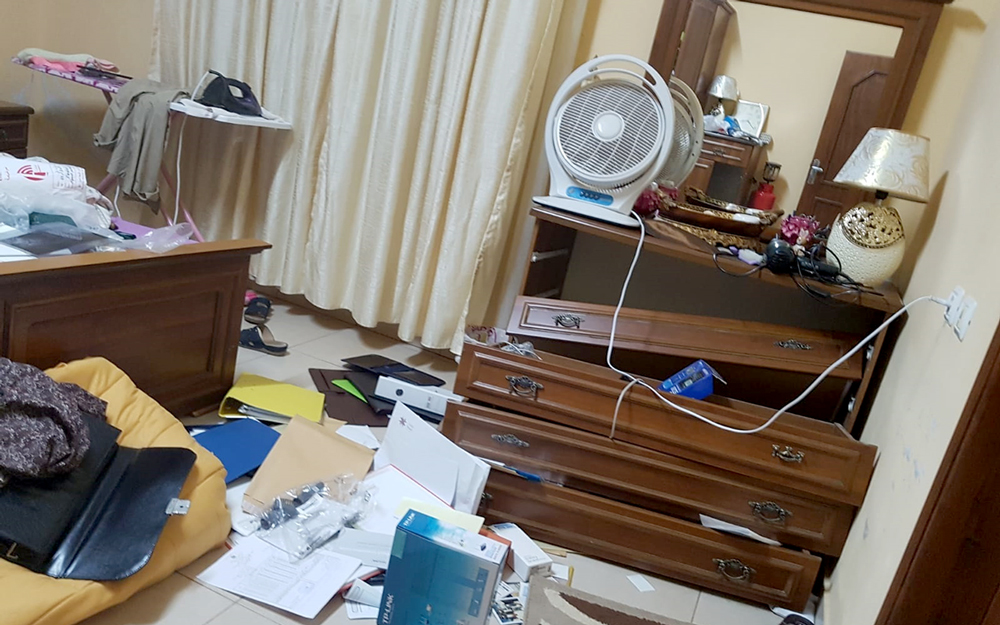 Asmaa Rabi' described the raid on her home in a testimony she gave on 8 July 2018:
On Thursday, 5 July 2018, in the early hours of the morning, we were asleep as usual. My granddaughter Banah was sleeping over. Suddenly, my son Tareq came into our room and woke me up. He looked out the window and said there were soldiers near the house. My husband was already awake. I got out of bed quickly and woke the girls so they could get dressed, in case the soldiers came inside.

A few minutes later, the soldiers came in. My husband had turned the lights on and opened the door the moment he woke up, so they wouldn't bust the door open. More than ten soldiers came in. They had shields and helmets on, and some of them were wearing masks. There was an officer with them who introduced himself as Diab. 

They burst in without permission and took my husband's and son's ID cards. The officer ordered us, the women, to go into a room in the middle of the house. They held my husband and son in the hallway. The soldiers spread out through the house and started rummaging through our things and moving furniture around. Every so often I tried to understand what was going on, but they just yelled at me to keep quiet. Apart from my husband's and son's ID cards, they didn't ask us for anything and didn't explain what they wanted from us. I thought they would ask for something specific or try to arrest someone. We found it strange that they just came in for no reason. Every time we asked what they wanted, they yelled at us: "Shush! Quiet!"

My granddaughter was shaking with fear. I tried to calm her down and act like everything was okay. She hid under the blanket. They continued messing up our home for about an hour and a half. Before they left, a female soldier took us out of the room one by one and searched us with her hands. She wasn't aggressive, but she touched us all over and it was humiliating, for no reason. All we were doing was sleeping in our own home.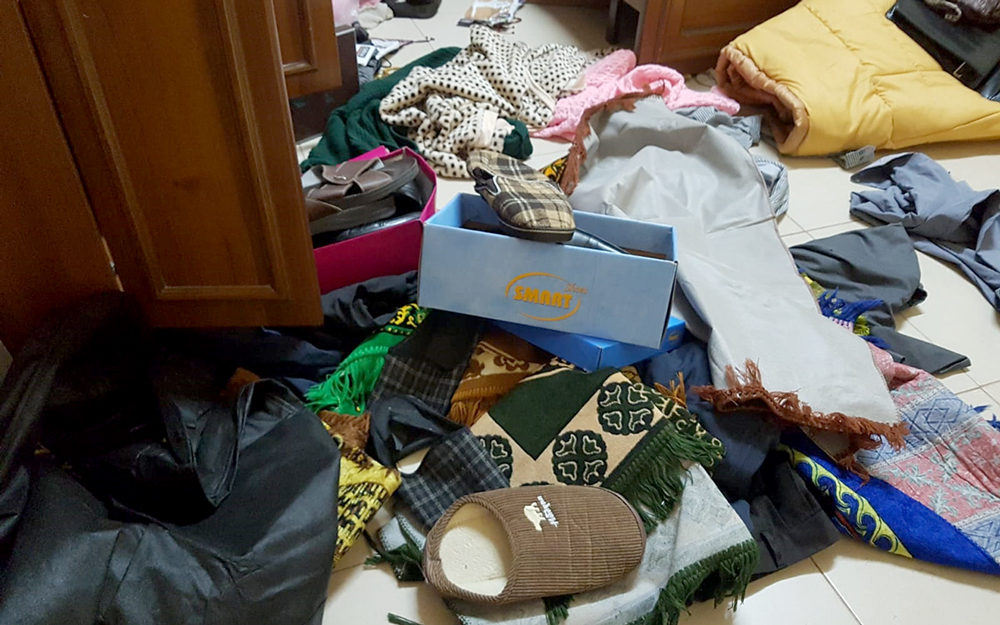 'Aqel Rabi', director of the a-Zakat charity in Ramallah, described the raid on his home in a testimony he gave on 9 July 2018:
'Aqel Rabi'. Photo by Iyad Hadad, B'Tselem, 9 July 2018

They separated my son and me from the women. The officer ordered me to sit across from him in the living room. He said: "I want to speak with you frankly". I said: "Okay". He said they had come into our house to pressure my brother, Yasin. Yasin was a prisoner until he was released as part of the Shalit deal and sent to Gaza. He still lives there. The officer said they'd also entered the homes of other relatives "to pressure him, so he'll calm down". 

I told the officer: "There's no reason to go on. I'm not a minor. My brother is not a minor. We're both adults and neither of us is responsible for the other. We are separate people, each responsible for his own actions. I'll pretend that I didn't hear what you said." When I finished speaking, the officer pulled out his phone and dialed. At first, he didn't tell me who he was calling, and then suddenly Yasin answered. The officer told him he was in my house and that he'd been in the houses of other relatives, too. He told Yasin that they were watching him and could get to him anywhere. Then the call ended.

When the officer saw I wasn't cooperating with him, he told the soldiers to search the house. They trashed it completely, with no clear aim. It felt like he was being vindictive. They let me accompany them through the house, but every time anyone spoke, they yelled: "Shush!" They went from room to room trashing everything. All I could do was keep quiet and watch. They went on like that – searching, rummaging, moving things and furniture around.

The soldiers stayed in our house for about an hour and a half. Before they left, the officer said to me: "As far as I'm concerned, I've made my message clear". I answered that as far as I was concerned, no message was received because I wasn't the address. When I demanded my ID card back, and my son's, he refused. We still haven't got them back.

After they left, it took us hours to clean up the mess. We didn't go back to sleep. My son and I were late for work. We're trying to carry on as if nothing happened. We won't let them disrupt our lives.
The raid on the Ladadwah home:
At 3:00 A.M., soldiers raid the home of Hassan (50) and Sanaa (48) Ladadwa, who live with eight of their ten children, between the ages of 11 and 28. The family heard the soldiers outside and one of the sons opened the door. About ten soldiers came in and searched the house, the car and the storage shed. They ordered Hassan and his two adult sons (19 and 24) to remain on the floor in the hallway. They also forced the father – who suffers from spinal problems due to an accident, has diabetes and high blood pressure, and has undergone open heart surgery – to kneel on his hands and knees for about forty minutes.
Hassan Ladadwah, who is unemployed, described the raid on his home in a testimony he gave on 8 July 2018:
Hassan Ladadwah. Photo by Iyad Hadad, B'Tselem, 8 July 2018

More than ten soldiers burst into the house and spread out through the rooms and hallways, without asking permission or showing us a search warrant. They just came in. They were armed and some had masks on. Two of them spoke Arabic. Other soldiers didn't come in and stood outside the house.

They went into the young kids' rooms first, but my wife stopped them and went in to wake the children herself. They locked my wife and the young ones in the boys' room, and held me and our two older boys, 'Odeh (24) and Muhammad (19), in the living room. They made me kneel on my hands and knees. I told one of the soldiers that I was sick and explained my health problems to him, but he insisted that I stay in that position. Every few minutes, I told them I couldn't keep it up. My sons also tried to tell them that I had to sit on the sofa, but they didn't budge and told us to keep quiet.

In the meantime, other soldiers searched the house. They moved all the furniture and turned everything upside down.

They didn't care that I'm unwell or that they made us wake the young ones. They didn't ask us anything while they searched. I asked to go with them and asked what they were looking for, to spare all the mess they were making, but they weren't interested. Suddenly, they asked me about my eldest son, Yihya, who is in administrative detention. I had nothing to tell them – they're the ones who have him in prison. I told them they know much more than I do about what he's up to in jail. They asked about some money he owns. I said we didn't have it. During the search, they found 200 shekels that belong to my son Muhammad and 50 that belong to my daughter Shuruq. They gave us the money back before they left.

They kept me on the floor for forty minutes. When they saw my condition was really getting worse, they let me sit on the sofa. Five minutes later they left, leaving a terrible mess behind them.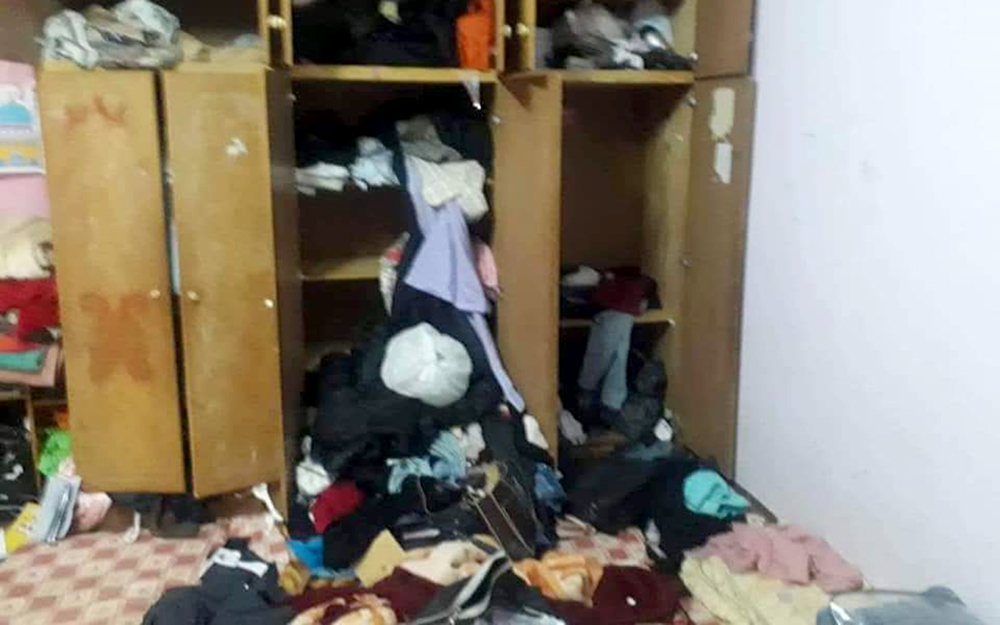 Sanaa Ladadwah also described the raid on her home in a testimony she gave on 8 July 2018:
Sanaa Ladadwah. Photo by Iyad Hadad, B'Tselem, 8 July 2018

They went to wake the young children. At that point, I stepped in. I asked to wake them up myself, so they wouldn't get a fright. I woke the girls and took them to the boys' room, and then the soldiers started searching the girls' room. While we waited in the boys' room, every movement or request we made was met with the same shout: "Shush! Quiet"!

The older boys, 'Odeh (24) and Muhammad (19), were held in the living room with their father. I heard my husband telling a soldier that he was unwell and asking to sit down, but they didn't care. I was so worried about him. I heard them asking my husband if we had money that belongs to Yihya, but we have no such thing.

After half an hour, they finished turning the girls' room inside out and moved us back there so they could search the boys' room. They found 200 shekels that belong to my son Muhammad and 50 that belong to my daughter Shuruq. They didn't confiscate the money and gave it back to us.

The soldiers stayed in the house until 4:15 A.M. By the time they left, my husband looked completely exhausted, like he was about to collapse. They trashed our house completely – they looked through suitcases, closets, drawers, the fridge and even the bathroom. They didn't break anything, but they didn't leave a single thing in place. They left nothing untouched and even searched the car. No one was able to sleep after that, even though we were completely exhausted. We started tidying up and cleaning the mess they had made as soon as they left. They messed up the beds. Muhammad and 'Odeh left for work late.

We don't know why they did it. They have our son Yihya in administrative detention. We think it was just a show of power for no real reason. We insist on living in dignity.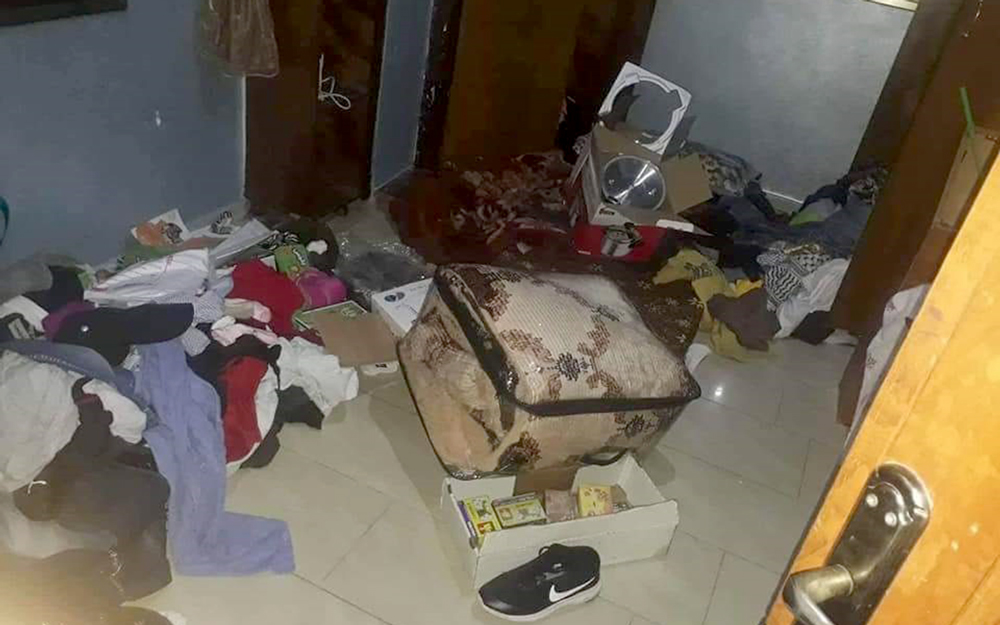 The raid on Mustafa and Hishmah Shreiteh's home
At around 3:30 A.M., soldiers raided the home of Mustafa (58) and Hishmah (47) Shreiteh, who live with two of their children – Zahiyah (24) and Musa (26). Another son, Muhammad (31), has been serving a six-year sentence in prison since 2014. The soldiers broke into the building, went through the family's belongings and left without making a single arrest, taking  the hard drive of Zahiyah's computer with them.
Zahiyah Shreiteh described the raid on her family's home in a testimony she gave on 8 July 2018:
At around 3:30 in the morning, we were all asleep in our apartment on the ground floor when suddenly a noise woke us. Soldiers had broken through the three doors on the top floor, where my brother's new apartment is. It's not completely ready yet and has a separate entrance from the outside. We woke up in a panic. We could hear the soldiers speaking Hebrew among themselves around the house. Why didn't they knock on the door? Why do they have to blow things up?

We sat and waited for about half an hour and then we heard voices from the main door on our floor, as if someone was touching the door. We were afraid they'd break it down, so my brother opened it and a large group of soldiers, about fifteen, walked right in. Some of them were wearing black masks and they were all armed and carrying shields.
They didn't ask for anything specific. They only had questions about my brother Muhammad (31), but he's been in their prison since 12 February 2014. He was tried and sentenced to six years in jail. It was strange that they asked about him – he's in prison in Israel.

They took my brother Musa's ID card and gave it back to him later. They gathered us in the hallway and started searching everyone's rooms, turning the house upside down. We tried to ask them what they were looking for, but they just told us to shut up. I'm a very tidy person by nature and it was difficult to see them trashing my whole room.

For thirty minutes, they wouldn't let us talk to each other, go to the bathroom or drink water. They shouted at us and spoke to us very rudely, treating us like we were criminals. After all that, they left in a rush without saying anything or taking anything except the hard drive from my computer. They didn't break anything except the doors to my brother's place on the top floor. But why did they trash the whole house and make such a huge mess? We didn't even understand why they'd come. Why wake us up and scare us? Why touch our things? For no reason. It's painful and annoying.