Since October 2015, Israel has stepped up use of house demolitions as a way to punish the families of Palestinians who perpetrated attacks against Israelis or are suspected of perpetrating or aiding such attacks. Since then, the authorities have demolished or fully or partially sealed 37 apartments. Fourteen of these apartments were not under demolition orders and were damaged simply because of their proximity to apartments slated for demolition. As a result of this large-scale punitive action, 149 people, 65 of them minors, have lost their homes. Four of these homes were issued demolition or sealing orders prior to October 2015. Ten more families are currently waiting ruling by Israel's High Court of Justice (HCJ) in petitions they filed against orders issues for their homes. One more home is expected to be demolished, as the HCJ rejected the family's petition. Since October 2015, the HCJ revoked six demolition orders. In this time, 53 apartments have been demolished or issued demolition or sealing orders.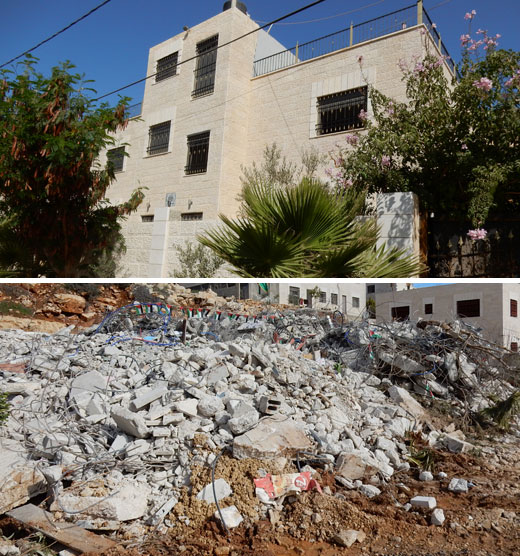 Home of Halabi family in Surda, before and after demolition. Photo by Iyad Hadad, B'Tselem
In addition, since December 2015, the military has taken measurements of 66 other homes in which relatives of individuals suspected of perpetrating or aiding attacks on Israelis live. Most surveys were conducted late at night immediately following the attack. Currently, 339 individuals, including 128 minors, are living under threat of demolition as a result of these surveys. The automatic surveying of homes is carried out after almost every attack, regardless of the outcome or of the fact that since October 2015, homes were actually demolished only in cases in which the attackers killed Israeli civilians or members of the security forces. The sole exception is the partial sealing of the apartment of Mu'taz Hijazi, based on an order issued in November 2014 after Hijazi shot Israeli Yehuda Glick.
This knee-jerk surveying of family homes leaves hundreds of people in a state of uncertainty and fear, often lasting several months, with nowhere to turn.
In a testimony given on 29 March 2016, 'Izzab Hasib, a 27-year-old mother of three from Ramallah, spoke to B'Tselem field-researcher Iyad Hadad about her life since her husband carried out an attack against Israelis. The husband, Shadi Hasib, attempted to run over some people who were waiting to hitch a ride at a passenger pick-up stop near the settlement of Kfar Adumim on 22 November 2015. According to the Israel Police spokesperson, Hasib then got out of his car and proceeded to stab and lightly injure one of the persons waiting. Hasib was shot and killed by an Israeli civilian. 'Izzab Hasib said:
I have three children. The eldest is eight and the youngest is two years old. On 28 November 2015, before dawn, soldiers raided our house. My mother was with me and the children at home. They locked us in a room, while they searched the apartment and took measurements.

Since then, the soldiers have come to our house three or four more times. Every time they came, they asked about my husband's brother, Jihad Hasib, and left a summons for him to meet them. I'm scared and very worried. Every time they raided the house, I was afraid they were coming to demolish or seal it, and I became very fearful for my children's future. Where would I go with them? Who would we turn to? Where would we live? Most homeowners are afraid to rent their property to families of people who carried out attacks. My family is from Jenin and I have nobody here. My husband, who's originally from 'Arura, a village near Ramallah, lost his parents at a young age. He had no family here except uncles on his mother's side.

If, God forbid, they demolish our apartment, I don't know how I'll find a place to rent. Who will take us? I'm alone and I don't know anyone. Not to mention the fact that in my apartment, the rent is low, 500 NIS a month, according to the old prices. Today, rent starts at 1,000 NIS and I can't afford it. I can barely put food on the table for my kids.

My life is nothing to envy. I'm under a lot of stress. In the first days after the survey, I couldn't sleep, and I kept thinking, here comes the army, here they come to demolish the house. The tiniest noise would wake me up – birds, animals. I'm still in shock and feel unstable. Two-three weeks ago, for example, I read online that the army was going to raid our area, and I got scared that the purpose of the raid was to demolish our house.

I'm scared that this situation will harm my kids emotionally, that it's going to make them want to avenge their father's death, that they'll do something bad further down the line, when they grow up. I don't want to lose them like I lost their father, and I keep praying to God to keep them safe and sound.
The harm caused by Israel's punitive demolition policy does not end with the families living in the homes that were surveyed, but extends to their neighbors, who also have to live with uncertainty and fear that their apartment will be harmed during the demolition. Fourteen of the 37 apartments that have been sealed or demolished since October 2015 were never slated for demolition by the authorities, but have been rendered inhabitable because of damage caused by the demolition of nearby apartments.
The policy of demolishing homes as punishment is unlawful and immoral. Israel officially claims it is meant to deter, rather than punish; regardless of whether or not this is true, a country may not use innocent people to deter others. Despite the fact that this principle is accepted by most jurists the world over, including within Israel, the HCJ has routinely approved demolition orders issued by the authorities over the years, allowing hundreds of homes to be demolished.
Over the last few months, due to persistent petitions filed through HaMoked: Center for the Defence of the Individual, some of the HCJ justices have expressed reservations regarding use of this measure, though some of them continued to approve the demolition orders. Recently, several justices ordered the revocation of four demolition orders, even as four others were upheld. Since October 2015, the HCJ has revoked six orders and upheld 20.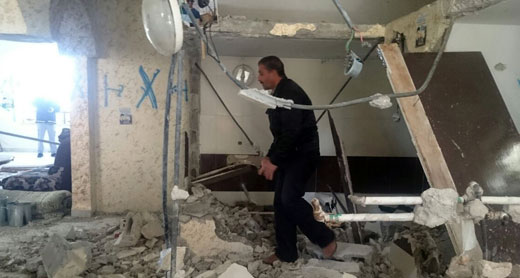 Ruins of the Miswadi familly's home in Hebron. Photo: Nasser Nawaj'ah, B'Tselem, 30 March 2016
Though several justices called for a re-examination of case law on this issue, the President of the Supreme Court rejected an application made by HaMoked for another discussion on the matter. And so, the HCJ continues to give a legal seal of approval to Israel's collective punishment policy. Another motion for a hearing before an extended panel was filed with the court last week and is still pending.
Ne'meh Raddad, 54, lives in the village of Saida, Tulkarm District. On December 3, her 21-year-old son, 'Iz a-Din 'Abdallah Muhammad Raddad, stabbed and injured a police officer near the Old City of Jerusalem, and was then shot dead by other police officers. Ne'meh Raddad spoke to B'Tselem field-researcher Salma a-Deb'i about the anxiety she has been experiencing ever since soldiers came to survey her home.
Our house has two floors. The first floor has storage rooms and we live on the second floor. We built this house, brick by brick, thirty years ago. Until then, we lived in one room in my husband's parents' house, where we had six children. When we moved into our house it didn't have any windows or internal doors yet. There was only the front door. We installed the windows one by one, a room a time, when we managed to save enough money for it. Until we installed all the windows, we'd suffered a lot from mosquitos, scorpions and reptiles that came into the house. My husband and I aren't well anymore, and he hasn't worked for six years. We worked to build this house our whole lives, and it'll be demolished in a split second.

We lost a beloved son, and now we live with the threat that our house might be demolished. We didn't send our son to die and we don't agree with his act. Ever since he was killed, I've been expecting the soldiers to come and demolish the house every day. Last night, I heard the sound of gunfire and I woke up, shaking all over, and only then realized it was a dream. This wasn't the first time I'd dreamed about soldiers raiding our house, shooting, destroying it, and I cry a lot, in my dream. If the phone rings at night, I panic. Anyone who sees a military jeep in town calls us so we can be prepared and not taken by surprise.