On 15 November 2015, about half an hour after midnight, a large number of Israeli security forces entered Qalandia Refugee Camp in the West Bank in order to demolish by detonation the home of Muhammad Abu Shahin, a Palestinian held on charges of killing Danny Gonen, an Israeli, on 19 June 2015. Until the arrest, Abu Shahin lived with his wife and two daughters – both of them minors – in an apartment he rented from relatives on the top floor of a three-story building. A few days earlier, on 12 November, Israel's High Court of Justice (HCJ) rejected a petition against the planned demolition filed by human rights organization HaMoked: Center for the Defence of the Individual. Consequently, Abu Shahin's wife and daughters vacated the apartment and moved into a vacant apartment located on the second floor of the building.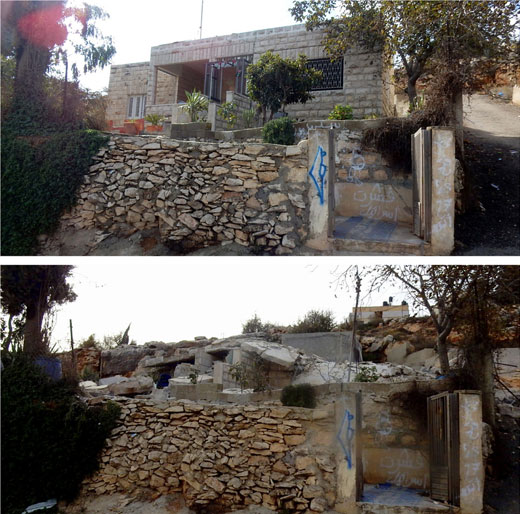 Home of Mu'az Hamed's mother and brother in Silwad, before and after demolition. Photo by Iyad Hadad, B'Tselem, 10 and 15 Nov. 2015, respectively
Security forces called on loudspeakers to the residents of nearby houses, instructing them to leave their homes and move about 100 meters away. When Abu Shahin's apartment was blown up, the apartment on the floor below it was also damaged, as was an apartment in a nearby building that was home to four people, including two minors. Both apartments were severely damaged and are no longer habitable. Another five apartments in nearby buildings were also damaged, but to a lesser extent. Initial information gathered by B'Tselem indicates that while the security forces were in the refugee camp on the demolition mission, an exchange of gunfire developed between them and local residents; Ahmad Abu al-'Eish, 30, and Laith As'ad, 20, were killed by Israeli gunfire. Three other Palestinians were taken to hospital after sustaining wounds from live fire or rubber-coated metal bullets. B'Tselem's investigation of the incident is under way.
The day before, in the early hours of Saturday 14 November, Israeli security forces came to the city of Nablus and the village of Silwad, Ramallah District, and blew up five apartments as collective punishment for attacks against Israelis carried out by relatives of the homes' inhabitants. The force of the blasts severely damaged six other apartments, making them uninhabitable, and caused some damage to 16 other structures nearby. In Nablus, security forces blew up four apartments that were home to relatives of the three Palestinians suspected of killing Israelis Na'ama and Eitam Henkin on 1 October 2015, leaving fourteen people homeless. The force of the blast destroyed six other apartments that were not slated for demolition, so the actions of Israel's security forces left another sixteen persons homeless.

Home of the 'Amer family, neighbors of the Abu Shahins, damaged by the demolition and no longer habitable. Photo by Iyad Hadad, B'Tselem, 16 Nov. 2015
In the family home of Samir al-Kusa, Israeli security forces blew up the first-floor apartment in which his wife and three children lived. The force of the blast severely damaged two other apartments on the second floor, leaving them uninhabitable. This left homeless Samir al-Kusa's wife, his three children (all minors), and his brother and sister-in-law and their son (a minor).
In the building that was home to the family of Yehya al-Haj Hamad, security forces blew up his parents' apartment on the second floor, in which Hamad lived prior to his arrest, and another apartment built for him on the floor above. The force of the blast also damaged apartments under construction on the first and fourth floors, which were not inhabited and are now unlivable. This left eleven of Hamad's relatives homeless, including his parents and five minors.
In the building that was home to the family of Karam Rizeq (al-Masri), security forces blew up the apartment in which he lived prior to his arrest together with four relatives, on the second floor of a three-story building. The force of the blast severely damaged apartments on the first and third floors of the building, which are no longer livable. This left twelve people homeless, including four minors.
In the village of Silwad, security forces blew up the home of the mother and brother of Mu'az Hamed, who was arrested on suspicion of having killed Israeli Malachi Rosenfeld on 29 June 2015. The two had left the house after an order for its demolition was issued in October. The blast damaged eight structures nearby.
This is not the first time B'Tselem has documented the destruction of homes near those slated for demolition by explosion. A comprehensive 2004 report by B'Tselem found that with regard to 295 of the homes destroyed, about half of the homes demolished from 2001 to 2004, no claim was made that they had housed Palestinian perpetrators of attacks against Israelis. This left 1,286 people homeless in addition to those whose homes Israel explicitly slated for demolition. In demolitions carried out by Israeli authorities in October, two apartments adjacent to those slated for demolition were also destroyed by the blast.
Since the occupation began, the military has demolished hundreds of homes as a means of punishing the families of Palestinians who carried out attacks against Israelis or were suspected of such actions. This policy left thousands of people – including young children – homeless, although they themselves were accused of no wrongdoing. In 2005, the military discontinued the policy after a committee in Israel's security establishment concluded that its drawbacks outweighed the benefits. Punitive home demolition of homes was reinstituted in July 2014 after Palestinians abducted and killed three Israeli teenagers in the Bethlehem area, citing the radical change in circumstances as justification for using this measure. From then until the recent events described here, Israel demolished four homes as punishment and sealed another two.
The policy of demolishing the family homes of attackers constitutes collective punishment, which is prohibited under international law. Despite the fact that this measure is extreme and despite the clear view held by legal scholars in Israel and abroad that the it is illegal, it has been repeatedly sanctioned by Israel's High Court. Demolishing or sealing a home is a draconian, vindictive measure directed at entire families who have done nothing wrong nor are they suspected of any wrongdoing.