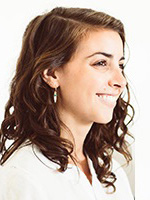 B'Tselem USA welcomes American Jewish anti-occupation activist, Simone Zimmerman, as its new director. In her new position, Zimmerman will work to amplify B'Tselem's voice among US policy makers and the broader public. B'Tselem USA will focus in the upcoming years on strengthening the growing anti-occupation movement both in the American Jewish community and American progressive movement. Commenting on her new position, Zimmerman stated, "As a Jewish activist who has worked for years to challenge my own community's denialism about the reality of the occupation, I am excited to take on my new role at B'Tselem USA. I hope to deepen the partnership between the anti-occupation movements working on the ground and those working here in the USA".
B'Tselem's director, Hagai El-Ad, said, "At a time when U.S. foreign policy emboldens further occupation, oppression, and dispossession of Palestinians, the voice of Americans opposing this reality is more important than ever before. Simone's principled voice and demonstrated leadership give hope for those who believe in a future based on justice – and in working steadfastly towards realizing it".
Before joining B'Tselem USA, Zimmerman co-founded IfNotNow, a grassroots movement of young American Jews working to end the American Jewish community's support for the occupation. She lived in Israel between 2016 and 2018, where she was a Dorot Fellow and worked at Gisha — Legal Center for Freedom of Movement. She has a degree in Middle Eastern Studies from UC Berkeley, and served as the National Student President of J Street U.