A selection of films produced by B'Tselem's video department will be screened during the 2017 Solidarity Human Rights Film Festival at the Tel Aviv Cinematheque.
On Tuesday, 9 May at 7:00 P.M., the festival will host an evening to mark a decade of work by B'Tselem's camera distribution project: "The Best of the Worst" – a selection of videos that reflect various aspects of the occupation, which will be marking its 50th year this June. Since 2007, B'Tselem has been distributing cameras to Palestinians in the West Bank and training them to document human rights violations occurring in their areas. The footage includes violence by soldiers and settlers, as well as checkpoints and other travel restrictions. The screening will be followed by a Q&A session with B'Tselem staff.
Three days earlier, on Saturday, 6 May, at 8:30 P.M., the festival will screen the video diaries of Khadijeh Bsharat and Nivin Bsharat, two Palestinian women from the Jordan Valley who documented their lives and the lives of their families. Dozens of small farming and shepherding communities scattered throughout the Jordan Valley are unrecognized by Israeli authorities. The authorities repeatedly demolish homes in these communities and do not allow hookups to the water or power grids, with the aim of expelling the residents. The evening will also feature other short videos depicting life in the Jordan Valley, filmed by B'Tselem volunteers. The screening will be followed by a Q&A session with Khadijeh Bsharat and Nivin Bsharat, together with B'Tselem staff.
The Dream Will Never Come True
Khadijeh Bsharat, 28, lives in Humsah a-Tahta in the Jordan Valley. She has a B.A. in Arts from a-Najah Univ. in Nablus. She is married and has three little girls. She and her husband barely make a living farming and shepherding. Ever since the Civil Administration demolished their home on the pretext of construction without a permit, they share a home with her in-laws.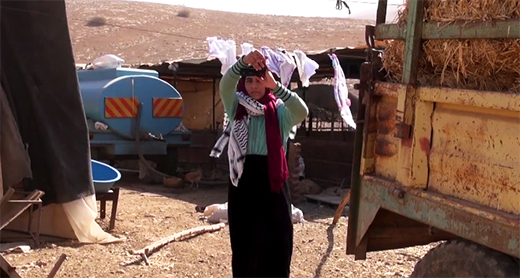 Nivin Bsharat. Still from video
A Weekend Visit Home
Nivin Bsharat, 19, studies Special Ed. at al-Quds Open Univ. Her family lives in Khallet Makhul, a small, 6-family community in the Jordan Valley that is not hooked up to the water or power grids. Its residents make their living mostly as shepherds and farmers. Israeli checkpoints and the authorities' refusal to allow paving a proper access road mean that children cannot get to school regularly from there. Therefore, apart from weekends and holidays, they are forced to live away from their parents in the village of Tammun, 15 kms away.