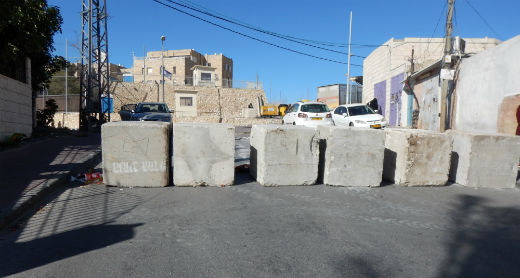 Roadblock on al-Madares Street. Photo by Hussam 'Abed, B'Tselem, 9 Jan. 2017
On Sunday 8 January 2017, 28-year-old Fadi al-Qunbar – a resident of the East Jerusalem neighborhood of Jabal al-Mukabber – carried out a vehicle-ramming attack at the Armon Hanatziv Promenade in Jerusalem, killing four Israeli soldiers: Yael Yekutiel, 20; Shir Hajaj, 22; Shira Tzur, 20; and Erez Orbach, 20. Another thirteen soldiers were injured in the attack. Israeli authorities have since adopted a series of punitive measures against al-Qunbar's extended family and other local residents. Such measures constitute collective punishment targeting individuals who are not charged with any wrongdoing. There can be no possible justification for these vindictive steps.
Yesterday, Tuesday 10 January 2017, dozens of police officers and Jerusalem Municipality inspectors arrived in Jabal al-Mukabber with bulldozers and demolished three stables and a trailer home. In addition, the inspectors taped warning notices to the doors of some forty homes, stating that they were built without permits and that administrative proceedings to demolish them had been instigated. These structures all belong to the extended al-Qunbar family or are located near the home of the perpetrator of the ramming attack. While in the neighborhood, the police and inspectors measured Fadi al-Qunbar's home, apparently as a preparatory step prior to issuing a punitive demolition order. Many residents would not speak with B'Tselem's field researcher or the media for fear of reprisal by authorities.
A day earlier, on Monday 9 January 2017, a large detachment of police arrived at the al-Qunabar family home and tore down the mourners' tent they had erected. Police also restricted passage in and out of the neighborhood by closing off its western entrance (al-Madares St.), and it is still closed at this time. On Monday afternoon, several members of the extended al-Qunbar family were summoned to appear at a hearing on Wednesday at Israel's Population and Immigration Authority prior to revocation of their status as Israeli residents. Israeli human rights organization HaMoked: Center for the Defence of the Individual – which represents four members of the family in the proceedings against revocation of their status – wrote to the Population and Immigration Authority stating that they would not attend the hearing because of the short notice given, a timeframe which raises concerns that the hearing is being held only for the sake of appearances.
Imposing collective punishment in conjunction with adopting administrative measures against Palestinian neighborhoods in East Jerusalem is an acknowledged Jerusalem Municipality policy. Mayor Nir Barkat even publicly boasted of this several months ago. He did so again more recently, following the public dispute over the outpost settlement of Amona. The measures being adopted now against the residents of Jabal al-Mukabber seem to be a further implementation of this discriminatory policy. While the policy is indeed an overt one, this does nothing to detract from it being a wrongful one which involves widespread persecution by the authorities of thousands of Jerusalem residents.