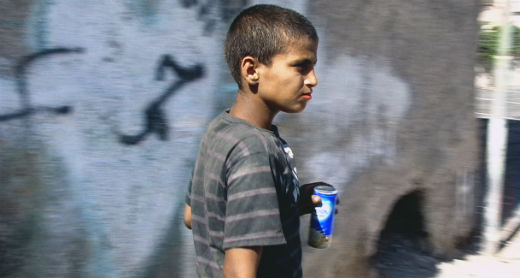 Muhammad Burqan. From "The Boy from H2" by Helen Yanovsky
A short documentary by Helen Yanovsky, "The Boy from H2", created in collaboration with B'Tselem's field researchers and Camera Project volunteers in Hebron, and produced by B'Tselem's video department, will be screened at the Vienna Shorts Festival on Sunday, 4 June 2017. The film is also a candidate in an international film competition taking place at the festival.
The film, which premiered at the Berlinale in February, follows 12-year-old Muhammad Burqan, who lives in Area H2 of Hebron, a section of the city under full Israeli control. Citing the security of some 800 settlers living in H2, Israel imposes severe restrictions on the movement – of pedestrians and by car – of some 43,000 Palestinians living there. Palestinian residents are also subjected to routine violence by Israeli security personnel, but no one is held accountable. This state of affairs has led many of the area's original residents to relocate, leaving behind mostly underprivileged families.
In Area H2, soldiers routinely detain children on suspicion of stone-throwing. Muhammad, who has nine siblings, is one of those children. His life revolves around his crowded home and the street, where he must deal with the constant presence of Israeli security forces.
Helen Yanovsky is a documentary filmmaker and B'Tselem's video archive manager. She holds a BA in Theater and Film from Georgia State University, Tbilisi, Georgia, and an MFA in Film Directing and Production from Tel Aviv University. Her first documentary feature, "Jerusalem Boxing Club", premiered at the 2015 Jerusalem Festival.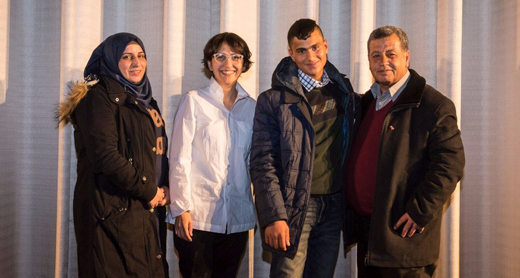 B'Tselem's delegation to the premiere at the Berlinale. Photo: Berlinale, 2017
Right to left: Musa Abu Hashhash, Muhammad Burqan (now 17), Helen Yanovsky, Manal al-Ja'briי