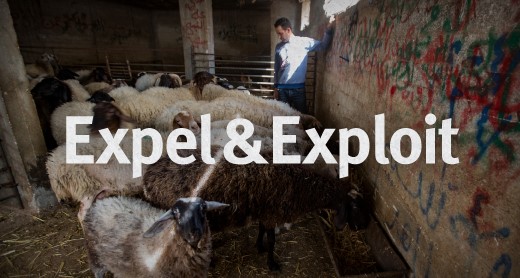 About two weeks ago, Israel's Ministerial Committee for Legislative Affairs approved the Regulation Bill, which is meant to retroactively grant legitimacy to dispossessing Palestinians of land, including duly registered privately owned land. A new report released by B'Tselem this morning (Monday, 28 November 2016) illustrates how dispossession of Palestinians was never a matter contingent on this legislation. It has been integral to the settlement enterprise from its very inception and is one of the most consistent trends in Israeli policy over the decades. As part of this process, Israel has been taking over Palestinian rural space, fragmenting it, dispossessing the residents of land and water, and handing over these areas to settlers. Settlers play a key role in the implementation of this policy. The state helps settlers operate as a mechanism for dispossession in Palestinian space – settlers serving as a means purportedly not under state control, and settlers also use serious violence against Palestinian residents.
Our new report, Expel and Exploit: The Israeli Practice of Taking over Rural Palestinian Land, presents a case study of the process three villages in the Nablus District – 'Azmut, Deir al-Hatab and Salem – have undergone since 1980, when Israel established the Elon Moreh nearby. Through this case study, the report illustrates a broader policy Israel has been implementing throughout the West Bank for decades. Under the guise of "temporary military occupation", Israel treats the occupied territories as its own: grabbing land, exploiting natural resources, and establishing permanent settlements. Palestinian residents are being increasingly dispossessed of their lands, roots and livelihood, to be replaced by Israeli control either by direct official action or by the settlers acting as its envoys.
"About five settlers live on Skali's Farm, and they have more sheep than everyone in our village put together. They have huge flocks – 500 to 1,000 sheep each – while we, the residents of Salem who own the land, are not allowed to cross the road and go far from our homes, and our sheep stay in their pens all the time. They never go out to pasture and we have nowhere to take them."

Mahyoub 'Ahed 'Abdallah Shtiyeh, 42, from Salem. Photo: Faiz Abu Rmeleh, Activestills.org. View photo blog
The report presents various measures – official and otherwise – that Israel has used to cut off the villagers from their land and hand it over to settlers. The first step was the 1980 establishment of the Elon Moreh settlement on 127.8 hectares (1,278 dunams) of village land. Two years later, the Commander of Judea and Samaria declared a nature reserve on some of the remaining land west of the settlement. This resulted in the creation of an area, far exceeding that of the settlement's jurisdiction, where Palestinians must receive Israeli permission for carrying out any development, construction, new cultivation, or pasturing livestock. In 1987, roughly 170 hectares of the nature reserve were declared "state land", and an illegal settlement outpost erected there in 1998.
The next phase in the process of dispossession took place as part of the Oslo II Accord. The lands of 'Azmut, Deir al-Hatab and Salem were divided into Areas B and C: most of the land already built-up at the time was designated Area B, while most of the villages' land reserves, farmland and pastureland were labelled Area C, remaining under full Israeli control. Further to this administrative groundwork for separating the built-up areas of the villages from most of their farmland and pastures, Israel took advantage of the paving of the by-pass road to Elon Moreh in 1996 to impose a physical barrier between the villagers and their land. Ever since the second intifada broke out in 2000, Palestinians have been prohibited from using the road or even crossing it. Although this prohibition is legally baseless, the bypass road to Elon Moreh (known in military jargon as Madison Road) serves as the most sweeping and significant measure blocking villagers' access to their farmland, pastures and natural water sources.
Olive groves of the village of Salem on both sides of the bypass road to Elon Moreh, Palestinians are not allowed to go near it or cross it. Photo: Faiz Abu Rmeleh, Activestills.org. View photo blog
B'Tselem's research demonstrates how each and every restriction Israel has imposed on the villagers has enabled settlers to encroach on Palestinian lands and increase the land under settler control. The separation Israel has created between the Palestinian residents and their farmland and pastureland allows settlers to build houses, establish outposts, dig pathways, plant crops and groves, graze livestock, and take over natural water sources on that land. All Palestinian villagers who gave testimonies for this report mentioned physical violence they routinely suffer at the hands of Israeli settlers as the key reason keeping them from accessing their land. This modus operandi constitutes a privatized takeover mechanism which allows the state to pursue its policy of establishing contiguous Israeli settlement in the West Bank, while officially disavowing the acts of the settlers.
These three villages in the Nablus District, like many other Palestinian villages, evolved over the centuries in keeping with the geographical features of the area. Farmland, pasture and natural water sources serves as the mainstays of the local economy and as the basis for the formation of an entire culture that ties the residents deeply to their surroundings. Separating the Palestinian villagers from their farmland, pastureland and natural water resources severely infringed upon their rights, devastated the local economy, and propelled them into poverty and dependence on external bodies. Villagers were left in a state of insecurity on multiple levels: financial, food and social insecurity. Israel's policy clearly demonstrates that the state does not view the occupation, fast approaching the half-century mark, as temporary. Although Israel has thus far avoided formal annexation (except in East Jerusalem), in practice it treats the settlements as part of its sovereign territory, and has adopted measures to virtually erase the Green Line for Israeli citizens living in settlements. Meanwhile, Palestinians in the West Bank have been concentrated into 165 "islands" (Areas A and B) – non-contiguous enclaves that cannot thrive. This parallel movement, of Israeli settlers moving in and taking over more and more West Bank land Palestinians being pushed aside, has been a stable mainstay of Israeli policy in the West Bank since June 1967, with all Israeli legislative, legal, planning, funding and defense bodies working towards that end.