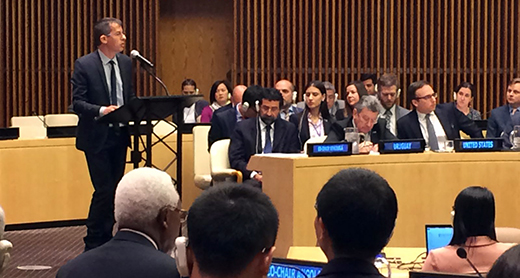 B'Tselem Executive Director, Hagai El-Ad, will review the current state of affairs in the OPT in a special meeting about construction in the settlements, before a forum that includes all 15 Security Council member states.
The discussion will take place on Friday, October 14th, 2016, starting at 10:00 am EST (5:00 pm IST), and lasting a total of three hours. It will be broadcast live at the following link: http://webtv.un.org.  Read full address
In his address, El-Ad will stress that after almost half a century of Israeli military control over millions of people, the occupation is only deepening, while the settlements – one of the main reasons for daily violations of Palestinians' human rights – continue to expand. Under these circumstances, it would be unreasonable to consider the occupation temporary or to believe that Israel intends to change this reality in the foreseeable future. The responsibility for ending the occupation and the human rights violations that it entails lies first and foremost with Israel, yet this reality will not change as long as the international community stands idly by.
El-Ad will speak along with Lara Friedman of Americans for Peace Now and Professor Francois Dubuisson of the Free University of Brussels.
Two B'Tselem videos were screened during the discussion:
Razed to the ground, July 2016