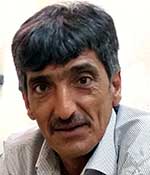 B'Tselem has lodged a complaint with the Israel Police over the fact that Hebron Police officers prevented a volunteer working with the organization, 'Imad Abu Shamsiyeh, from filing a complaint regarding death threats he has been receiving ever since he documented the killing of 'Abd al-Fatah a-Sharif by Israeli soldier Elor Azaria.
Abu Shamsiyeh has recently been sent harassing and threatening messages on Facebook, some containing death threats. On 28 August 2016, he went to the Hebron Police station to file a complaint. After a lengthy wait, the officers at the station told him he would not be able to file the complaint as there were too many detainees in the station and that he would have to return the next day.
Abu Shamsiyeh returned the next day, 29 August 2016, and waited for hours to file the complaint, but again he was denied. This time, he was told that an officer by the name of Yaakov Cohen who was supposed to take care of the matter was away, and would return to the station only the next day.
The next day, 30 August 2016, Abu Shamsiyeh went back to the station for the third time, and again, was forced to wait for hours outside the building. He was initially told that the officer had not come in yet, but later, a police officer named Solomon Deste approached him. When Abu Shamsiyeh tried to explain the matter to him, the officer told him to leave, and even threatened to arrest him if he did not.
A letter sent to the police by Adv. Gaby Lasky, on behalf of B'Tselem and Abu Shamsiyeh, demanded that the relevant officials take immediate action to take Abu Shamsiyeh's complaint, launch an investigation, and properly address the death threats he has received. The letter also demanded action against those responsible for the conduct of the Hebron Police: Lasky wrote: "There is no need to elaborate on the egregious conduct of the police, which has obstinately refused to fulfil its fundamental duty and admit my client's urgent complaint using a variety of different excuses, and has treated my client with brazen disrespect, seriously violating his dignity". Lasky added: "There is no doubt that the conduct of the police amounts to serious disciplinary offenses against my client, and even the criminal offense of abuse of power".