Update: Contempt of Court motion rejected today (22 Jan. 2016). Habeas corpus motion was now filed to the Israeli supreme court following the state violation of court's order to release B'Tselem's field worker unconditionally. Despite the order, he was transferred to a military court in the West Bank.
Today, Jerusalem District Court Judge, Moshe Yoed Hacohen, ordered the unconditional immediate release of B'Tselem field researcher Nasser Nawaj'ah, who was arrested by the police on the night between Tuesday and Wednesday.
However, the Israeli police violated the court order and told his counsel that he had been taken to the military court at Ofer Camp, which remanded him to custody until Sunday. Adv. Gaby Lasky has just filed an urgent motion under the Contempt of Court Ordinance against the Samaria and Judea District Police. We will be posting updates.
After the District Court hearing, Adv. Lasky said: The Court accepted our position that my client's arrest was a false arrest, since Israeli courts have no jurisdiction in the matter. This is the second instance that has ordered his unconditional release. The police are intent on continuing the pressure on human rights activists under arrest.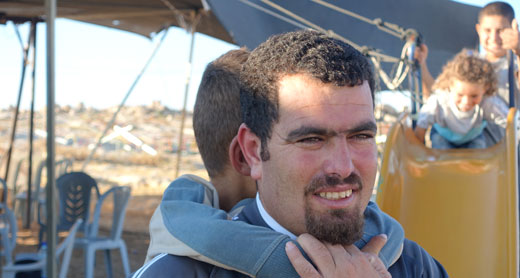 Nasser Nawajah in Susiya. Photo by Leif Magne Helgesen