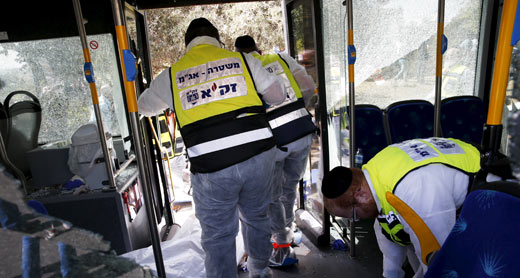 Emergency personnel at site of this morning's shooting attack on a bus. Photo by Ronen Zvulun, Reuters, 13 October 2015
The Occupation is now in its 49th year. Recent weeks have seen dozens of horrific attacks on Israelis by Palestinians, carried out in Israel and the West Bank. The death toll and the number of injured are both on the rise: this morning's shooting and stabbing attacks in Jerusalem and the city of Ra'anana in central Israel left more Israelis dead and injured. Yesterday, Israeli casualties included a 13-year-old boy who sustained life-threatening injuries. And the awful news just goes on and on. Anyone would find such violence shocking and reprehensible.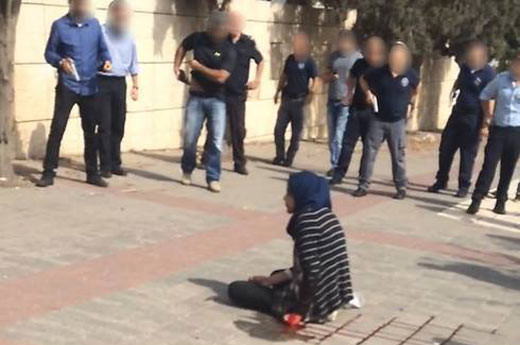 Firing at Marah al-Bakri after she stabbed a police officer at Ammunition Hill, Jerusalem. Still from video.
Meanwhile, Israeli government officials and others in position of authority have been calling explicitly to "shoot to kill", so the lives of Palestinians suspected of perpetrating attack are forfeit, even when they no longer pose a threat. To date, more than ten people have been shot to death when suspected of perpetrating attacks. Also, Palestinian passersby have been attacked in several Israeli cities: yet no one fired at their attackers, with police showing unaccountable restraint, or perhaps indifference, in view of these acts of violence. Anyone would find such violence shocking and reprehensible.
Palestinians have been staging large scale demonstrations throughout the West Bank, Gaza and East Jerusalem. The excessive force Israel has been using to quell these demonstrations has left at least five Palestinian dead and hundreds injured.
Yet at one and the same time there have also been encouraging instances in which members of the public have prevented lynching. Such instances help fuel the hope for a more human and humane future, even with the rising tide of fear and hatred.
B'Tselem reiterates its condemnation of any and all attacks against civilians. Violence must be eschewed unequivocally. Any infringement on the right to life is deserving of all possible censure and must cease.
Absolute renunciation of violence is essential, but it cannot stand alone. Time and again the government represents the current wave of violence as an eruption of hatred that occurred apart from any background context, one that must be quelled with whatever force necessary. At the same time, the government rejects out of hand any responsibility for the situation. Yet the events of recent weeks cannot be viewed in a vacuum, isolated from the reality of the ongoing, daily oppression of 4 million people, with no hope of change in sight. At present, Israelis are exposed to untenable violence, but the status quo almost all Israelis have come to see as acceptable in fact exposes millions of Palestinians to violence that is a consequence of the very regime of occupation, with its inherent features of oppression, dispossession and the trampling of rights. The proposed plans to "impose a closure" on the Palestinian neighborhoods in Jerusalem or a military rule within the Green Line (i.e., on sovereign Israeli territory) are the very inverse of what ought to be done. It would mean expanding the practices of Occupation rather of taking actions to end them. People who strive for a future in which the recent events will no longer form a part of a horrific routine, must take a look at the horrific routine that is the Occupation.