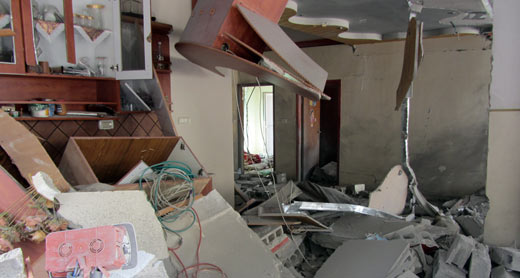 Apt. of Mu'awiyah Abu al-Jamal, his wife and their three children, destroyed by security forces in the demolition of the unit previously occupied by Nadia Abu al-Jamal, Ghassan Abu al-Jamal's widow. Photo by 'Amer 'Aruri, B'Tselem, 7 October 2015
The blasts also destroyed two adjacent apartments that were home to 11 people, including 7 children.
On Tuesday, 6 October 2015, Israeli security forces blew up two housing units in East Jerusalem and sealed another as collective punishment for attacks perpetrated by relatives of the people living in the three homes.
In the East Jerusalem neighborhood of Jabal al-Mukabber, authorities blew up the home of Nadia Abu al-Jamal, the widow of Ghassan Abu al-Jamal, who perpetrated the attack on the synagogue in Jerusalem's Har Nof neighborhood, killing four worshippers and wounding seven others. Abu al-Jamal himself was killed in a shootout with police officers. Nadia Abu al-Jamal and her children had left their home after Israel's High Court approved both the demolition and the family's deportation from East Jerusalem last July. Despite Israel's pledge to the Supreme Court to do "everything in its power to prevent damage to adjacent units", which was given in a petition human rights organizations HaMoked and Addameer filed on behalf of family members, the blast destroyed an adjacent apartment on the same floor, where Ghassan's brother, Mu'awiyah, lived with his wife and three children.
Security forces blew up another home in Jabel al-Mukabber. This house belongs to the family of Muhammad Ja'abis, who killed an Israeli civilian in August 2014, by running him over with a car. Ja'abis was subsequently shot and killed by the police. The explosion took place in a unit located in the top floor of the home, which is currently occupied only by Muhammad Ja'abis' mother. The blast, however, caused extensive damage to the bottom floor of the house, where Ja'abis' brother Shaker lives with his wife and four children. The structure itself is no longer habitable and the Jerusalem Municipality posted signs warning of the danger in its vicinity. The force of the blast also caused damage to other units in nearby houses, where more of Muhammad Ja'abis' siblings live.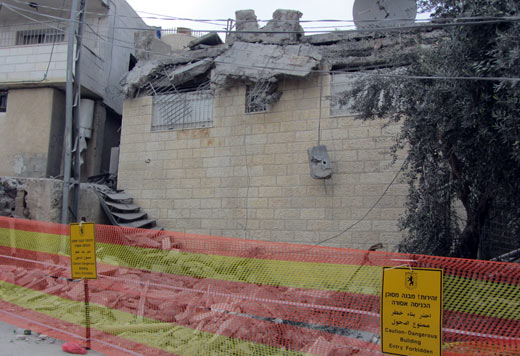 The ruins of the Ja'abis family home and the warning posted by the authorities that the structure is unsafe. Photo by 'Amer 'Aruri, B'Tselem, 7 October 2015
In Abu Tur, the authorities sealed a room in the family home of Mu'taz Hijazi, who seriously injured right wing activist Yehuda Glick, in an attempt on his life in October 2014. Hijazi was later shot by the police. The sealed room had been occupied by one of his brothers. Thirteen people, including seven children, lost their home in these three actions. Most of them did not live in the units that were slated for demolition. This figure excludes Nadia Abu al-Jamal and her three children, who were forced to leave their home earlier and have been deported from East Jerusalem.
B'Tselem has documented the destruction of homes adjacent to ones demolished with explosives in the past. In an extensive research project conducted in 2004, B'Tselem found that about half the homes demolished between 2001 and 2014 were never alleged to house suspected attackers. These demolitions resulted in 1,286 people - over and above those living in the homes slated for demolition - losing their homes.
Since the beginning of the occupation, the Israeli military has demolished hundreds of homes as a means of punishing family members of Palestinians who carried out attacks against Israelis or were suspected of doing so. This policy has left thousands of people, including young children, homeless, despite the fact that they themselves were neither guilty nor suspected of committing an offense. In 2005, the military decided to halt this policy after a committee appointed within Israel's security establishment found that its disadvantages outweigh its advantages. House demolitions resumed in July of 2014, after three yeshiva students were kidnapped and killed in the Bethlehem area earlier that year. The justification given for resuming the policy was that there had been a radical change in the situation. Since then, Israel has demolished four homes and sealed two as a punitive measure.
The policy of demolishing the family homes of attackers constitutes collective punishment, which is prohibited under international law. Despite the fact that this measure is extreme and despite the clear view held by legal scholars in Israel and abroad that the it is illegal, it has been repeatedly sanctioned by Israel's High Court. Demolishing or sealing a home is a draconian, vindictive measure directed at entire families who have done nothing and are suspected of nothing.