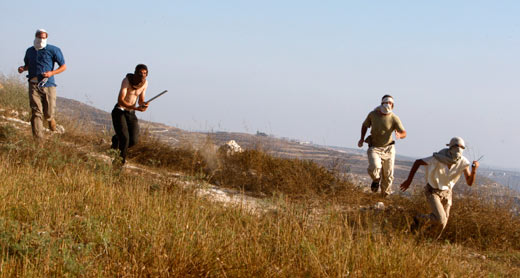 Settlers in the fields of 'Asira al-Qibliya. Photo: Omar Qusini, Reuters, 3 July 2011

Israel's administrative detention of extreme right-wing activist Mordechai Mayer and planned administrative detention of two other such activists, reportedly authorized by the Attorney General, is unacceptable. Recent calls to amend the law on this matter and use draconian measures such as administrative detention and illegal interrogation methods convey the impression that Israel's law enforcement system indeed wishes to prevent settlers from harming Palestinians. However, past experience shows that these steps are meant primarily to create a false show of firm action in order to decrease public criticism, in this case concerning the killing of Palestinian baby 'Ali Dawabsheh by arson in the West Bank village of Duma.
As opposed to impression that officials are trying to create, Israeli authorities already have all the necessary powers to enforce the law on criminals. Palestinians are left unprotected not due to any lack of legal means, but because the authorities employ an unofficial yet longstanding policy of leniency and lack of law enforcement on violent settlers.
The choice to highlight the use of administrative detention is disturbing: this is a draconian measure that severely violates freedom. It is carried out based on an administrative order only, without indictment or trial, and the detainee cannot defend himself against the allegations as the evidence is classified. Therefore, this form of detention must be used in exceptional cases only, when no alternative exists to prevent real danger. To date, Israeli authorities have used this measure against Israeli citizens sparingly, but have routinely applied it to Palestinians: Israel is currently holding 370 Palestinians in administrative detention.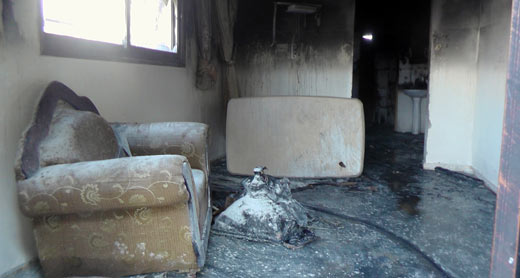 Dawabsheh home in Duma, the West Bank. Photo by Salma a-Deb'i, B'Tselem

The Israeli law enforcement authorities in the Occupied Territories can use their existing powers to prevent settler violence against Palestinians. Security forces on the ground must be clearly directed that it is their duty to protect Palestinians from attacks by settlers. As such, they are obligated to also prevent attacks that can be foreseen, stop the offenders in real-time, and testify to the police and in court after the fact. The police must effectively investigate – using the means already at its disposal – in order to locate the criminals, and the state attorney must prosecute them in accordance with the rules of due process. The fact that such elementary actions are not taken is a matter of policy, not chance.
After years in which the law enforcement authorities in the Occupied Territories have systematically failed to rein in settler violence, it is hard to expect change now, given that these forces are an inherent part of the occupation regime. Headlines about administrative detention of Jewish Israeli citizens do not counter this. In reality, the life and property of Palestinians in the Occupied Territories remain unprotected.