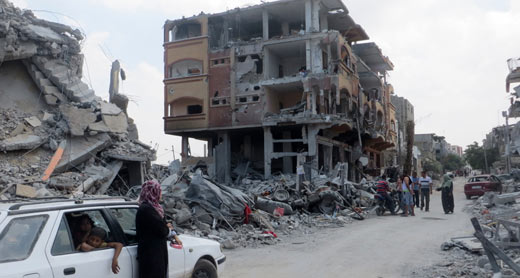 Ruins in Beit Hanoun. Photo: Muhammad Sabah, B'Tselem, 5 August 2014
Israeli Prime Minister Netanyahu's blanket rejection of the findings published today, 22 June 2015, by the UN commission of inquiry into last summer's fighting between Israel and Gaza is hardly surprising: the report holds him and other top military and government officials in Israel responsible for the horrifying, massive harm caused to civilians in Gaza in Operation Protective Edge. The commission's recommendation that the International Criminal Court in The Hague investigate possible breaches of the laws of war by Hamas and by Israel is primarily aimed at the leadership, both in Gaza and in Israel, and not at the troops themselves.
While the operation was still underway, B'Tselem cautioned against the policy of targeting homes once the horrifying consequences for civilians became apparent. Although senior government and military officials were well aware of the expected outcome, they ordered that the lethal policy continue.
Unacceptably, the only official Israeli response to the commission's grave findings has been to deny the allegations and pass the buck. Israel's investigations of the operation to date have served solely to whitewash suspected wrongdoings, and most governmental efforts have been devoted to deflecting accusations and disseminating propaganda. A healthy society should face the criticism and thoroughly investigate the allegations of serious human rights violations and breaches of international humanitarian law.