The data we published regarding the demolition that took place on 31.8.2015 at the al-Khdeirat Bedouin community contained numerous essential errors. Following is the correct data: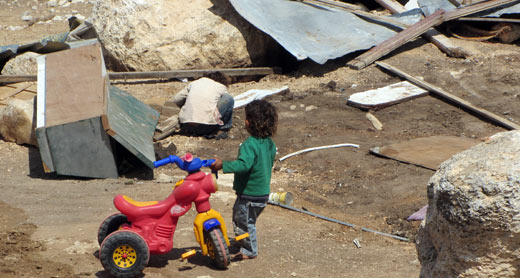 A boy near demolished structures in the Palestinian community of al-Khdeirat this morning. Photo: 'Amer 'Aruri, B'Tselem
On the morning of 31.8.2015, representatives of the Civil Administration and the military arrived at the al-Khdeirat Bedouin community, which is east of Route 60, between the Palestinian village al-Jaba' and the Israeli settlement Adam. The forces  demolished 15 structures, ten of them were residential, and five were used for livestock, not twenty five, as we originally said.
Seven of the structures demolished, (five residential structures and two livestock structures) serve two families that reside at the site permanently. These families number 17 persons, of them ten children. The rest of the structures demolished (five residential structures and three livestock structures) serve nine families that live at the site on a seasonal basis, and aren't currently present there. 
The Al-Khdeirat community is home to around twenty families that earn a living from raising sheep and goats, and reside in the community on a temporary basis. Most of the families were elsewhere with the herds when the demolition took place.
The operation was part of a wave of demolitions by the Civil Administration during August, that totaled around 50 residential structures housing Palestinians in Area C. This figure is close to the entire number of residential structures demolished in the first half of 2015. B'Tselem is finalizing its research, and will publish full data in the coming days.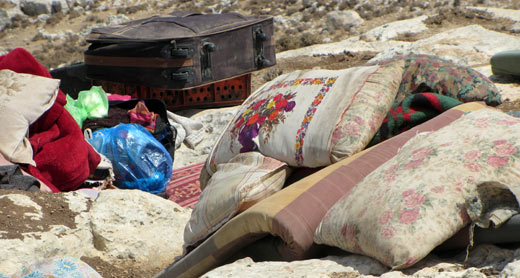 A family's possesions on the ground in the Palestinian community of al-Khdeirat this morning. Photo: 'Amer 'Aruri, B'Tselem
These demolitions take part in the context of efforts by the military and the Civil Administration to push Palestinian communities out of Area C. These expulsion plans violate international humanitarian law, which prohibits the forcible transfer of protected persons, unless carried out for their own protection or for an imperative military need. Even when the transfer meets these criteria, it must be temporary. Moreover, as the occupying power, Israel has an obligation to work for the benefit and welfare of the residents of the occupied territory. The plan to expel these residents from their homes as well as impose living conditions on some that would undermine their livelihood violates this obligation.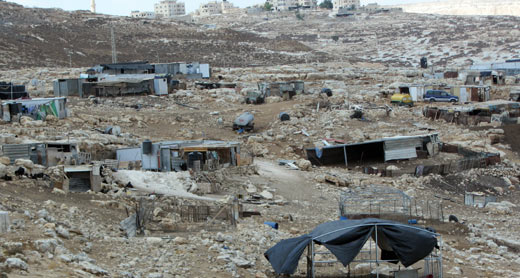 Structures in the al-Khdeirat community. Photo: 'Amer 'Aruri, B'Tselem, 31 Aug. 2015