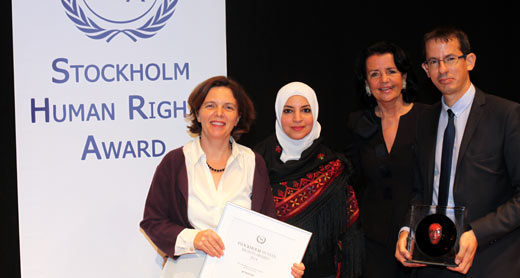 (left to right) Jessica Montell, Salma a-Deb'I, Anne Ramberg, Secretary General of the Swedish Bar Association, Hagai El-Ad. Photo credit: Tom Knutson. 
The 2014 Stockholm Human Rights Award was presented to Israeli human rights organization B'Tselem at a gala event in Stockholm, Sweden, last night (25 November 2014). Established in 2009, the Stockholm Human Rights Award is awarded annually by the International Bar Association, the International Legal Assistance Consortium and the Swedish Bar Association to an individual or an institution for outstanding contributions to the rule of law and the promotion and protection of human rights. B'Tselem was represented at last night's ceremony by B'Tselem Executive Director Mr. Hagai El-Ad, his predecessor Ms. Jessica Montell, and by Ms. Salma a-Deb'i, B'Tselem's field researcher for the Nablus District.
Among the reasons stated for selecting B'Tselem to receive the award is that it "has shone international light on human rights violations in Israel and the Occupied Palestinian Territories, providing a voice to victims and calling for accountability". It was also noted that B'Tselem is an organization that strives to ensure that Israeli and Palestinian authorities respect the equal rights of Israelis and Palestinians. B'Tselem was commended for tirelessly fighting to uphold human rights in an environment where the criticism it voiced has not always been welcome.
The three groups presenting the award further noted that the work of human rights defenders to uphold international human rights law across the world is essential, and no more so than when working in an environment where the host government may be hostile to criticism. They stated that promoting human rights standards from inside one's country requires an unwavering willingness to endure criticism from within, regardless of potential repercussions. Maintaining integrity and dignity is at the core of human rights defense. B'Tselem is one of those unique organizations that work tirelessly to promote human rights standards while fighting against a majority voice.