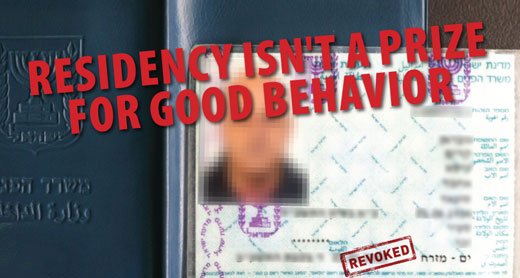 Israeli Prime Minister Benjamin Netanyahu announced yesterday (22 November 2014) that he plans to promote a bill which would revoke the residency status and social security benefits of individuals who commit terrorist attacks or other serious offenses from nationalistic motives. Status and benefits would be denied both to the perpetrators themselves and their families. The scope of the bill remains unclear. The vast majority of people who hold permanent residency in Israel are Palestinians living in East Jerusalem, and these actions and statements are expressly directed against them. Furthermore, the media reported today that incoming Minister of Interior, Gilad Erdan, has revoked the permanent residency status of the man who drove the perpetrator of the suicide attack at the Dolphinarium nightclub in Tel Aviv in 2001, to the site of the attack. Twenty-one people were killed in the suicide attack. The driver, Mahmoud Nadi, was released from prison about five years ago. He is a permanent resident of Israel and lives in the town of Jaljulya. Three months ago Nadi received notice that the Minister of the Interior at the time planned to revoke his residency. Erdan said he would take action to revoke the residency status of all permanent residents who "carry out attacks, assist them, and justify them".
Residency status and social security benefits are not a favor or boon granted by the authorities. It is Israel's fundamental obligation toward all individuals living in its territory, be they citizens or permanent residents. As long as Israel considers East Jerusalem part of the country, it cannot eschew these obligations, and they remain in effect even when citizens or residents break the law. This holds equally true for individuals who commit heinous crimes as for those guilty of crime evasion. Criminal activity is addressed by the justice system, which is in place exactly for this purpose. Authorities may not take any measures against the innocent family members of individuals have broken the law.
After Israel annexed East Jerusalem, it gave all residents of the annexed area permanent residency status. This status was one meant for immigrants who made the choice to live in Israel of their own volition. As such, permanent residency is a status weaker than that of citizenship, and thereby more readily revocable by the authorities. Yet, unlike immigrants, residents of East Jerusalem never chose to live in Israel. Instead, it is Israel that chose to enter the area they livein, occupy it and annex both the area and its residents. The formal phrase "permanent residency" is misleading. This status is far from permanent, as evinced by the recent revocation and by thousands of previous cases of revocation. The only permanent thing about this status is its temporary nature and instability.