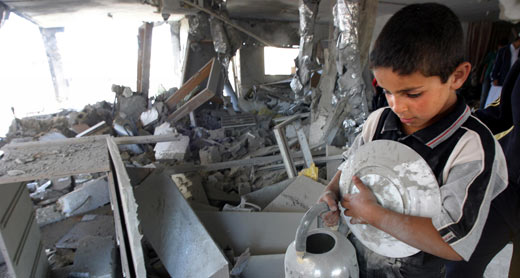 Boy trying to recover items from his home, demolished as a punitive measure in Bethlehem. Photo: Magnus Johansson, Reuters, 15 June 2004
On the night between Sunday and Monday, 18 August 2014, the military demolished the homes of two of the suspects in the abduction and killing of the three yeshiva students, Gilad Shaar, Naftali Fraenkel and Eyal Yifrah, near Gush Etzion two months ago. The home of a third suspect was sealed.
On 16 July 2014, military forces arrived at the Hebron family homes of the two suspects in the abduction and killing, Marwan al-Qawasmeh and Amer Abu 'Easheh, and gave notice of the plan to demolish the homes. An additional demolition order was issued against the family home of Husam al-Qawasmeh, who is suspected of aiding the two. Therefore, human rights organization HaMoked: Center for the Defence of the Individual filed three objections against the plan to demolish the homes. The objections were rejected and HaMoked then proceeded to file High Court of Justice (HCJ) petitions with respect to each of the homes. The HCJ denied all three petitions on 11 August 2014. The ruling by the justices of the HCJ is not surprising: for decades, the HCJ has denied the vast majority of the petitions filed against punitive house demolitions and consistently refused to recognize the unlawfulness of this practice.
The demolition has left 11 innocent people, including 8 minors, without a roof over their heads. Four other people lived in 'Amer Abu 'Easheh's home, including three minors. Six other people lived in Husam al-Qawasmeh's home, including five minors. In the building where Marwan al-Qawasmeh lived, the first floor, where he and his pregnant wife lived, was sealed [figures updated on 19 Nov. 2014].
Since the 1967 occupation, the military has demolished hundreds of homes as a punitive measure against relatives of Palestinians who carried out attacks against Israelis, or were suspected of involvement in such attacks. This policy has left thousands of people without homes, though they themselves had not been accused of any offense. In 2005, the military abandoned this policy after the security establishment came to the conclusion that its disadvantages outweighed its benefits. Home demolitions were recently renewed following the abduction and killing of the yeshiva students, justified by a purpotedly radical change in circumstances. B'Tselem believes this argument is unreasonable and is meant solely to provide a legal seal of approval for the Israeli government's desire to employ draconian measures, including collective punishment, as a way of appeasing the negative public mood over the abduction and killing. Though extreme, such measures almost always receive the go-ahead from the HCJ.
A policy of punitive home demolition is fundamentally unacceptable, regardless of effectiveness. Such a policy punishes people for the actions of others, in breach of any and all moral standards.