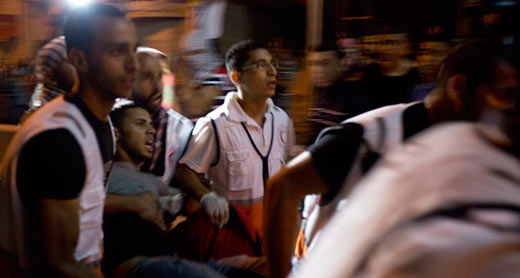 Wounded young man being evacuated from demonstration by Qalandia Checkpoint, 24 July 2014.  Photo by Oren Ziv, Activestills.
Since Operation Protective Edge began on 8 July 2014, Palestinians throughout the West Bank have held strikes, rallies, processions and demonstrations to show support for residents of Gaza and to protest the military's actions. At some demonstrations, Palestinians threw stones and Molotov cocktails at Israeli security forces and burned tires; at one demonstration in Qalandia, Palestinians fired live ammunition. Initial investigations by B'Tselem's field researchers found that in many cases, Israeli security forces responded with live fire. Initial information obtained by B'Tselem raises suspicion that senior commanding officers in the West Bank permitted security forces to use live fire as a means of crowd control, even in clashes with unarmed stone-throwers and in circumstances that posed no mortal risk to anyone.
According to our initial investigation, since 8 July, 13 Palestinians have been shot and killed by security forces in the West Bank, most of them in demonstrations and clashes. Another Palestinian was shot and killed by a settler:
At approximately 5:45 A.M on 14 July 2014, nine young men, residents of the village of a-Samu' in Hebron District, drove over to the entrance to their village. The entrance is near Route 317 – a road used by Israelis and Palestinians. Our investigation indicates that the young men came to that spot with the intention of throwing stones at passing Israeli vehicles. Soldiers stationed at an ambush laid at the junction by the entrance to a-Samu' fired lived ammunition at them, killing 20-year-old Munir al-Badarin. The soldiers then pursued the rest of the young men, who fled, and fired rubber-coated metal bullets and tear gas at them. The IDF Spokesperson stated in a response to the incident published in Israeli daily Haaretz that a troop of reservists initiated suspect apprehension procedure after they saw three masked individuals approaching the road carrying stones and bottles of paint; although the soldiers fired at al-Badarin's legs, he was hit in the waist and died.

On 21 July 2014, five young men headed over to the northern entrance to a-Ram, a neighborhood in al-Quds District. Our investigation indicates that they were going there with the intention of throwing Molotov cocktails at Israeli security forces patrolling the area. When the youths noticed a military jeep, they fled and the jeep pursued some of them. One of the young men said that in the course of the pursuit, Mahmoud a-Shawamreh, 21, of a-Ram, tried to lob a Molotov cocktail at the troops and they fired live ammunition at him. A-Shawamreh was hit by three bullets and died.

On the night of 22 July 2014, clashes took place on the main road of Husan, Bethlehem District, between local residents and Israeli security forces. At the time, Mahmoud Hamamreh, a 32-year-old village resident, was working at his nearby grocery store. He did not take part in the clashes. Hamamreh was occupied with carrying goods into his store. At approximately 11:00 P.M., while standing outside the shop, he was hit in the chest by live ammunition. The IDF Spokesperson stated in a response to the incident published on Israeli news website Ynet that soldiers at the scene had responded by firing rubber-coated metal bullets at some fifty Palestinians who were throwing stones and Molotov cocktails.

After Mahmoud Hamamreh's funeral ended, early on the morning of 23 July 2014, clashes with security forces restarted in Husan. At approximately 7:00 A.M., Muhammad Hamamreh, a 20-year-old local, was shot in the head. He appears to have been taking part in the clashes.

At approximately 10:00 P.M. on 24 July 2014, demonstrators left al-Am'ari Refugee Camp, Ramallah District, and headed towards Qalandia Checkpoint. According to estimates published by the media thousands took part in this demonstration. Most of the demonstrators went as far as the outskirts of Qalandia Refugee Camp and remained near the camp, whereas several hundred young men went further, reaching an area approximately 50 meters away from the checkpoint. They then proceeded to throw stones and Molotov cocktails at it. During the clashes, some Palestinians fired live ammunition. Israeli security forces responded with live fire. Muhammad al-A'raj, a 17-year-old from Qalandia was killed when he was hit by three live bullets to the head, hand and chest. Our initial investigation indicates that al-A'raj was unarmed. To the best of B'Tselem's knowledge, the live fire was not preceded by the use of crowd control measures.

On 25 July 2014, at midday, a large demonstration was held in Beit Umar, a village in Hebron District. The demonstrators walked in a procession that left from the 'Asidah Mosque in the village after noon prayers. Several young villagers tried to approach a military tower located approximately 200 meters west of the mosque, in order to throw stones at it. Soldiers standing by the tower opened live fire at the crowd of demonstrators, killing Hashem Abu Mariyah, a 47-year-old local who was taking no part in the stone-throwing and was standing close to the mosque. Abu Mariyeh managed the Hebron offices of Defence for Children International-Palestine.

In the same demonstration, 30-year-old Sultan Za'aqiq, also of Beit Umar, was killed by when hit in the chest by live ammunition. Za'aqiq, too, was standing by the mosque and was not by the military tower.

In the same demonstration, 36-year-old 'Abd al-Hamid Baraghith, also of Beit Umar, was killed by live bullets to his back and leg while trying to help the wounded Sultan Za'aqiq.

On 25 July 2014, 26-year-old 'Eid Fdeilat left his home in al-'Arub Refugee Camp, Hebron District. He wanted to join his brothers who were waiting for him across the road so they could all go break the daily Ramadan fast together at the evening iftar meal. Clashes were taking place at the time between locals and Israeli security forces at the entrance to the camp, about 150 meters away from Fdeilat's home. There were four soldiers near his home who were not letting people pass due to the clashes, and they would not let Fdeilat cross the road to reach his brothers. A confrontation ensued, during which a soldier fell to the ground and Fdeilat fled. As he ran, soldiers fired live ammunition at him. He was killed by bullets to his back and shoulder. According to an IDF Spokesperson's response to the incident published in Israeli daily Haaretz, Fdeilat had attempted to snatch the weapon of one of the soldiers.

On the night of 25 July 2014 there were clashes at the entrance to Beit Fajar, Bethlehem District, with residents throwing stones at Israeli security forces. 15-year-old Nasri Taqatqah of Beit Fajar was killed by a bullet to his chest.

On 26 July 2014, after Friday prayers, demonstrators left in a procession from the mosque in Huwarah, Nablus District. On their way, the demonstrators encountered settlers in a vehicle and one youth threw stones at it. One of the passengers responded with live fire, which killed Khaled 'Odeh. Clashes then ensued between the demonstrators and security forces. The latter responding with live fire, killing 21-year-old Tayeb 'Odeh of Huwarah, who was struck in the head by a bullet. According to a Border Police response regarding the incident published in Israeli daily Haaretz, Border Police forces had hit a demonstrator who had thrown firecrackers at them from close range during the clashes there.

On 26 July 2014, several thousand demonstrators walked from the city of Jenin towards Jalameh Checkpoint. Soldiers at the checkpoint prevented the demonstrators from reaching it and the procession halted 200 meters away. Young men threw stones and Molotov cocktails at the checkpoint from that spot. The soldiers responded by firing tear gas, rubber-coated metal bullets and live ammunition, killing Basem Abu a-Rub, 20, of Qabatiyah.

On 29 July 2014, 21-year-old 'Alaa Zghaiar, of Idhna, died of wounds he sustained from live ammunition that struck him in the abdomen on 20 July 2014. B'Tselem is investigating the incident.
In addition, B'Tselem's initial information indicates that since the military operation in Gaza began, at least 577 Palestinians were wounded in the West Bank by shots fired by Israeli security forces. This number includes at least 388 – approximately two-thirds – who were hit by live fire. Three Palestinian wounded by live ammunition are in critical condition. Most of the individuals wounded by live fire were struck in the lower torso and limbs.
Palestinians who attended demonstrations reported sniper fire and frequent use of 0.22-inch-caliber bullets (also known as Ruger rifle ammunition), which are live ammunition. In July 2009, the military informed B'Tselem that "the Ruger and similar means are not classified by the IDF as means for dispersing demonstrations or public disturbances". At least 167 Palestinians were wounded by rubber-coated metal bullets. As the people who sustained light injuries from these bullets were largely treated on the spot and not taken to hospital, no full count exists (the figures do not include injuries caused by inhaling tear gas).
The enormous number of persons wounded by live fire is cause for concern that security forces made excessive use of lethal means to disperse demonstrations and clashes, in circumstances that posed no mortal danger to security forces or any other individual. Eyewitness reports of sniper fire are compatible with the figures indicating that most wounds from live ammunition were to the lower torso and limbs. While these findings indicate an effort to avoid lethal injury, the very use of live fire, precise as it may be, greatly enhances the risk of loss of life and cannot be justified if the lives of security forces are not at risk.
The military's preparation, which included stationing snipers, indicates that the decision to use live fire for crowd control was made in advance by high-ranking officers; it was not a choice made by forces responding to developments in the field. The decision to prefer live fire over crowd control measures is unlawful and endangers unarmed demonstrators. Security forces have less dangerous means at their disposal which are designed for dealing with demonstrations and stone-throwing targeting soldiers. The use of lethal ammunition in such cases is permissible only in extreme circumstances of mortal danger and if no other reasonable alternative is available.