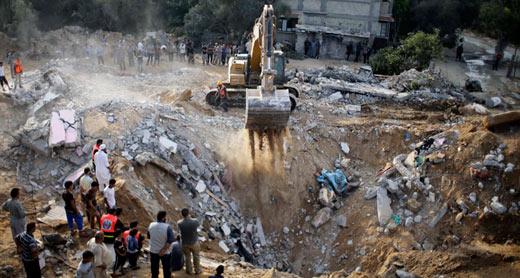 Search for victims amongst the rubble of a house bombed in Khan Younis. Photo: Ibrahim Abu Mustafa, Reuters, 21 July 2014
On Sunday, 20 July 2014, at around 7:00 PM, the home of the Abu Jame' family in the Bani Suheila neighborhood, northeast of Khan Yunis, came under attack.
Israeli forces bombed the four-story building that is home to the extended family: the matriarch, Fatmeh Abu Jame', her four sons, and their wives and children. The family were eating iftar, the meal that breaks Ramadan fasting for the day. B'Tselem's initial findings indicate that the likely target of the attack was Ahmad Suliman Sahmoud, a member of Hamas' military wing, who was visiting a member of the family.
Everyone who was in the house at the time of the bombing was hurt: 25 members of the Abu Jame' family were killed, as well as Hamas operative Sahmoud. The rest were injured, including at least three of Fatmeh Abu Jame's sons and one of her daughters, who were taken to the a-Nasser medical center in Khan Yunis. Many bodies were buried under the rubble and removed only this morning.
Information B'Tselem has at this stage indicates that no warning was issued and no warning missile was fired prior to the attack. B'Tselem continues its investigation of the incident.
Full list of fatalities, according to B'Tselem's initial field investigation:
The family matriarch:
1. Fatmeh Ahmad Abu Jame', 60
Her daughter-in-law and her family:
2. Sabah Abu Jame', 35
3. Razan Tawfiq Ahmad Abu Jame', 14
4. Jawdat Tawfiq Ahmad Abu Jame', 13
5. Aya Tawfiq Ahmad Abu Jame', 12
6. Haifaa Tawfiq Ahmad Abu Jame', 9
7. Ahmad Tawfiq Ahmad Abu Jame', 8
8. Maysaa Tawfiq Ahmad Abu Jame', 7
9. Tawfiq Tawfiq Ahmad Abu Jame', 4
Her daughter-in-law and her family:
10. Shahinaz Walid Muhammad Abu Jame', 29, pregnant
11. Fatmeh Taysir Ahmad Abu Jame', 12
12. Ayub Taysir Ahmad Abu Jame', 10
13. Rayan Taysir Ahmad Abu Jame', 5
14. Rinat Taysir Ahmad Abu Jame', 2
15. Nujud Taysir Ahmad Abu Jame', 4 months
Her daughter-in-law and her family:
16. Yasmin Ahmad Salameh Abu Jame', 25, pregnant
17. Bitul Bassam Ahmad Abu Jame', 4
18. Soheila Bassam Ahmad Abu Jame', 3
19. Bisan Bassam Ahmad Abu Jame', 6 months
Her son and daughter-in-law
20. Yasser Ahmad Muhammad Abu Jame', 27
21. Fatmeh Riad Abu Jame', 26, pregnant
22. Sajedah Yasser Ahmad Abu Jame',7
23. Siraj Yasser Ahmad Abu Jame', 4
24. Nur Yasser Ahmad Abu Jame', 2
Two others killed:
25. Husam Husam Abu Qeins, 7 (Fatmeh's grandson)
26. Ahmad Suliman Sahmoud, 34 (Hamas operative)