In light of last night's events: A procedure to evacuate those injured in the Gaza Strip is required immediately
B'Tselem – Gisha-Legal Center for Freedom of Movement – Machsom Watch – Physicians for Human Rights-Israel – Public Committee Against Torture in Israel – Rabbis for Human Rights – The Association for Civil Rights in Israel – Yesh Din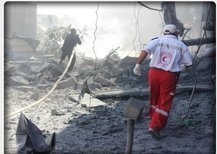 Information received during the night, following the ground invasion, indicates that the movement of ambulances to evacuate the wounded and the independent evacuation of civilians from areas/homes under bombardment is impossible due to continuous and heavy fire in residential areas. Last night at around 21:00, reports were received of damage to Al Wafa Rehabilitation Hospital in Sejaiya. According to media reports rockets were stored in a building near the hospital, which was bombed later. Inside the hospital at the time were 17 patients in serious condition (for whom evacuation presents a real danger to their condition), staff and international activists.
Physicians for Human Rights – Israel (PHR-I) and B'Tselem warned in advance about their presence in the building but in spite of this, and after additional warnings to the hospital, the building was damaged. In this case, evacuation was eventually made possible following intervention and pressure from many bodies.
In another case, which continued through the night, the Alswarka family from Beit Lahiya area turned to PHR-Israel with a desperate call for assistance to evacuate them from the line of fire. The family of several dozen people, including women and children, called from the ground floor of their home which had been damaged by the shelling, while heavy fire continued around them. Some family members were injured and required medical treatment. Palestinian Red Crescent ambulances that tried to reach them, as well as other sites in the neighborhood encountered firing. For hours, attempts were made to contact different official organizations for help to evacuate the family. Towards morning contact with the family was lost, but it seems that some of them were evacuated.
It should be noted that as part of the lessons learned the "Cast Lead" operation, and in accordance with its legal obligations, the military pledged to prepare a coordination mechanism that would allow the evacuation of the wounded and give access to ambulances within a reasonable time. The incidents of last night clearly illustrate that this mechanism, even if it exists on paper, is not sufficiently effective. Accordingly, we urge immediate action to honor this legal obligation to institute a mechanism to regulate the evacuation of the wounded in the Gaza Strip. We call for protection to be provided to rescue teams and medical personnel in the Gaza Strip, to allow them to perform their duties without exposing them to danger. This is to ensure the principle of the sanctity of life and to avoid delays in evacuating the wounded - delays which may be critical and result in more victims.
Moreover, given the enormous difficulty that civilians face in evacuating areas that are under heavy fire, we request that the parties ensure a safe corridor for citizens seeking to vacate areas under bombardment to save their lives and allow them to move to safe areas.
To read the letter sent this morning to the Minister of Defense (Hebrew)