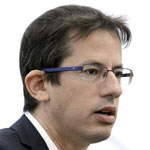 Hagai El-Ad joined B'Tselem as its new director earlier this week. On his first day with B'Tselem he visited the South Hebron Hills and Hebron's downtown area joined by outgoing Director Jessica Montell and Director of Field Research Department Kareem Jubran. On the tour, they met with B'Tselem field researchers and with camera volunteers in for the organization's camera distribution project.
Commenting on his new position, El-Ad said, "As the occupation enters its 48th year, the fight against it is more crucial than ever – a fight in which B'Tselem plays a major strategic role. There is no doubt in my mind that human rights cannot be upheld under an oppressive regime of ongoing occupation and dispossession. 'Human rights under occupation' is a contradiction in terms. The illusion that this state of affairs can carry on is growing stronger, while the injustice it incurs is deepening. I was born in Israel when the occupation was two years old. It is still here more than four decades later. In the coming years I plan to battle this reality to the best of my ability."
El-Ad has a wealth of experience in human rights advocacy, a proficiency which will surely be brought to bear in his new capacity at B'Tselem. In El-Ad's recently ended six-year term as director of the Association for Civil Rights in Israel, the organization spearheaded opposition to a wave of anti-democratic legislation and attacks on civil society in Israel. Prior to that position, El-Ad served as the first director of the Jerusalem Open House for Pride and Tolerance. He holds an M.Sc. in physics from the Hebrew University of Jerusalem and was a pre-doctoral fellow at the Harvard–Smithsonian Center for Astrophysics from 1997 to 2000.