The recently published report So Near and Yet So Far by HaMoked and B'Tselem presents Israel's policy of isolating the Gaza Strip. The policy results in a forced separation between families in cases when a West Bank woman marries a Gaza resident or a woman from Gaza marries a West Bank man. Women are torn between their life with their husband and children and their longing to see the family into which they were born, whom they are rarely allowed to meet. In this unique project, B'Tselem entrusted five women illustrators with the testimonies of five women. The project was completed as International Women's Day (8 March) approaches. The results are now available on B'Tselem's website. (Please note: the Hebrew illustrations are available here, we expect all English translations to be online next week).
In preparing the report, we encountered many instances of split families, whose plight is virtually unknown to the Israeli public. We hope that the comic strip format will help break down the barriers of language, distrust and fear, so all can see the people – and particularly the women – who are denied such basic daily experiences such as getting together with one's mother, inviting a sister for tea, or having a tête-a- tête with one's father. This, even when there is no claim the individual women pose a security risk.
The women behind the project
Asmaa Zaghlul, illustrated by Ilana Zeffren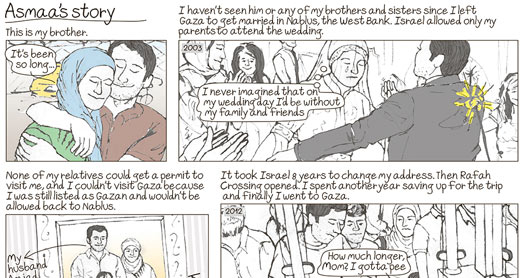 Asmaa Zaghlul lives in Nablus and works at a family conflict resolution center there.  Her wedding day was the day she had to say goodbye to her parents and siblings, who live in Gaza. Ilana Zeffren is a cartoonist and graphic designer. She is the mother of Rafi and Spaghetti, two cats who have a regular weekly feature in the paper, and the author of the graphic novel Pink Story.
Najah Hamdan, illustrated by Adi Elkin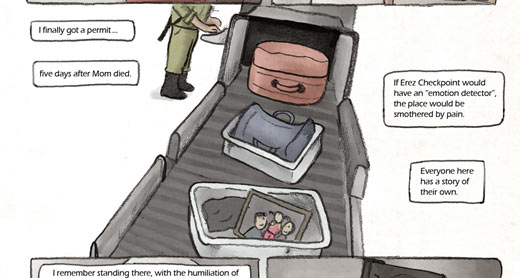 Najah Hamdan, a
homemaker and mother of five, moved from Gaza to Bethlehem to live with her husband. She did not receive a permit to visit her sick parents before they died or to attend their funerals. Adi Elkin, a graduate of Bezalel Academy of Arts and Design, is an illustrator and designer, and a former newspaper editor. She is currently working on an innovative detective graphic novel. 
Maysoun al-Haj 'Ali, illustrated by Orit Arif (English version coming soon)
Maysoun al-Haj 'Ali studied business administration and lives with her four children in Gaza. Her husband  Ibrahim al-Haj 'Ali lives in Ramallah, as he could not find work in Gaza. Orit Arif is an illustrator and comics artist, and teaches illustration at the Yezreel Valley College. Her work has been published in various books and magazines.
'Abir Sharaf, illustrated by Julia Lind (English version coming soon)
'Abir Sharaf is a social worker at al-'Omariyah School in the city of Nablus, the West Bank, where she lives with her husband and children. The rest of her family lives in Gaza. Julia Lind, a university student from Finland, is currently interning with B'Tselem's video department. 
Maha Hijawi, illustrated by Noam Rabinovich (English version coming soon)
Maha Hijawi is an interior decorator and owner of an interior-design company in Nablus, where she lives with her husband and children. She has seen her family in Gaza only once in the past 13 years. Noam Rabinovich is an illustrator and is studying towards an M.A. in human rights and international law at the London School of Economics.