Update: On 10.12.13 the MAG Corps informed B'Tselem that an MPIU investigation of the incident has been launched.
Direct aiming of tear gas canisters continues to put lives at risk, despite military's denials
Last Wednesday morning, November 27, 2013, Muhmmad 'Awad (Abu Ahmad), a B'Tselem volunteer videographer, and a resident of Beit Ummar, documented clashes between Palestinian youth and soldiers near the entrance to the town. The first video he shot depicts the soldiers standing by a jeep, and a stone landing near them. An officer is then seen firing several tear gas canisters from a "Ringo" type launcher, to the area of the stone throwers, in a position behind and to the right of the cameraman. The soldier then reloads the launcher and when another stone lands near the jeep, fires another volley or canisters:

The second clip depicts the same officer firing several canisters in an arch, to a point behind Abu Ahmad's position. Then, he is clearly seen pointing the launcher towards B'Tselem's volunteer, and fires a canister that hit him in the chest: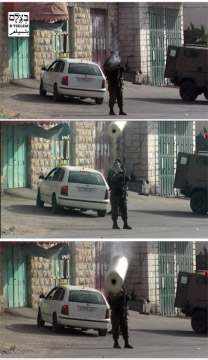 Abu Ahmad was bruised in the chest and evacuated to a clinic in the town, and was later taken to 'Alia Hospital in Hebron, then released.
This is not an isolated incident. The firing of tear gas canisters directly at individuals is a routine practice by soldiers and border police officers in the West Bank. It has already claimed the lives of two people and has injured dozens of others in recent years. The military, however, continues to deny such a practice exists and avoids addressing it systematically. B'Tselem will send the footage to the Military Advocate for Operational Matters along with a demand to have the officer involved investigated by the Military Police Investigation Unit (MPIU) and held accountable.
To B'Tselem's knowledge, no member of the security forces has yet been indicted for serious injuries caused by directly aiming tear gas canisters at individuals. The MPIU investigation into the death of Bassen Abu Rahmeh, who was killed in April 2009, was closed in September 2013 for lack of evidence. The MPIU investigation into the death of Mustafa Tamimi, in December 2011, almost two years ago, began almost immediately after the incident, but the Military Advocate has not made a decision on the case file as of yet. The military's lax approach to recurring violations of the law and of military open fire regulations allows the practice of firing tear gas canisters directly at individuals to continue, putting lives at risk.
A composite image of video stills shows the canister's trajectory. Click to view all images.