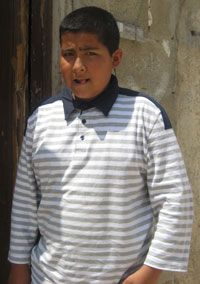 Last month, the Jerusalem Magistrate Court handed down a sentence for a Border policeman convicted of attacking a Palestinian child in Hebron nearly four years ago: a 75-day prison sentence to be fulfilled in community service and a further four-month suspended sentence valid for four years. The policeman must also pay NIS 2,000 to the boy he assaulted.
The policeman was convicted of the following offense in a plea bargain: In August 2009, while on duty near the Tomb of the Patriarchs in Hebron, the policeman attacked 13-year-old Yunes Abu Ermeileh who, along with his brother, was selling sweets to passersby. The policeman demanded that Abu Ermeileh, who was proclaiming his wares loudly, stop shouting. As the boy did not comply, the policeman ran after him, flung his police helmet at him, knocked him to the ground and kicked him. The boy suffered trauma to his back and shoulder. Following a complaint filed by B'Tselem, the Department for the Investigation of Police (PID) opened an inquiry into the incident, which led to the indictment and conviction of the policeman.
In her sentence, Justice Hannah Miriam Lomp wrote as follows:
Any act of violence, and particularly one against a minor, a 13-year-old boy, perpetrated while the defendant is wearing a law enforcement uniform and is stationed in this role must be viewed with the greatest severity. Engaging in a personal argument, rather than enforcing the law, he chose an act of violence that resulted in bodily harm.
In response to the sentence, B'Tselem emphasized the importance of bringing to justice officials who violate their duty by attacking people for whose safety they are responsible. Moreover, it is equally important to guarantee that senior-ranking Border Police officers convey this message to policemen in the field, at all levels. To that end, the commanders of the Border Police must educate and inform their subordinates on this matter, as well as adopt proactive efforts to deter this type of behavior and bring to trial any perpetrators. It should be noted that B'Tselem filed the original police complaint that led to the investigation after Border policemen in the field prevented the child and his father from reaching the police station to lodge a complaint themselves.
The case in context:
Indictments of police on charges of violence against Palestinians are extremely rare. Of the more than 280 complaints lodged by B'Tselem of alleged police violence since the start of the second Intifada, we are aware of only 12 indictments. It should be emphasized that these figures refer only to cases of investigations that followed a B'Tselem complaint, and that B'Tselem has no comprehensive data on the number of DIP indictments filed for police violence against Palestinians.