Following disclosure that the Ministry of Transport is considering separate bus lines for Palestinians in the West Bank, Israeli human rights group B'Tselem has stated that the ministry, like all other governmental bodies, may not provide services on a discriminatory basis. There is not, nor can there possibly be, legal justification   for separating Palestinians from Israelis.  Services provided by the state must be available on an equal basis to all and any who require them.
In response to the planned segregation, B'Tselem executive director Jessica Montell said, "The attempt at bus segregation is appalling, and the current arguments about 'security needs' and 'overcrowding' must not be allowed to camouflage the blatant racism of the demand to remove Palestinians from buses."
The West Bank is occupied territory which is home to over two and a half million Palestinians. In view of the great lengths that Israel has gone to in building sophisticated systems to separate settlers from Palestinians – thereby enabling settlers to ignore the presence of the Palestinians who live there – public transportation on West Bank roads offers settlers an exceedingly rare glimpse of the presence of the Palestinians.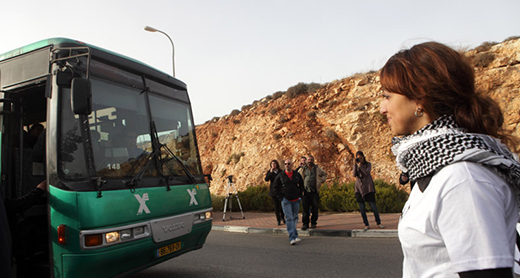 Photo: Anne Paq/Activestills