This morning (6.10.2011), Palestinian farmers from the village of Qusrah, south of Nablus, discovered that approximately 200 of their olive and fig trees were completely destroyed or uprooted. The vandalism occurred south of the village, in an area adjacent to the location of several outposts of the Shilo settlement. Some of the olive trees bore fruit, which the owners intended to pick in the coming days. Residents told B'Tselem that they tended their land yesterday, so the damage was clearly done last night. There were no witnesses but past experience raises well-grounded suspicions that the act was carried out by settlers.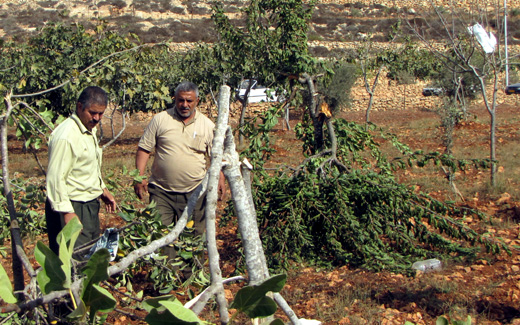 Residents of Qusrah next to their damaged trees. Photo: B'Tselem, 6 Oct. '11
The attack occurred in an open area with excellent visibility. Last month, the army established a military post on a hill overlooking the valley between the Esh-Kodesh outpost and Qusrah. Even if soldiers aren't present there at all times, the security forces maintain an ongoing presence in the area. In spite of this, it is suspected that settlers managed to vandalize 200 trees unhindered by the soldiers. Regardless of whether the soldiers noticed the settlers and chose to ignore them or whether they weren't present in the area, this is a particularly severe case where the security forces violated their obligation to protect the Palestinian residents and their property.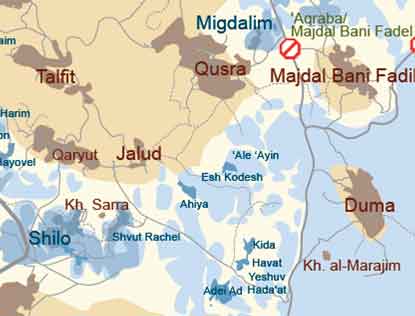 Map of the area
In spite of repeated complaints by the residents of Qusrah and other villages in the area – Duma, Qaryut and Jalud – and by human rights organizations, the law enforcement authorities routinely violate their obligation to protect local residents from settler attacks. B'Tselem demands that the authorities put a stop to these attacks and take all necessary measures to hold the perpetrators accountable, while guaranteeing their rights to due process. The Israeli authorities must stop abandoning Palestinian residents in this area and in other flash points of settler violence the West Bank.
In the past six weeks B'Tselem documented seven incidents in which settlers trespassed onto Qusrah's land, and vandalized property. In some of the incidents the settler attack led to confrontations between residents and settlers and soldiers who arrived subsequently. In one such incident, local resident 'Issam Badran was killed by soldiers. In another case, the village mosque was set on fire and Hebrew graffiti was sprayed on it. A number of suspects who were arrested have been released and B'Tselem is not aware of any progress with the investigation.
According to UN OCHA, during the period between 21-27 Sept., settlers cut down, uprooted or set fire to over 900 trees in the West Bank. Over half of the affected trees were damaged in two separate incidents in Qusrah. Since the beginning of the year, over 7,500 trees belonging to Palestinians have been vandalized by settlers.