Update: On 7 December 2008 the Office of the Military Advocate for Operational Matters informed B'Tselem that the incident would not be investigated by the Military Police.
B'Tselem has sent a letter to the Israeli army's Judge Advocate General demanding that he open a Military Police investigation into the circumstances of the death of five members of the Abu Me'tiq family in Beit Hanun on 28 April. In its letter, B'Tselem points out that this investigation is required without regard to the inquiry currently underway by an investigating officer, and that it should also focus on the responsibility of the command echelon.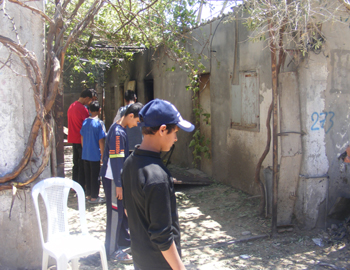 Entrance to the yard of the Abu Me'tiq family, Beit Hanun. The iron gate at the entrance was blown off its hinges, striking the mother and her children. Photo: Muhammad Sabah, B'Tselem, 28 April 2008.
B'Tselem's investigation indicates that an Israeli aircraft fired a missile at three armed Palestinians standing on a street in the northern section of Beit Hanun, wounding them and a nearby civilian. About a minute later, the aircraft fired a second missile, this one at a fourth armed man, who was about fifteen meters from where the first missile landed, and about one meter from the gate of the Abu Me'tiq family's house. This missile killed the fourth armed man and the five members of the family.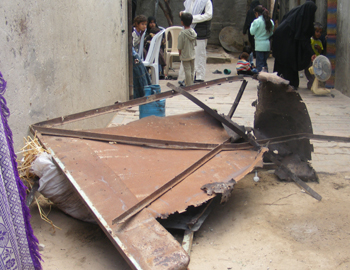 The iron gate that struck the family while they were eating breakfast outside their home, apparently causing their death. Photo: Muhammad Sabah, B'Tselem, 28 April 2008.
In its letter, B'Tselem states that the material it has collected, including an analysis of the area, photographs of bodies and eyewitness accounts, raise doubt about the IDF Spokesperson's contention that a secondary explosion is what killed the family. B'Tselem called on the IDF Spokesperson's office to publish all the material in IDF hands that documents the incident, especially the UAV photos, which could prove or refute this claim.
However, regardless of the question whether there was a secondary explosion, B'Tselem contends that, under the circumstances, there is suspicion that the firing of the second missile breached the principles of discrimination and proportionality, pillars of the international humanitarian law. This is because the missile was fired at an armed man standing near the entrance of a residential dwelling, in a densely populated neighborhood. It was therefore highly likely that civilians would be in their homes at the time and that the blast would strike them, as indeed occurred.