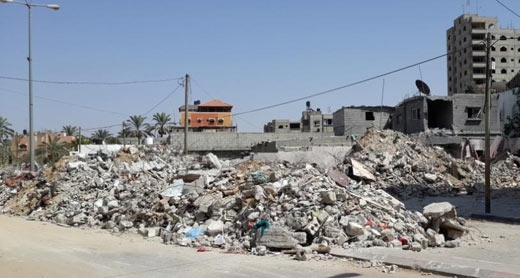 Photo of the ruins by Muhammad Sinwar, B'Tselem, 30 July 2014
Most lethal strike on a single residential building in Gaza in many years, and probably ever
According to information received by B'Tselem, at approximately 7:30 A.M on the morning of 29 July 2014, the Israeli Air Force bombed a four-story apartment building in downtown Khan Yunis. The building collapsed, burying its occupants. Thirty-five people were killed and 27 injured (see below for the names of the fatalities).
The building was owned by a man by the name of Karem a-Dali and it was rented out to five families, totaling roughly 50 individuals. At the time of the airstrike a few of the families were hosting relatives who had fled homes located in areas considered more dangerous. To the best of B'Tselem's knowledge, no advance warning was given before the building was bombed. The building was completely demolished and nearby homes were badly damaged. Rescue teams worked up to the morning of 30 July 2014. They retrieved the bodies of 35 people and extricated 27 people who had been injured, including some seriously injured.
The reason for the bombing is not known to B'Tselem and no official authority has bothered to offer an explanation. One of the tenants in the building was Wadah Abu 'Amer, a senior figure in the political leadership of the Democratic Front for the Liberation of Palestine (DFLP). He lived in the building with his family. Abu 'Amer was killed together with his wife, their five children, and his two brothers. The rest of the people killed in the bombing belong to four other nuclear families that lived in the building. A woman and a girl who lived in nearby buildings were also killed.
B'Tselem will continue to investigate the incident. Yet even at this early juncture, it can be stated that the bombing of the building was unlawful. There can be no justification for the deaths of so many civilians, including 18 minors and eight women. Israel repeatedly claims that it has no intention of harming civilians. However, after more than three weeks of lethal bombardments by Israel in the Gaza Strip which have killed hundreds of civilians and wiped out dozens of families, this claim has become meaningless.
Palestinian fatalities since the beginning of the military operation:
According to B'Tselem's initial figures at least 1,262 Palestinians have been killed in the Gaza Strip and Israel from early Tuesday, 8 July 2014 – when Operation Protective Edge airstrikes on Gaza began – until the morning of 30 July. The fatalities include: 314 minors (including one minor who participated in the hostilities). Approximately one quarter of the fatalities, one in four, were minors.
148 women under the age of 60.
62 women and men over the age of 60.
The preliminary investigation shows that 172 of the people killed took part in the hostilities. B'Tselem has not yet received information regarding a number of incidents that also occurred by the above-mentioned date. B'Tselem is continuing its investigation and figures will be updated as information is received.
The names of people killed in the incident (according to preliminary investigation):
From the family of Wadah and 'Arubah Abu 'Amer:
1. Wadah Hassan Ahmad Abu 'Amer, 39
2. 'Arubah Suliman Ahmad Abu 'Amer, 41
And their children:
3. 'Omar Wadah Hassan Abu 'Amer, 12
4. 'Abd al-Ghani Wadah Hassan Abu 'Amer, 11
5. 'Imad Wadah Hassan Abu 'Amer, 10
6. 'Issa Wadah Hassan Abu 'Amer, 8
7. 'Iz a-Din Wadah Hassan Abu 'Amer, 4
And Wadah's two brothers:
8. Ahmad Hassan Abu 'Amer, 36
9. Muhammad Hassan Abu 'Amer, 20
From the family of Ahmad and Muna Abu 'Amer:
1. Ahmad Suliman Ahmad Abu 'Amer, 40
2. Muna Hajaj Ibrahim Abu 'Amer, 41
And their children:
3. Muhammad Ahmad Suliman Abu 'Amer, 12
4. Marh Ahmad Suliman Abu 'Amer, 10
5. Yasser Ahmad Suliman Abu 'Amer, 9
6. Marwah Ahmad Suliman Abu 'Amer, 5
7. Suliman Ahmad Suliman Abu 'Amer, 2
From the family of Fayez and Subhiya Breikeh:
1. Fayez Ahmad Mahmoud Breikeh, 55
2. Subhiya Muanes Mahmoud Breikeh, 59
And their children:
3. Ahmad Fayez Ahmad Breikeh, 32
4. Usama Fayez Ahmad Breikeh, 16
And their grandchildren:
5. Jana Breikeh, 3
6. Lama Breikeh, 1
From the family of Jamil a-Najar:
1. Jamil Ahmad Hamed a-Najar, 48
And his children:
2. Wael Jamil Ahmad a-Najar, 25
3. Lamyaa Jamil Ahmad a-Najar, 23
4. Aya Jamil Ahmad a-Najar, 19
5. Du'aa Jamil Ahmad a-Najar, 18
6. Muhammad Jamil Ahmad a-Najar, 12
And his granddaughter (the daughter of Wael a-Najar):
7. Liali Wael Jamil a-Najar, 2
From the family of Ahmad M'amer:
1. Ahmad Marzuq Nadi M'amer, 33
And his children:
2. Yazen Ahmad Marzuq M'amer, 3
3. Hala Ahmad Marzuq M'amer, 1
And his sister:
4. Hind Marzuq Nadi M'amer, 30
From nearby buildings:
1. Aya Ibrahim Hassan Abu Sitah, 23
2. Aya Sami Anwar a-Ramlawi, 9