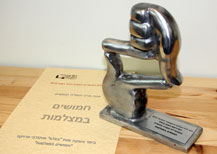 The B'Tselem Camera Distribution Project Saturday, 1.12.2012, won first prize in the Freeform Documentary category of the 2012 documentary film competition of Israel's Documentary Filmmakers Forum. B'Tselem Video Department Director Yoav Gross accepted the prize on behalf of more than 200 project volunteers and organization staff in a ceremony in Tel Aviv. "It is particularly fulfilling to win a prize that is both Israeli and documentary. Neither should be taken for granted where a project like this is concerned. Publicity for the project thus far has been mainly due to the human rights violations it is documenting - but the simple human moments captured by the videocam lens are no less important for Israeli viewers to see, giving faces and stories of their own to Palestinians living under Israeli control."
Through its Camera Distribution Project, B'Tselem provides video cameras and training in video documentation to Palestinian residents of the occupied territories in high-friction areas. This offers an opportunity for Palestinians in the West Bank, East Jerusalem and the Gaza Strip to bring the reality of their lives, including infringements of their rights, to the attention of the Israeli and international public, for the purpose of promoting change. The project is unique in that the Palestinian volunteer filmmakers become human rights defenders, documenting the violation of their own rights.

The winning films 
In the past year, the project has reached a peak of productivity, with footage by the volunteers appearing frequently on Israeli and international media, logging millions of YouTube views, and exposing broad audiences to the previously seldom seen. Along with violations of human rights, the camera lens also captures many quintessentially human moments and, at a time when separation of the two populations is intensifying, succeeds in conveying to Israelis the daily life and the point of view of the people living there - behind the barrier. Among the many hours of material filmed by project volunteers, the four short films that won the award are neither the most widely viewed nor the most dramatic, but are outstanding in providing an intimate glimpse into the routine of life over the Green Line.
The first prize for a full-length documentary film was awarded to "The Law in These Parts", by filmmakers Ra'anan Alexandrowicz and Liran Atzmor, which also won awards for research, editing and music.