In August Israel demolished the homes of 228 people, 124 of them minors, leaving them with no shelter.
In August, the Civil Administration and the military went on a demolition rampage in 29 villages and communities throughout Area C. Israeli authorities demolished 101 structures in these communities, including 50 residential structures which were home to 228 people, 124 of them minors. Many of these demolitions were carried out in small shepherding and farming communities where residents are constantly subject to threats and ongoing Israeli attempts to drive them out of their homes and also remove them from Area C, as part of the Israeli policy aimed at minimizing Palestinian presence in Area C.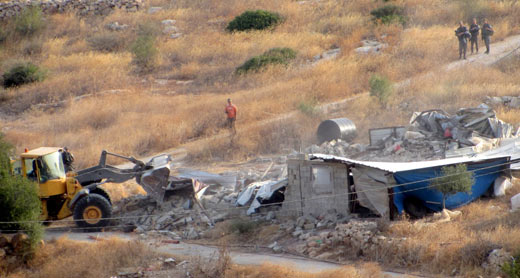 Civil Administration bulldozer razing structure in al-'Aqabah. Photo: 'Aref Daraghmeh, B'Tselem, 5 August 2015
The Jordan Valley
Between 5 and 31 August 2015, B'Tselem documented demolitions carried out by the Civil Administration and the military in nine communities in the Jordan Valley: al-'Aqabah, 'Ein al-Meyteh, Khirbet Yarza, Khirbet Humsah, Abu al-'Ajaj, Fasayil, Khirbet 'Einun, Khirbet Samrah and Khirbet a-Deir, where the authorities destroyed 22 residential units, rendering 100 people - including 50 minors – homeless. Twenty-six agricultural structures were also demolished. The Jordan Valley is home to dozens more small communities like these ones, where residents make their living from shepherding and farming. Over the years, Israeli government and military officials have openly spoken about the intention to keep the Jordan Valley under Israeli control even under a future agreement with the Palestinians. The recent demolitions are part of this policy, which also includes refusal by Israeli authorities to acknowledge the presence of these communities in the Jordan Valley and allow their members to live there lawfully. Israel has never drafted master plans for these communities and residents live in tents and shacks, without running water or a connection to the power grid, under the constant threat of imminent demolition and expulsion. Along with demolitions, Israel also uses other measures to inconvenience residents and ultimately make life in the area impossible, including such steps as declaring 46% of the Jordan Valley a firing zone, temporally forcing families out of their homes to make way to enable military training and confiscating water tanks.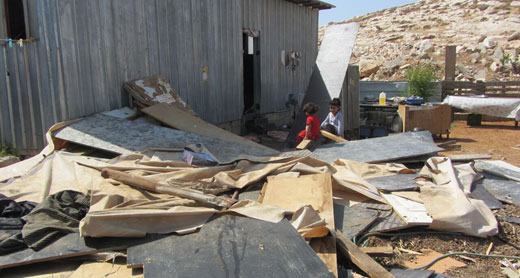 Children on the ruins of a structure in the community of a-S'idi , Ma'ale Adumim area. Photo: 'Amer 'Aruri, B'Tselem, 17 August 2015
The Ma'ale Adumim Area
August also saw Israeli authorities also demolishing structures in five communities in the Ma'ale Adumim area: a-Sheikh 'Anbar (a-S'idi), Bir al-Maskub, Wadi Esneisel, Abu Falah and al-Khdeirat. Like the Jordan Valley communities, these communities are not officially recognized either. Therefore, the residents there, who make their living mostly from raising sheep and goats, live in tents and shacks. Two of these communities, Bir al-Maskub B and nearby Wadi Esneisel are located in Area E1. According to media reports, in November 2012, the Israeli government approved plans to build settlements in this area, with the object of creating a contiguous urban bloc between the settlement of Ma'ale Adumim and Jerusalem. Israeli authorities demolished 24 homes in these communities, leaving 111 people, including 69 minors, homeless. They also demolished seven structures used for agricultural purposes and storage.
The authorities chose to carry out these demolitions in August, which has been even hotter than usual this year. In the Jordan Valley, where the climate is harsh, on some of the demolitions days, the temperature rose above 40°C [105°F]. In some cases, the owners of the demolished structures, their families and their livestock were all left with no shelter from the blistering sun, until some of them received temporary tents from aid organizations or managed to rebuild some of the structures. The severe water shortage suffered in these communities throughout the year constituted a further difficulty in the oppressive heat.
On 27 August 2015, Khadijeh Bsharat, a 27-year-old married mother of two who lives in Khirbet Humsah in the Jordan Valley, described to B'Tselem field researcher 'Aref Daraghmeh how the authorities demolished her family's home on 11 August 2015: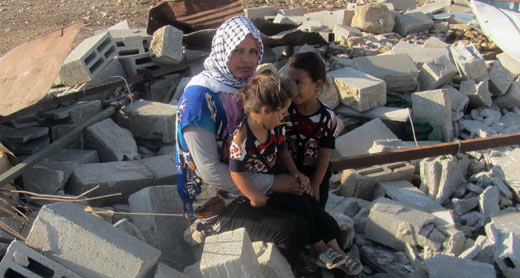 Khadijeh Bsharat and her daughters on the ruins of her home. Photo: 'Aref Daraghmeh, B'Tselem, 27 August 2015
We live in a single-room mud hut with a ceiling made of plastic sheeting and tin. In the winter, our house turns into a pool and all our belongings get flooded. When that happens, we have no shelter. My husband and I decided to build a house next to our mud hut, which was practically falling apart. With difficulty, my husband managed to borrow some money, and we managed to build a structure from cinder blocks and tin with very little money. We were hoping to finish construction and move into the new place.

We make a living farming and shepherding, but our situation gets worse day by day. The military won't let us take our livestock through the pastures in the area. I finished a degree in art at the university and I was hoping to find a job to help bring in some more money to give my daughters a better life, but everything went wrong. On the morning of the demolition, I was on my way to a job interview in Jericho. At 9:30, my husband phoned to tell me that Civil Administration and military bulldozers were demolishing everything we'd built and there was nothing left. I just froze where I was and began crying. I couldn't stop. I couldn't think about anything else. I didn't care about the job interview anymore and I went home.

When I got there, I saw my daughters sitting by the rubble, and my husband just standing there, confused and at a loss. The whole family just looked at the wreckage, heartbroken. I felt as if my whole world had fallen to pieces and that I was living a nightmare. Instead of having our lives advance and move a step forward, we slid several steps back. I had hoped to free ourselves of that room that was set to topple right on top of me and my daughters, and where snakes and scorpions constantly come in. I had hoped to live a more normal life, like other people. Now every morning when I wake up, I see the ruins and my heart breaks.
Thurayyah Abu Dahuk, a 44-year-old married mother of five who lives in the Abu Falah community of Khan al-Ahmar near Ma'ale Adumim, spoke with B'Tselem field researcher 'Amer 'Aruri on 26 August 2015 and told of her family's life after authorities demolished portions of their home: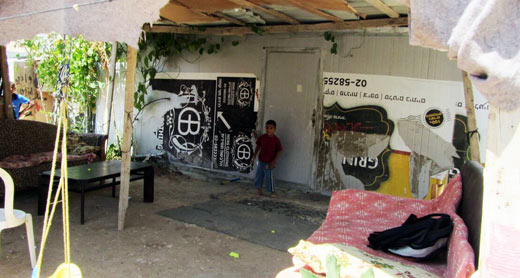 One of Thurayyah Abu Dahuk's sons in the lean-to adjoining the shack they got from the European Union. Photo: 'Aref Daraghmeh, B'Tselem, 26 August 2015
Last February, Civil Administration personnel came by and handed my husband a demolition order for our entire house - which is made up of three shacks, except for one shack that we got as a donation from the European Union. Ever since, I've been worried sick. I didn't know what would happen to us and was afraid that my husband, my children and I would be left outside with no shelter. Every morning when I woke up, I told myself they might come to demolish our house today. I would wake up early and wait for the bulldozers to come. I'd often wake up in a panic in the middle of the night. I couldn't think about anything else and was scared they'd demolish the house on top of us, while we were asleep inside.

I kept my fears from my family because I didn't want to make things harder for my husband who is a shepherd and has enough to worry with the difficulties of providing for the family. Also, I didn't want my kids to live in constant fear like me. I told myself: let your children get through their childhood without worries. But on 17 August 2015, my fears came true. At about 9:30 A.M., I heard a bulldozer approaching. I went outside in a panic, and saw Civil Administration and military vehicles at the entrance to the village. The bulldozer came up to one of our shacks. I ran up to the bulldozer and implored its driver: "Stop. I want to get the mattresses out of there". The driver didn't stop and kept moving forward toward the shack. I went in with one of my sons anyway, and we quickly got some of the mattresses out. They demolished the shack where my two adult sons live, the one where my husband, my young children and I live and the pen for the livestock.

I stood there, watching the bulldozer demolishing the shacks. At first, I managed to keep it together and not cry in front of my children, but when my 6-and-a-half-year-old son Daud saw the bulldozer demolishing the shack where he used to sleep, he burst into tears, and then I did too. I hugged my little boy. There's a special place in my heart for him because he's disabled and can't walk. He's also my youngest.

The bulldozer driver completely razed the shacks. He first tore down each shack's supporting beams and then drove over the ruins to crush everything, including whatever was inside. I stood there and saw how he was destroying my family's home and thought: 'What's going to happen to us after the bulldozer leaves? Where will my children spend tonight'? The shack the European Union gave us is okay to sleep in in the winter, but in the summer the air inside is hot and stifling. How will I protect my children from snakes outside if they sleep on the ground?

My family and I are now sleeping in an open lean-to. I'm scared of snakes at night, but there's nothing we can do.
The extensive demolitions are part of Israel's overall policy toward Area C – which comprises 60% of the West Bank – based on its perception of Area C as meant primarily to serve Israeli needs. Israel works to establish facts on the ground, creating a reality that would be difficult to change as part of a future agreement. Such actions include exploiting local resources and building and expanding settlements. At the same time, in pursuit of a policy practiced by successive Israeli governments, Israeli authorities take action designed to force out and expel Palestinian residents from Area C, citing flimsy legal arguments such as "illegal construction" – an argument that holds no water given that there is no real possibility of building legally. These arguments are meant to obscure the fact that Israel is ignoring its duties as an occupying power, namely allowing West Bank residents live their lives without disruption and ensuring the development of their communities to a level that allows them to live in dignity and meets their needs.
This government policy, which has been systematically implemented for years, constitutes the forcible transfer of protected persons inside an occupied territory, be it directly – through the demolition of their homes – or indirectly, by creating an intolerable reality.