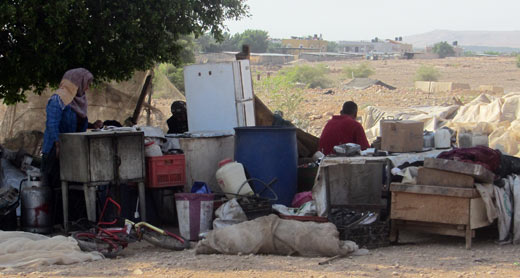 Demolitions in the village of Fasayil today. Photo: 'Aref Daraghmeh, B'Tselem
This morning, 18 Aug. 2015, Civil Administration and military representatives came to the village of Fasayil in the northern Jordan Valley, which has about 1,500 residents. Part of the village is defined as Area B and part as Area C. The forces demolished 17 structures: 10 residential tents and shacks, and the remainder for livestock rearing. The demolitions left 48 people homeless, including 31 minors. Most of the families whose homes were demolished already lost their homes in previous demolitions by the Civil Administration in 2014. Temperatures of up to 41 degrees Celsius were recorded today in the Jordan Valley. In most of the communities in the area, as in other parts of the West Bank, Israel prevents Palestinians from establishing permanent homes and connecting them to water and electricity infrastructures, thereby leaving them exposed to harsh weather conditions throughout the year.
The Civil Administration has left the families whose homes were demolished today and over recent days in conditions of extreme heat without any solution and without even the most basic services.
Since 5 Aug. 2015, the Civil Administration has demolished 31 residential buildings and 26 other structures in Palestinian communities in the Jordan Valley, in the vicinity of Ma'ale Adumim, and in the southern Hebron hills. A total of 167 people have lost their homes in these actions, including 101 minors.
These demolitions take part in the context of efforts by the military and the Civil Administration to push Palestinian communities out of Area C. These expulsion plans run counter to the provisions of international humanitarian law, which prohibit the forcible transfer of protected persons, unless carried out for their own protection or for an imperative military need. Even when the transfer meets these criteria, it must be temporary. Moreover, as the occupying power, Israel has an obligation to work for the benefit and welfare of the residents of the occupied territory. The plan to expel these residents from their homes as well as impose living conditions on some that would undermine their source of livelihood violates this obligation.