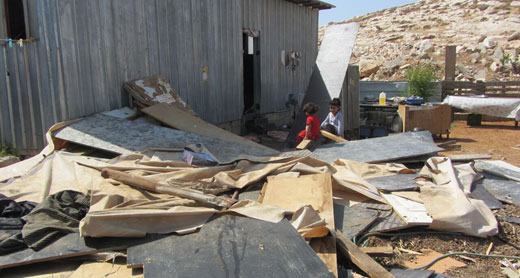 Demolitions in a-Sa'idi community today. Photo: 'Amer 'Aruri, B'Tselem
Authorities leave the residents and herds with no shelter in harsh weather conditions 
This morning, around 6am, civil Administration and army forces arrived at the a-Sa'idi community, near a-Za'ayem. The forces demolished the homes of four families numbering 32 people, of them 21 minors. The  a-Sa'idi community numbers a total of 6 families, around 40 residents.
The forces then moved to the abu-Falah community, in the Khan al-Ahmar area, and demolished a residential shack built of timber and plastic sheeting, which was built next to a family home to house its the two elder children. The demolition order for this shack was issued in October 2014. Additionally, the forces demolished another structure the family uses to house guests. The abu-Falah community includes 15 families, around 150 persons, of them half are minors.
Later the authorities demolished 12 structures in the adjacent Bir al-Maksub and Wadi Shneisel communities. Nine of the structures demolished were the residential homes of families numbering 60 persons, of them 39 are minors, and three served as shelters for the herds. Bir al-Maksub and Wadi Shneisel communities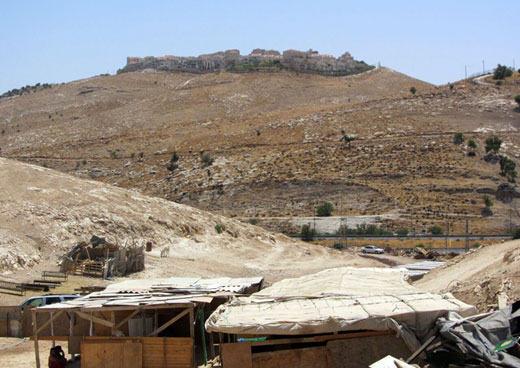 Structures in Wadi Shneisel community. Photo: 'Amer 'Aruri, B'Tselem, 17 Aug. 2015
bout 3,000 of the area's residents face the threat of expulsion in view of the Civil Administration's plans. Most of these individuals live in an area that will become an enclave connecting Ma'ale Adumim to Jerusalem once the Separation Barrier is completed. About 1,400 of the residents facing expulsion live in the area defined as E1, allocated to the municipal jurisdiction of Ma'ale Adumim. Israel plans to build the new settlement of Mevasseret Adumim in E1, a settlement that will create a contiguous urban bloc between Ma'ale Adumim and Jerusalem.
The expulsion plans made by the military and the Civil Administration run counter to the provisions of international humanitarian law, which prohibit the forcible transfer of protected persons, unless carried out for their own protection or for an imperative military need. Even when the transfer meets these criteria, it must be temporary. Moreover, as the occupying power, Israel has an obligation to work for the benefit and welfare of the residents of the occupied territory. The plan to expel these residents from their homes as well as impose living conditions on some that would undermine their source of livelihood is a breach of this duty.