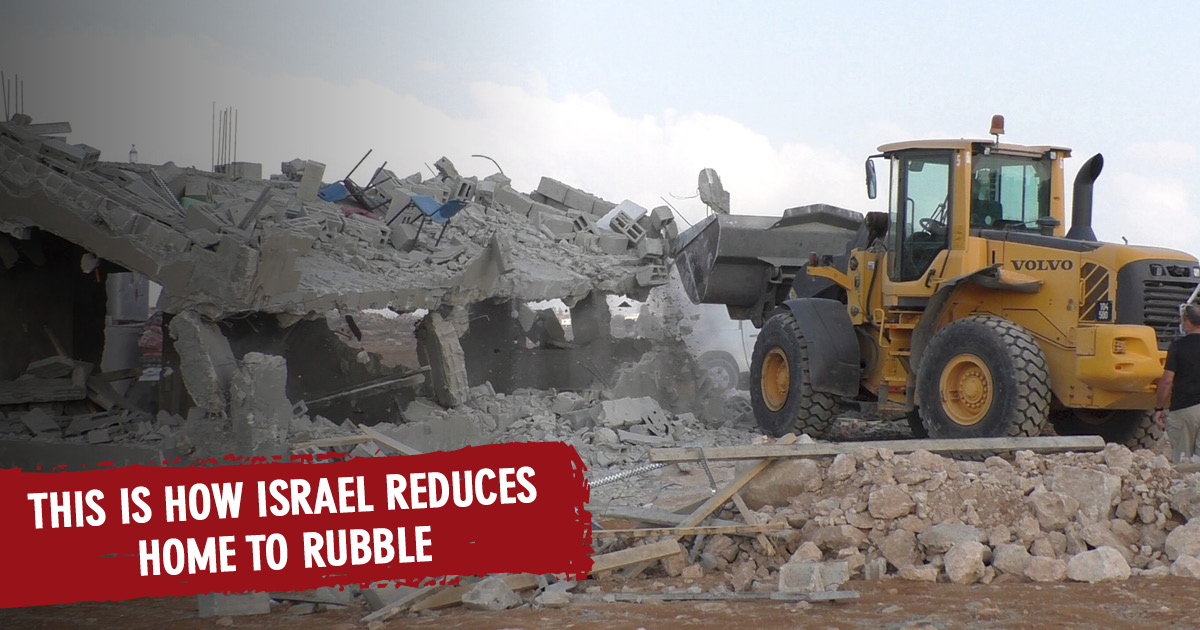 Dear friend, 


Another day of outrageous, heartbreaking demolitions.
Although our field researchers have been documenting Israeli demolitions for years – we will never get used to it. For every person watching bulldozers destroy his or her home, it will always be the first, unbearable time.
The statistics are available on our website, but they do not tell the story behind the numbers: entire lives turned into clouds of dust within minutes; families left homeless in the heat of summer or the cold of winter; children losing the only home they have ever known. Just this year, more 900 people lost their homes to demolition. Nine hundred people!

Two month ago, I visited the community of Khirbet Humsah in the Jordan Valley after Israel demolished it. The place looked like a tsunami had hit it. The remains of tin shacks, livestock pens, clothes, bedding, outhouses and kitchen utensils lay scattered. Exhausted, desperate, angry people were trying to salvage bits of tin and fabric to improvise shelters for their young children in the cold.

Demolitions are the routine of the occupation. Hardly a day goes by without our field researchers calling me to report yet another home taken down. These calls fill me with anxiety and despair, because I know what suffering lies ahead for the families – the enormity of the trauma, and the economic, social and mental hardship that now exist where a home once stood.

Israel uses various methods to implement its policy of reducing Palestinian presence in the West Bank and East Jerusalem, both areas where it claims ownership: preventing Palestinians' access to land; military training on Palestinian land; refusing to hook communities up to water, power and road networks; and banning construction. Life is made unbearable and Palestinians are subjected to abject poverty without basic services – all in the hope they will leave their homes, supposedly of their own free will. Representatives of the Israeli planning authorities visit these communities to demolish or confiscate – never to plan or build. Since B'Tselem started documenting demolitions in the West Bank in 2006, we have counted more than 10,000 Palestinians, about half of them under the age of 18, who lost their homes in this way.

The tsunami continues, yet the world stands by and does not stop the bulldozers. At this challenging time, the field researchers and I will continue, together with the entire B'Tselem team, to document these violations and expose the occupation for what it is – for all those who refuse to look away.

Kareem Jubran, Field Research Director
This year, the olive harvest season was overshadowed by severe, state-backed settler violence. B'Tselem documented 39 incidents in which settlers attacked Palestinian harvesters, blocked their access to their own olive groves, stole crops, and damaged trees and farming equipment. The acts of violence B'Tselem documented recur year after year without interruption, and not only during the harvest season. As long as this reality continues to serve Israel's long-term goals in the West Bank – primarily, using violence to dispossess Palestinians of their land so the state can take it over – it will continue. Only when Israel is made to pay for implementing this criminal policy, can change come about.

On 25 November 2020, Nur Shqeir (36) arrived at a-Za'ayem Checkpoint east of Jerusalem, where Israeli security forces asked him to show his documents. According to the Israel Police, the forces suspected that the documents he presented did not belong to him. At that point, Shqeir accelerated and ran into a Border Police officer, injuring him lightly. He drove on for several hundred meters and stopped by the roadside. Border Police officers and security guards ran after him, and one fired four fatal shots in his direction from several dozen meters away. All this was documented in video footage, in which a member of the security forces is clearly heard shouting, "Don't shoot!"
 
In October, we published a new position paper, "The Annexation That Was And Still Is," explaining why Israel's  decision to hold back from officially annexing the West Bank (or parts of it) is no cause for celebration. Israel annexed the West Bank de-facto long ago and treats the area as part of its sovereign territory, acting unilaterally to establish and perpetuate control over it. The global community may have breathed a sigh of relief when the official annexation was shelved, and was quick to embrace Israel again – but without any real change, this allows Israel to continue its policy of dispossession without paying an price.
 
We have recently documented many cases in which Israel demolished structures, confiscated property and disconnected infrastructure, all with the goal of driving Palestinians out of their land and homes. One of the most extreme incidents took place on 3 November 2020 in the Jordan Valley, when the Civil Administration razed the entire community of Khirbet Humsah to the ground. The demolition left 74 people, including 41 children, homeless. A few weeks later, in a single day, Israel demolished the homes of 44 Palestinians in Masafer Yatta, the Ramallah area and the Jorden Valley. The official pretext was "lack of building permits" – yet Palestinians have almost no way to obtain such permits. The obvious conclusion is that Israel commits crimes and paints Palestinians as the offenders. 
 
Throughout October 2020, Israeli soldiers raided the Palestinian town of Sabastiya and imposed movement restrictions after, according to the military, settlers from Shavei Shomron complained that residents were blinding them with laser beams. On three separate nights, soldiers entered the town, hurled dozens of stun grenades and fired tear gas canisters. On one night they also fired rubber-coated metal bullets. Adham a-Sha'er, an accountant who was sitting with his friends in a nearby café, lost his eye when such a bullet hit him.
 
The ongoing acts of military-backed settler violence continued unabated over the last two months. In late September, dozens of settlers attacked a chicken coop, burned vehicles and harassed farmers. in the village of Qusrah. Soldiers escorted the marauders and, as usual, fired tear gas canisters and rubber-coated metal bullets not at them, but at residents who tried to defend the property. Three hundred chickens died as a result of the attack. In October, dozens of settlers stoned the home of the 'Eid family in the village of Burin. Soldiers stood by and fired tear gas canisters at residents who tried to protect the house. The attack on Burin continued the next day; again, soldiers arrived and fired tear gas canisters at the villagers. During the settler attack, two settlement security coordinators ordered Burin resident Muntasser a-Najar to stop his car. They pounced on him, broke his windshield and handed him over to soldiers nearby. The soldiers detained him for three days, although he was not suspected of any offense. 
 
What of the besieged Gaza Strip? In the past two months, we again witnessed the import of Israel's policy and its destructive impact on Gazans' lives. To the outside observer, it is difficult to imagine the repercussions of Gaza's daily power shortage, which amounted this summer to a mere four hours of electricity a day. Regular electricity is vital for a reasonable life – from buying food to communications to functioning healthcare systems. Yet the residents of Gaza, who live only several dozens of miles away from central Israel, are denied routine use of essential appliances such as refrigerators, washing machines and mobile  phones.
 
In mid-October, Israel destroyed 25 dunams of Palestinian farmland near the perimeter fence that separates Gaza from Israel. Entire fields of zucchini, okra, eggplants and herbs were razed to the ground. The fields were a source of livelihood for people already struggling to support their families in the dire reality imposed by Israel. This is not the first time Israel has destroyed agricultural produce in Gaza. In the past, it has distanced farmers from the fence by opening fire at them, spraying the fields with herbicides and razing land while trampling crops. According to the Palestinian Ministry of Agriculture, Israel has destroyed 14,000 dunams of farmland in Gaza in the last five years alone. 

B'Tselem in the media:
Op-Eds by Hagai El-Ad, the executive director of B'Tselem: The Israeli Occupation Is Making the Most of One More Day of Trump (Haaretz.com); Biden warned of Israeli annexation 50 years ago. Will he finally stop it? (+972 magazine).
Elite Israeli School Teaches Silencing, Editorial on Haaretz.com.
Israeli forces leave 41 children homeless after razing Palestinian village, UN says, The Guardian.
Largest Israeli demolition in a decade displaces dozens of Palestinians in the West Bank, on The Independent.
Israel razes most of Palestinian Bedouin village in largest demolition in years, NBC News.
Six things that happened while the world watched the US election, CNN.
Palestinian teachers vow to keep going despite Israeli threat to raze school, Rosie Scammell on The National.
Israel Uses Cover Of U.S. Election To Destroy Palestinian Homes, Critics Say, on National Public Radio.
Israel rebuked for 'biggest demolition of Palestinian homes in years', on BBC News.
Israeli army razes entire village in occupied West Bank, on Al Jazeera.
IDF destroys Palestinian village in Jordan Valley, on Ynet News.
Video appears to show Palestinian shot dead after alleged ramming incident ended, Aaron Boxerman on Times of Israel.