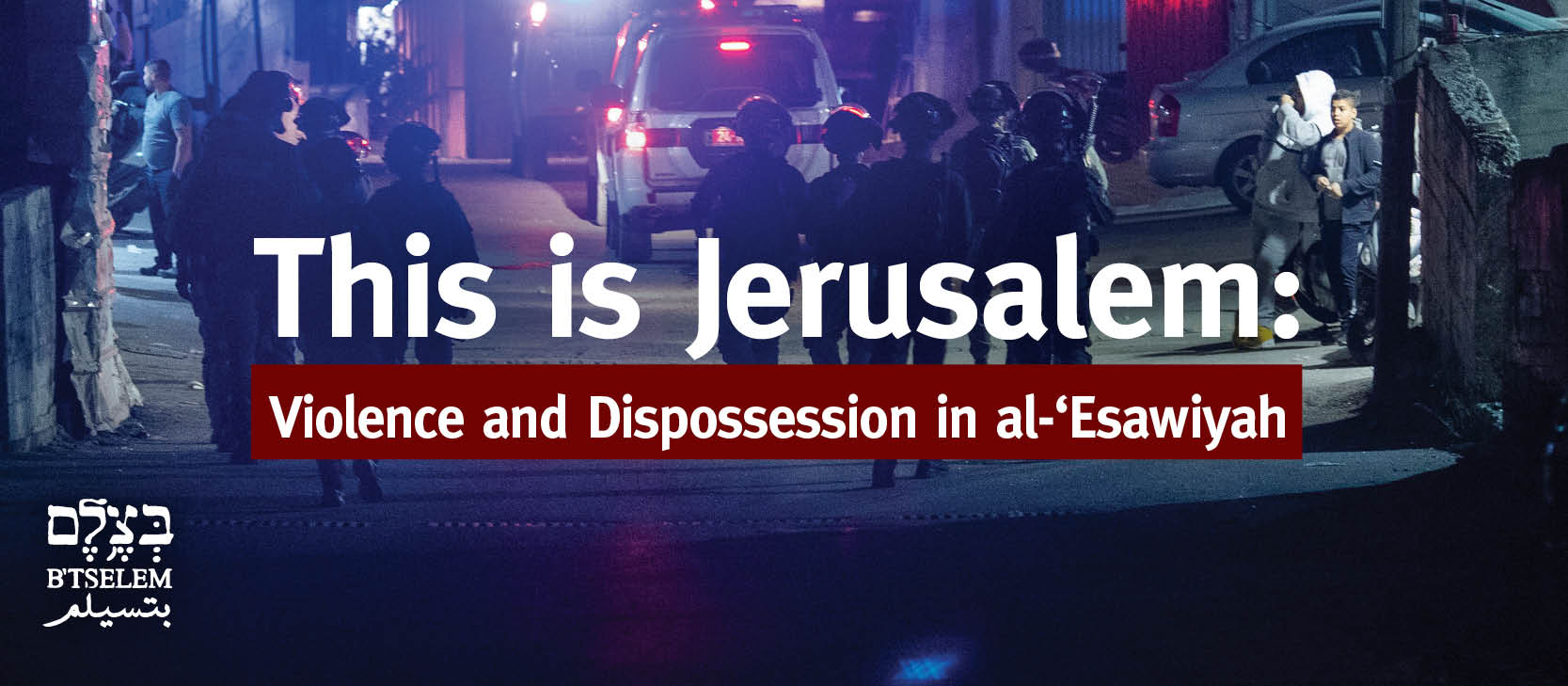 Dear

friend,



I've known al-'Esawiyah since the 1990s, when I was a journalist with local Jerusalem
newspaper Kol HaIr. That was when I first learned about the ongoing neglect. Over the past year, however, I've come to know the neighborhood more closely because of the campaign of abuse and collective punishment the Israel Police has been waging in it.

Almost a year ago, on 27 June 2019, I took part in a joint protest organized by activists from the neighborhood and Israeli partners - just two hours later, a police officer killed local resident, Muhammad 'Abeid, 21, without any justification. Since then, I have joined the protests organized by local residents weekly, attended meetings and watched houses being demolished by the City.

As someone who has experienced several rounds of police brutality in East Jerusalem, I saw the outcome of years of de-humanizing incitement against the city's Palestinian residents. The police forces that regularly come into the neighborhood - Special Patrol Unit and Border Police troops, armed to the teeth, look more like militias than agents of the law.  Violence for the sake of violence is simply designed to cement their dubious status as rulers and nothing more.

More than 20,000 people live in al-'Esawiyah. They have been dealing with this arbitrary violence every day for more than a year now: Children and toddlers suffer from gas canisters thrown in narrow alleyways late at night, teens are brutally beaten, some of them arrested, and local activists are repeatedly falsely charged by the police. Al-'Esawiyah is a quiet neighborhood - until the police show up, and, in a twisted role reversal, disturb the peace.

The time I've spent in the neighborhood and the research and analysis for this report have also driven home for me the damage inflicted by the planning chaos the Israeli authorities impose on the neighborhood. Fifty-three years after its annexation to the municipal boundaries of Jerusalem, al-'Esawiyah has no proper outline plan that reflects residents' needs. The inevitable result is unbearable overcrowding resembling a refugee camp, dilapidated infrastructure and constant anxiety for thousands of families living in fear their meager home will be demolished. More than half the homes in al-'Esawiyah (about 2,000 units) were built without a permit, as residents have no other choice.

Al-'Esawiyah residents have not forgotten that 90% of their land was taken by the Israeli occupier. This land is now used by the Hebrew University, Hadassah Mount Scopus Medical Center, nearby Jewish neighborhoods (French Hill and Tzameret Habira, both of which are settlements under international law), the settlement of Ma'ale Adumim and military and police bases.  South of al-'Esawiyah, where the neighborhood's last remaining land reserve for development is located, the Israeli authorities are planning to declare a national park. Al-'Esawiyah remains trapped in an enclave, with no prospects for development. 

Conditions in the neighborhood are not some sort of inescapable fate. They are the direct result of the policy Israel employs throughout East Jerusalem, a policy that sees Palestinians not as human beings with equal rights, but an unwanted addition to be rid of in order to maintain a Jewish majority in the city. Life in the neighborhood will not change until this concept does.

Yours,
Eyal Hareuveni, B'Tselem researcher and the author of the new report, "This is Jerusalem: Violence and Dispossession in al-'Esawiyah"
Here is some of what B'Tselem has been covering in recent weeks:
B'Tselem in the media: