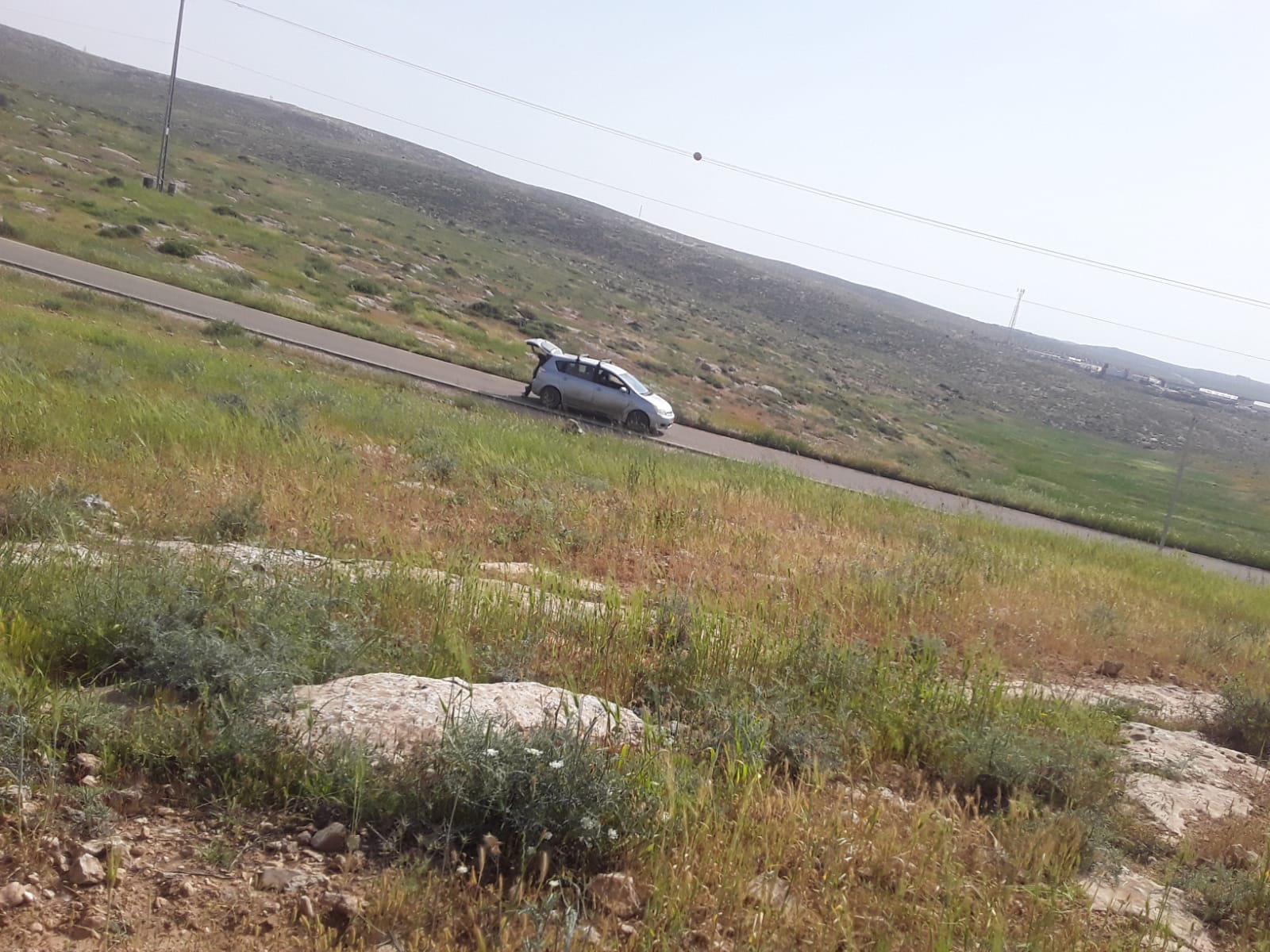 On Tuesday afternoon, 21 April 2020, Jabarin Abu 'Aram (56), a father of nine, set out to graze his flock at his pastureland west of Qawawis. The grazing was peaceful, as his wife worked their land nearby. 
A car with Israeli license plates came from the direction of the Mitzpe Yair outpost and stopped on the road. Two settlers got out and approached Abu 'Aram. One of them pepper-sprayed him. Abu 'Aram retreated and started throwing stones at the settlers to drive them away. 
In a testimony he gave on 27 April 2020 to B'Tselem field researcher Musa Abu Hashhash, he recounted: 
Two guys got out of the car. They were speaking in Hebrew, and one of them said to the other: "There's nobody here but him, we can slaughter him and take his goats." One of them approached me, holding something that looked like a gun. I thought he was going to shoot me. I yelled for help and hoped my wife could hear me.
The settlers hurled stones at Abu 'Aram, and one of them took a goat and put it in the car. He then came back and took another goat. Abu 'Aram's wife arrived and started shouting. The settlers got in the car and left with the goats. 
Abu 'Aram photographed the car and contacted human rights activists in the area, who called the police. A few minutes later, police officers arrived and drove Abu 'Aram to the station, where he filed a complaint. 
 
Later in his testimony, Abu 'Aram recalled the investigation and his conclusions from the incident: 
The investigator promised me he would look for the settlers and bring my goats back. I told him it wouldn't be difficult, since the settlers drove to Mitzpe Yair. He answered that he knows his job and would be in touch. It's been a week and nobody has called. I didn't get my goats back, and I doubt I ever will. I don't think the police will contact me, since they're not interested in going after the settlers. 

We're here on our land, with our flock, and all we want is to live. But we have no protection and we live in constant fear and anxiety from the settler' attacks. They operate outside the law, and the threat is real. We have no choice but to live in this dangerous reality.
Route 317 passes by the lands of the Abu 'Aram family. A dirt path from the road leads to the settlement outpost of Mitzpe Yair, founded in 1998.