On 2 April 2017 Civil Administration representatives arrived at Khirbet a-Ras al-Ahmar a small shepherding community in the northern Jordan Valley. The settlements of Ro'i and Beka'ot were established nearby. The officials informed nine families in the community that they were required to evacuate their homes on Wednesday, 5 April 2017, from 5:00 P.M. until the next morning at 5:00 A.M., on the pretext that that military needed to train nearby. The nine families evacuated number about 40 people, including some 15 minors. They were compelled to spend the night without shelter, far from home. Some of the families left riding donkeys, others walked and a handful left by car. All were forced to leave behind their sheep and most of their property.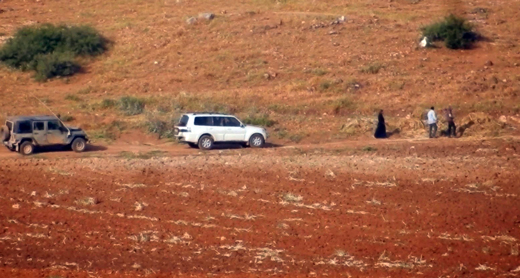 Security forces accompany a Kh. Ras al-Ahmar family being evacuated. Photo by 'Aref Daraghmeh, B'Tselem, 5 April 2017
A week earlier Civil Administration personnel had come to the community and informed the same families that they would have to evacuate their homes from the afternoon of 29 March 2017 until the following morning. Despite the notice of evacuation, no training took place in the area of the community, nor did Civil Administration representatives arrive to evacuate the residents, who had needlessly prepared for the evacuation. 
In 2016, Khirbet a-Ras al-Ahmar families were evacuated on ten separate occasions on the pretext that the area was needed for military training. 
In testimony given to B'Tselem field resaercher 'Aref Daraghmeh on 6 April 2017, 'Ali Bani 'Odeh, 40, described how he was evacuated with his wife and five children:
We live in tents and simple shelters in difficult conditions. I was born here, and so were all my relatives who live in the community. A week ago people came from the Civil Administration and told us that they plan to expel us from 5:00 P.M. on Wednesday (29 March) until 5:00 A.M. the next morning. We started to prepare. They ended up not arriving to evacuate us. We were tense and uncertain because we didn't know why they weren't arriving to evacuate us. Usually they arrive and evacuate a little before the scheduled time. We were worried that they'd train while we were still there. The hours passed slowly and we couldn't fall asleep.

On 2 April 2017, Civil Administration people arrived once again and served us with orders to evacuate from Wednesday 5 April 2017 at 5:00 P.M. until 5:00 A.M. the following morning. On Wednesday, at the scheduled time, we were exhausted. We spent the entire day feeding the sheep, putting the tents in order and tying up the bundles of feed. We wanted to get as much done as possible. In the end, we had to leave most of the work unfinished. My wife didn't get a chance to finish making the cheese, the children didn't have time to prepare for school for the following morning. At around 5:00 P.M., while we were busy trying to feed the sheep and close everything up, Civil Administration and military personnel arrived and demanded that everyone leave quickly. They started going from tent to tent to get everyone out. They led the people out with jeeps driving behind them, like herding sheep. 

Some of the families rode donkeys and some walked. We all went to the area of the village of 'Atuf, about eight kilometers from our tents. There's nothing in that area and we barely managed to take anything with us. We spent the night outside our tents and couldn't manage to sleep even a wink. We kept thinking about the tents, the sheep and our property. We were afraid that tank shells would fall there. We were very worried about the sheep because of wild animals. The night passed slowly and we waited for the sun to rise so we could begin making our way back home. 

In the morning, we were exhausted. We walked back worried about shells falling. When we reached our tents I started checking the surrounding area because I was afraid there'd be unexploded munitions. The sheep were happy to see us. Straight away we began giving them food and water. Some of the children didn't go to school, because they were too exhausted and couldn't keep their eyes open after spending the night out in the cold with no shelter. 

They conduct training here, where we've been living for years, and they don't train near the settlements. We know that they're trying to drive us out, that they want to destroy our livelihood. They limit the grazing areas for our sheep through their exercises and the unexploded munitions they leave behind. Where can we go? We grew up here and our entire lives are here. We're here to provide for our children.
The repeated evacuations of communities in the Jordan Valley on the pretext that the area where they live is needed for military training cause an intolerable disruption of the lives of the residents, and are unjustified and unlawful. In addition, in some cases the families have no adequate alternate location to relocate to, and they are compelled to stay out in the open, exposed to the elements, and to fend for shelter, food and water themselves. The high frequency of military exercises completely undermines the lives of the residents and threatens the communities' very ability to survive.
Under international humanitarian law, Israel has no right to use land for general military purposes, such as training for war or ordinary training. It is certainly not allowed to harm the livelihood of protected persons on this pretext or take action to drive them from their homes.