"I used to hang out a lot with my friends. We'd have breakfast together, go to school, go out and have fun. I don't do any of that stuff anymore. I don't see my friends like I used to." This is what M.M., now 16, from the East Jerusalem neighborhood of al-'Esawiyah told B'Tselem.
About two and half years ago, in July 2015, when M.M. was 14, police officers entered his home in the middle of the night and took him away for interrogation for allegedly throwing stones. After being held in detention for 22 days, he was released into house arrest in his aunt's home in the East Jerusalem neighborhood of Beit Hanina. M.M. spent over a year under house arrest. He recalled the period he spent away from his home and immediate family:
It was the worst time of my life. I wasn't allowed to play outside and no one came over to play with me. My uncle is old and he has no patience for kids running around the place. I spent the whole time sleeping or watching television with my aunt. Sometimes my aunt asked the neighbors' kids to buy me a cake. My family came to see me every two or three days. I missed them and I used to cry at night, quietly so that no one would hear me. I didn't want to disturb my aunt and her husband, even though I slept in my own room. The hardest part was when my aunt had visitors. Old people who I didn't know would come round and I had to sit with them. I'm a kid, and I wanted to play. It was boring and exhausting.
M.M.'s mother, Dina, adds:
My son was kept in detention for 22 days on suspicion of throwing stones. He was held at al-Musqubiyah [the Russian Compound]. We weren't allowed to visit him, and my husband and I could only see him in court. Whenever we tried to get money to him so that he could buy stuff he needed from the canteen, the police refused to take the money from my husband. In court, he was pale and he looked tired. During those 22 days I only got to see him four times in court, but I wasn't allowed to talk to him, touch him, or even go near him. I could see that he had tears in his eyes every time he saw me and his father.

After 22 days in detention, they agreed to put him under house arrest, but not in our home. The only option was for him to stay with his aunt in Beit Hanina. She's not a young woman, she's over 60, and her husband is over 80. It really bothered my son. He didn't want to live in a strange home. Apart from that, they completely prohibited him from going outside – even to the grocery store. His aunt's husband is an old man who just wants peace and quiet. He doesn't want to have kids running around the house bugging him. So that meant that M. was restricted even inside the house, and he spent the whole time watching television or sleeping.
In August 2016, the court sentenced M.M to three months in prison for throwing stones. His attorney appealed to the Supreme Court, which deferred serving the sentence pending the outcome of the appeal, and allowed M.M. to return home. But when M.M. wanted to go back to school, he was informed that he would have to repeat the year he missed because of the protracted home arrest. M.M. refused and dropped out of school.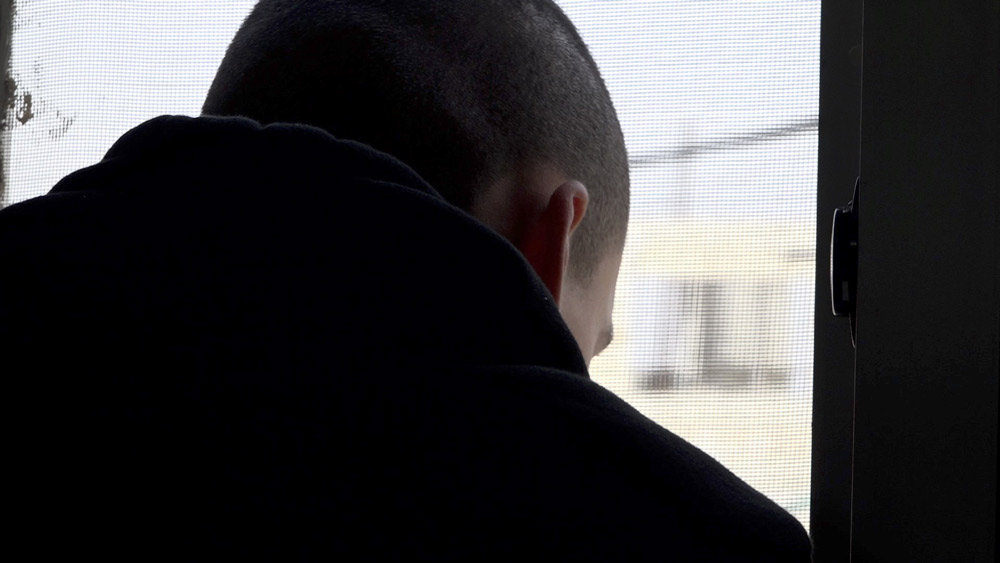 At the end of November, even before a decision was handed down in his appeal, M.M. was arrested once more, again on suspicion of throwing stones. When interrogated, he denied the allegations. After 19 days in detention he was transferred to Megiddo Prison. He was tried and sentenced to five and a half months in prison, which he also served at Megiddo Prison. This is M.'s account of his time in prison:
I was arrested again at home on 29 November 2016. Police officers raided our home and carried out a search. They kept the entire family shut up in one of the rooms. After about half an hour, they handcuffed me and took me away. There was a big arrest raid in al-'Esawiyah that night and I was held with some other detainees at the military base near al-'Esawiyah. They tied a piece of cloth round my head to cover my eyes and then put me back into the detention vehicle and took me to the police station on Salah a-Din Street. They didn't beat me or humiliate me. I was interrogated for about three hours, still in handcuffs. Again, they accused me of throwing stones. I wanted to go to the bathroom and I was hungry and thirsty, but they didn't give me anything until the interrogation was over. Even then I only got some water.

I was transferred to Megiddo Prison, far away from Jerusalem. My family could only visit me once every two weeks on visits organized by the Red Cross. Whenever I was taken me to court it was in a "busta" [a vehicle for transporting detainees] with metal seats. Those journeys were really tough. They'd take us early in the morning and the metal seats were cold. They stopped off at all the prisons and picked up detainees – some who were held on security offenses and others who were held for criminal offenses. At Ramle Prison they'd divide the detainees by age and put us in filthy rooms. I couldn't sleep there because the mattresses grossed me out – they were filthy and smelly. The next morning they'd take us to the courthouse in Jerusalem. I can't remember how many times I was taken that way, but I do remember that the court hearings were held in December, January and February. Eventually they sentenced me to be in prison until 8 May 2017. 
In early May, M.M. returned home. Four months later the court denied his appeal of the sentence handed down in August 2016 in his previous trial, and ruled that he must begin to serve his sentence at the beginning of November 2017. However, early in October M.M. was hit by a sponge round that police fired at him while he was walking along the street when clashes were underway in al-'Esawiyah. He was taken to Shaare Zedek Hospital and underwent a splenectomy. Due to this injury, M.M.'s prison sentence was deferred until 1 January 2018. In the interim, he was summoned to a police interrogation on 18 December 2017 for allegedly throwing stones, and again placed under house arrest for five days.
Over the past two years, M.M. has undergone interrogations, nighttime arrests, lengthy imprisonment, and been seriously injured by Israeli security forces. He is very shortly due to return to prison to serve a further three-month sentence. His story is far from unique. Every year, hundreds of teenaged Palestinian residents of East Jerusalem are pulled out of bed in the middle of the night, detained, and incarcerated. This process involves the systematic violation of their rights as well as total and blatant disregard on the part of all the relevant authorities of the circumstances of their lives and the devastating impact of detention and imprisonment.
To the Israeli authorities, M.M. is no more than an object to be repressed as part of the overall mechanism maintaining Israel's control over the residents of East Jerusalem. Detention, interrogation and imprisonment are all a part of this violent reality. In some cases, as in M.M.'s, this reality also involves serious injuries inflicted by the security forces. There is no regime of oppression that is not met with resistance, and resistance is never suppressed without violence. When this process takes place during the adolescent years of an East Jerusalem boy, its repercussions will surely follow him for the rest of his life.