On 22 July 2015 Israel's High Court of Justice (HCJ) allowed the state to deport Nadia Abu al-Jamal – and effectively, her three children as well – from their home in East Jerusalem. For details click here. 
On November 18, 2014, 'Udai and Ghassan Abu al-Jamal from Jabal al-Mukabber in East Jerusalem, carried out an attack on a synagogue in the Har Nof neighborhood in West Jerusalem, killing four worshippers and wounding seven. A Border Police Officer was also killed in exchanges of fire between police and the assailants. The source of his gunshot wounds was not determined. The two perpetrators were shot dead by security forces. Ever since the attack, the authorities have been threatening their family members with severe punitive measures: demolition orders were issued for the families' homes, and the Ministry of Interior halted the family unification procedure which allowed Ghassan Abu al-Jamal's wife, Nadia, to reside in Jerusalem.
Nadia Abu al-Jamal was born and raised in the village of a-Sawahrah a-Sharqiyah in the West Bank. She married Ghassan Abu al-Jamal from Jabal al-Mukabber in 2002. The two communities once formed a single village, but in 1967, Israel split the village and annexed one part of it to its territory. Residents of Jabal al-Mukabber received Israeli residency status, while those of a-Sawahrah a-Sharqiyah remained residents of the West Bank. In the years immediately following the annexation, the separation had no practical meaning, and residents of the village moved freely between its two parts. Over the years, however, Israel intensified its restrictions on movement, a process that peaked with the erection of the Separation Barrier in 2003, which physically separated the two parts of the village.
This reality forced the couple to file a family unification application, so that they may live together in Jabal al-Mukabber. However, since Israel put a moratorium on family unification in 2002, status is no longer granted. While Israel mitigated some of the terms of the moratorium in response to High Court petitions, and now allows women over the age of 25 and men over the age of 35 to apply for family unification, all they can hope to receive are temporary stay permits in Israel which are issued by the Civil Administration for short durations.
When the Har Nof attack took place, Nadia was living in her home in Jabal al-Mukabber with temporary stay permits she received as part of the family unification procedure the couple entered in 2009. The day after the attack, Nadia received notice that her permit was revoked and that her children's state health insurance was cancelled, though they actually have residency status in East Jerusalem.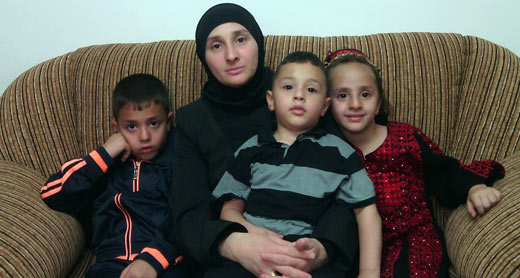 Nadia Abu al-Jamal and her children. Photo: courtesy of the family
Nadia Abu al-Jamal told B'Tselem field researcher Salma a-Deb'i what happened on the day of the attack, and the days that followed:
"I have three young children. Walid is 6, Salma is 4 and Muhammad is 3. I married Ghassan in 2002. My sister married Ghassan's brother Murad in 2000. Ghassan saw me at their wedding and fell in love with me. He asked for my hand right after my sister's wedding. We got engaged and, a little over a year later, we got married and I moved to live with him and his family in Jabal al-Mukabber in Jerusalem. My family lives in a-Sawahrah a-Sharqiyah.

After I had Walid, in 2008, my husband filed a family unification application. He had to wait until then because the Israelis won't process family unification application for women under age 25 and men under age 35. The application was refused at first, and I was ordered to leave Jerusalem. My husband got a lawyer to handle the case. I stayed home and hardly went out, only in urgent cases. I visited my family in a-Sawahrah only twice that year, until I got the stay permit in 2009. I was happy. I felt as if I'd been released from a cage.

On 18 November 2014, my husband and I woke up at 4:30 a.m. He prayed the morning prayers and had coffee. At about 6:00 a.m., he told me he was going to look for work, like he did every morning. He finished his last job about a month and a half ago and had been looking for work every day ever since. I prayed he would find work to pay for house expenses and for the children's expenses.

I went with Muhammad, my three-year-old, to my inlaws'house to have coffee. My mother-in-law said there had been an attack and we watched the television coverage. At around 6:30 a.m., some neighbors and relatives came to the house. They said two young men from the al-Jamal family had carried out the attack. I didn't understand what was going on. The residents tried to calm me down. I refused to believe it, and I yelled at everyone. I asked them to leave. I couldn't believe my husband would have done such a thing.

Now they're threatening to deport me from Jerusalem. I don't know what I'm going to do with my children. They've lost their father, and now they're going to demolish our house. We've been living in my husband's brother's house since the incident. I'm afraid they'll deport me. I don't want to take the children and separate them from their family, the place where they grew up. I can't go back to my mother's house because the situation there is also hard. My brothers are laborers doing odd jobs. I can't go back as a widow with three children. I haven't been able to sleep since the incident. I have nightmares. The children don't want to eat or go to school. They're afraid their house would get demolished and that we'd be deported".
On 30 November 2014, HaMoked: Center for the Defence of the Individual filed a petition against Nadia Abu al-Jamal's deportation. HaMoked asked the court to issue an interim injunction to prevent the deportation pending a decision in the petition. Some of the arguments made in the petition were that no security allegations have ever been made against Nadia Abu Jamal and no one was claiming that her presence in Israel per se was dangerous or posed a threat to public safety. In its response of 8 December 2014, the state said Abu al-Jamal's family unification procedure was stopped the day her husband died and that the case had been transferred to the Interior Minister's Humanitarian Advisory Committee. On 4 June 2015, the High Court of Justice dismissed HaMoked's motion for an interim injunction. A hearing of the petition was scheduled for 13 July 2015, but without an interim injunction, there is concern that the authorities will deport Abu al-Jamal and her children from her home even before the hearing.
Nadia Abu al-Jamal currently lives in a small apartment adjacent to her husband's parents' home. She says her children continue to receive medical treatment as usual. If deported, she and her children will be cut off from their home in Jerusalem, torn away from their relatives and friends and left with nowhere to live. The children's state health insurance will be cancelled. They will not be able to go to kindergartens and schools in Jerusalem and will be denied other services offered to city residents.
The authorities must desist immediately from all punitive measures against the family members, who are not suspected of committing any offense whatsoever. The authorities must refrain from demolishing the homes, must renew Nadia Abu al-Jamal's stay permit and must refrain from denying her children's status and social security rights.