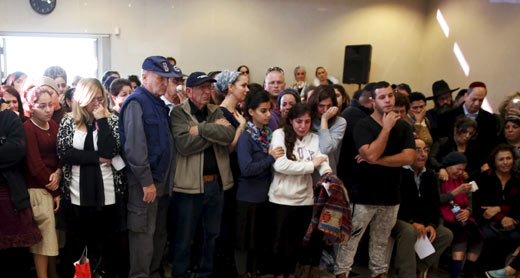 Hadar Buchris's funeral, Jerusalem. Photo by Ronen Zvulun, Reuters, 23 Nov. 2015 
Young Israeli woman Hadar Buchris was waiting at a hitchhiking stop in the Gush Etzion area in the West Bank when a Palestinian assaulted her and stabbed her with a knife. She was taken to hospital in Jerusalem, where she died of her wounds. B'Tselem expresses deep sorrow over the attack and conveys its sincerest condolences to the family of the deceased.
Intentional assaults against civilians undermine every moral, legal and human standard. B'Tselem strongly condemns any and all assaults of this kind against Israeli or Palestinian civilians and calls once again on politician and leaders on all sides to act responsibly and avoid fanning the flames of violence.