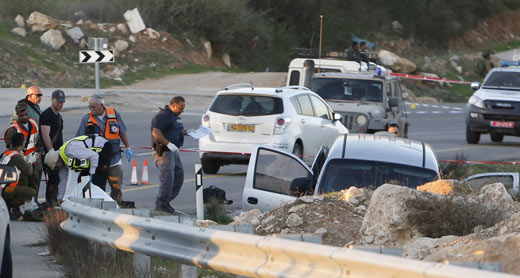 Israeli security forces examine the Litmans' car. Photo by Musa Qawasma, Reuters, 13 November 2015
B'Tselem expresses its shock over Friday (13 November 2015) morning's attack in which Rabbi Yaakov Litman and his son Netanel were killed and the mother and another son lightly injured, when Palestinians fired at the car carrying seven members of the Litman family through the South Hebron Hills. Three daughters suffered anxiety attacks.
B'Tselem conveys its condolences to the family and strongly condemns any and all deliberate attacks on Israeli and Palestinian civilians. B'Tselem reiterates its call to politicians and leaders to act responsibly and refrain from stirring up violence.