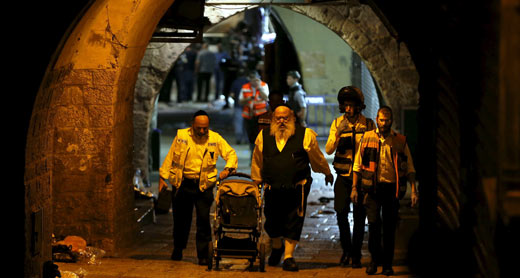 Israeli members of the Zaka Rescue and Recovery team near the scene of the incident. Photo: Ammar Awad, Reuters, 3 Oct. 2015
According to media reports, yesterday, 3 Oct. 2015, a Palestinian youth stabbed and killed Israeli civilian Nehemia Lavi and soldier Aharon Bennett in the Old City in East Jerusalem. He also severely wounded Bennett's wife, Adele, and lightly injured their infant son, Natan.
B'Tselem expresses shock at the killing, conveys its sincerest condolences to the families of the victims, and wishes the wounded mother and son a speedy recovery.
B'Tselem strongly condemns any and all intentional assaults against Israeli or Palestinian civilians. Israeli security forces must take measures [enabling them] to prevent acts of retaliation.