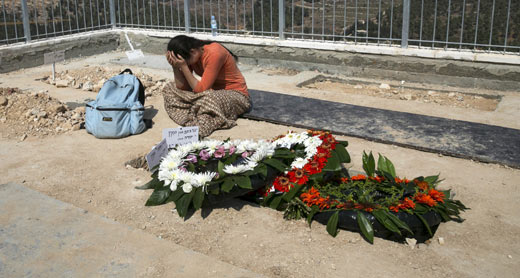 A woman mourns near the fresh grave of Eitam and Na'ama Henkin. Photo: Baz Ratner, Reuters, 2 Oct. 2015.
According to
media reports
, In the evening hours of Thursday, 1 October 2015, Palestinians fired at an Israeli car that was driving along the Madison Route, the road linking the settlements of Alon Moreh and Itamar, in the Northern West Bank, near the Palestinian village of Beit Furiq. Eitam and Naama Henkin, a couple in their thirties, who were in the car with their four children, aged four months to nine years, were injured by the gunfire and rescue workers who arrived at the scene pronounced them dead. The children, who witnessed their parents' killing, were unhurt. B'Tselem expresses shock at the killing and conveys its sincerest condolences to the Henkin family.
B'Tselem strongly condemns any and all intentional assaults against Israeli or Palestinian civilians.
Following the attack, area settlers assaulted with stones Palestinian cars and an ambulance and threw stones at Palestinian homes in the southern part of the village of Burin, which is close to the Yitzhar settlement. Israeli security forces are obligated to deploy to prevent additional revenge attacks by settlers against the Palestinian population.