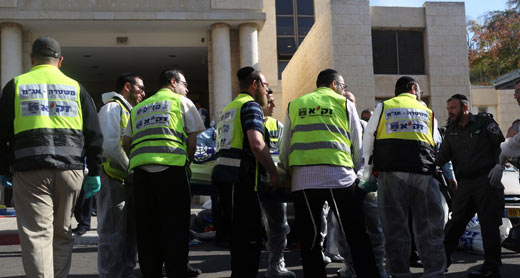 Search and rescue team collects bodies from site of attack. Photo: Oren Ziv, Activestills, 18 November 2014
B'Tselem is shocked by and finds abhorrent this morning's ׂׂattack, in which Palestinians killed Jewish worshippers at the Bnei Torah Synagogue in the Jerusalem neighborhood of Har Nof. We extend our condolences to the families of the people killed and convey our wishes for a speedy recovery to the wounded.
B'Tselem strongly condemns any and all intentional assaults against Israeli or Palestinian civilians and reiterates its call to politicians and leaders to act responsibly and avoid fanning the flames of violence.
* Updates: On 19 November 2014 news reports stated that traffic police officer Zidan Nihad Seif,30, of Yanuh-Jat died of wounds he sustained in the attack. The names of the other four people – all Jerusalem residents – ­killed in the attack were also made public: Moshe Twersky, 59, Aryeh Kupinsky, 43, Avraham Shmuel Goldberg, 68, and Kalman Ze'ev Levine, 55.  
B'Tselem expresses its deep sorrow at these deaths and conveys its condolences to the families.
** On 24 Oct. 2015, Haim Yehiel Rotman, 55, died of wounds he sustained in the attack.