Update: On 7 Nov., 2014, Shalom Aharon Baadani, 17, who was wounded in the attack reportedly succumbed to his wounds. B'Tselem expresses deep sorrow over his death and sends its condolences to his family.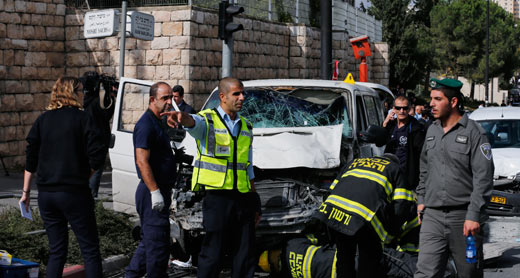 Israeli policemen next to the car used in the attack. Photo: Ammar Awad, 5 Nov.  2014
B'Tselem extends its condolences to the family of the man killed by a Palestinian in the car attack earlier today (5 November 2014) in the East Jerusalem neighborhood of Sheikh Jarah. We send our wishes for a speedy recovery to the individuals injured in the attack. B'Tselem condemns any and all intentional assaults targeting Israeli and Palestinian civilians and reiterates its call to politicians and leaders to act responsibly and avoid fanning the flames of violence.
We are therefore extremely disturbed by the statement by Israel's Minister of Public Security that "a terrorist who harms civilians should be killed". This provocative call by a government minister to break the law and for execution without trial deserves the strongest possible censure, all the more so for being made by the minister responsible for law enforcement. The prime minister would do well to address the Minister of Public Security, law enforcement authorities and the public, and make plain the blatant disregard of the law embodied in the minister's statement.