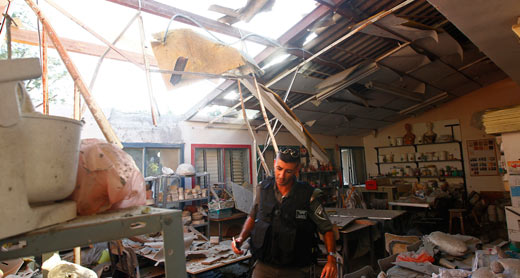 Building hit by rocket, southern Israel. Photo: Ronen Zvulun, Reuters, 9 July 2014
According to IDF Spokesperson figures published in the media, since the beginning of Operation Protective Shield, Hamas and other armed Palestinian groups have launched over 800 rockets and mortar shells into Israeli territory. Figures released by Israeli medical emergency services provider Magen David Adom indicate that during the first six days of the operation, 13 Israelis were injured by shrapnel, debris from buildings that had been hit, or fires that were the result of rocket landings. According to estimates, without Israel's advanced air defense system, the number of casualties and the scope of the damage would have been greater.
Millions of Israeli citizens, many of whom are children, have been living under the threat of rocket fire for almost a week. For hundreds of thousands of Israelis living in the south of the country, this terrible situation is part of an ongoing routine. The unrelenting attacks have disrupted their lives, denied their right to live in security and hurt their ability to make a living. Every venture outside – to work, school, or a recreational activity – is attended by a sense of danger. Some residents have even decided to relocate for fear they or their loved ones would get hurt.
The deliberate targeting of civilians by Hamas and other Palestinian armed groups is an act that defies humanity and is morally and legally reprehensible.

Ashkelon residents run for shelter during a siren. Photo: Baz Ratner, Reuters, 9 July 2014