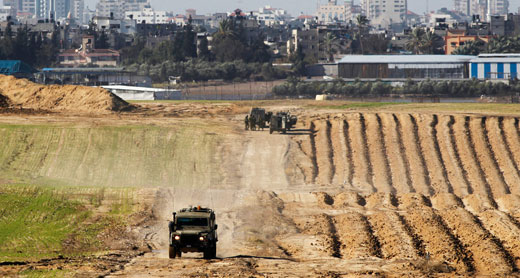 The scene of a shooting incident near kibbutz Nahal Oz. Photo: Amir Cohen, Reuters, December 24, 2013.
Salah Abu Ltayef, 22, resident of the Bedouin community of Rahat, an Israeli civilian who worked as a contractor for the Construction Branch of the Ministry of Defense, was killed today by shots Palestinians fired in the direction of the Gaza perimeter fence at Kibbutz Nahal Oz. According to media reports, the man was fatally wounded by the Palestinian gunfire while working with a military team to repair the damage to the perimeter fence caused by last week's heavy storms. A military helicopter airlifted the injured man to Soroka Hospital in Beersheba, where he was pronounced dead. 
B'Tselem strongly condemns the shooting of a civilian and reiterates that there cannot possibly be any legal or moral justification for the intentional targeting of civilians. The guiding principle that civilians must be kept out of the cycle of fighting applies to one and all, be they state, country or individual.